A Board Game That Won't Leave Him (or Her) Bored!
In the event you, your partner, or both of you are feeling a bit under-appreciated, this might be a thoughtful game to whip out to show them that you really do care. There are more than enough actions in the deck, so if you want to make it all about sex, you could always remove the non-sexual cards (night at a movie, etc...); however, for the kinkier crowd, the rewards may be a little too boring, not that they wouldn't be appreciated, but it's not THAT kind of game.
Published:
Pros:
Sturdy, portable, plenty of options.
Cons:
None, other than it may be too "vanilla" for some.
When game night rolls around and the two of you find yourself alone, surprise him with something new to play, such as "Entice Him" by Cal-Exotics. There's no strategy to play, no smarts required; all that's needed is a willingness to make your partner happy. It's a discreet, travel-friendly, adult board game, that's very sturdy and offers plenty of sexual and non-sexual rewards. After all, even the little things can make someone feel special, such as doing the dishes one night or taking them to a movie. This game can be all about "him" or "her", or take both can take turns. There's no need to race to the finish for this one, as every spot is a winner!
The game comes in a sturdy 9x6x1 inch box, includes a 9x6 heavy duty game board, 2 pawns(purple and green), a red die, and 60 playing cards ranging from basic rewards to ones that are more detailed. Instructions are included on how to play the game. Either one partner can do all the rolling or the gameplay can be shared. Some actions can be done immediately while others will have to be set aside to perform at a later time, for example, "offer to watch the kids for a night and let him have a guy's night out".
The cards are divided equally in to 3 categories: ENTICE HIM, SPOIL HIM, AND PAMPER HIM. The "entice" category has a sexual overtone to most of the actions, but these aren't naughty by any means nor too graphic. The "spoil" category rewards are mostly vanilla with an occasional slight sexual overtone, and the "pamper" is generally just about giving him a break by either doing some of his chores or perhaps cooking him breakfast in bed. I'm sure a busy wife and mother could benefit equally from all of the rewards too! The nice thing about some of the cards is that when an idea is presented, say for example, "Dance slowly", if you partner isn't a dancer, then it suggests you just cuddle and listen to the music.
BASIC GAMEPLAY
Either one person can play the board or both can take turns. It's more fair to take turns, unless one of you is feeling especially under-appreciated and the other needs to do some serious butt-kissing! So basically, one player rolls the die and advances the number of spaces indicated (22 spaces in all), then draws a card from the pile with the same name as the space he/she landed on. The actions on the cards are either immediate actions or future rewards that can be saved for later, making this a game that can last a few hours or can be ongoing. If you are all about the foreplay, then just skip over the choices that aren't immediate actions. There's really no wrong or right way to play the cards right, other than just skipping the ones you don't like or can't do immediately. Just have fun and roll with it!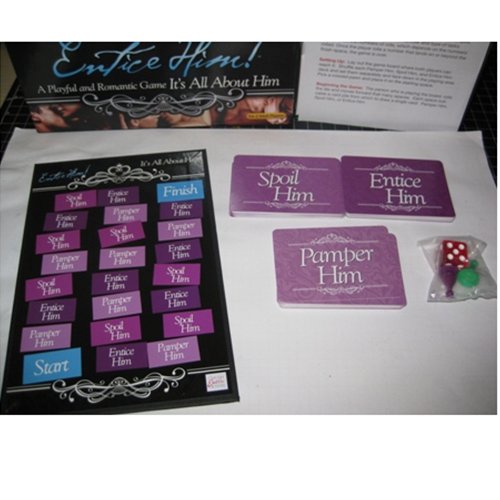 Experience
My partner and I thought this game was cute, but not really our style. I guess we are past the point of doing this stuff in our relationship, since we do it for each other all the time! We share enough of the household chores as it is, and if we want a quick massage, we just ask the other or if we want a longer one, we know better NOT to ask each other and book something with our therapist! So for us, this game was kind of pointless. But for a couple looking to rekindle the romance or for newlyweds, it may be a good fit. I'm probably going to give this to my friend whose last relationship failed because, according to her "I didn't do enough for him!". Maybe this will help her next time!
Follow-up commentary
8 months after original review
I guess my creative juices are working just fine since I don't need the help of a game like this to give me ideas.
This product was provided free of charge to the reviewer. This review is in compliance with the FTC guidelines.

Thank you for viewing
Entice him
– adult game review page!