Adult Mad Libs is (insert adjective) and it really made me (insert verb)!!!!
Adult Mad Libs is a great little game that can add hours of laughter to your day. This book is great if you need to purchase something small to add to your order to get free shipping. The more creative you are, the more fun this game will be for you!
Published:
Pros:
-Inexpensive
-Fun
-Easy
Cons:
-Stories are not that interesting
-Only 21 story games
I had a gift card with a small balance left, so I had decided to get the Adult Mad Libs Game. I should have read the reviews and description better because I was under the impression that it was similar to the "Mad Gab" board game, which by the way, it is not. Nevertheless, I love the little story games and this book includes so it was not a huge deal that it wasn't what I was expecting.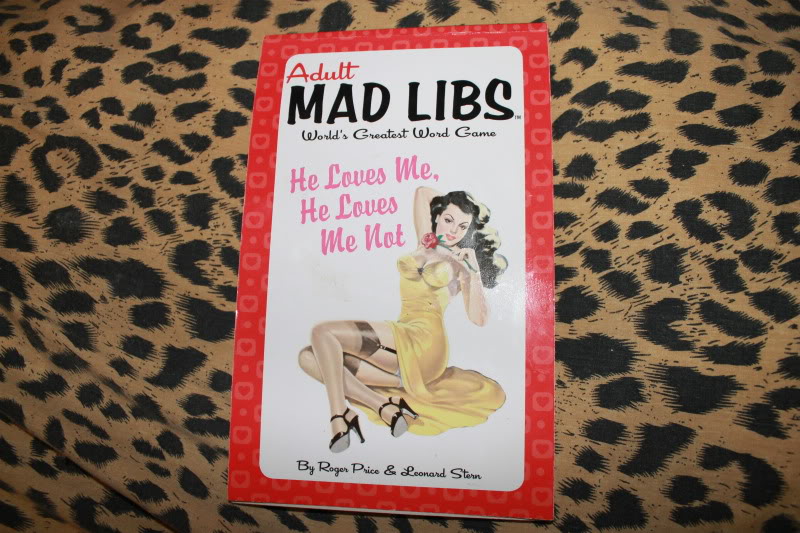 The book is quite thin, with 24 pages total. The first three pages are cover page, rules, etc. So in total you have 21 stories to complete (each page makes up one story). The inside of the book is black and white, only the cover of the book is in colour.
If you have never played Mad Libs (or something similar) before, the rules are quite simple and the game itself can be played by anyone.
HOW YOU PLAY:
One player chooses a pre-made story from the booklet. This player will then ask the second player for different types of words to fill in the blanks in the story. The second player does not know what the story is, or where their words are going. Once the second player has given all the words, the first player will read the story with the filled in blanks out loud.
If you are playing with two or more people, you can choose one reader, and have the others just shout out answers when asking for a type of word.
The booklet does have a page in the front that explains the rules, so upon receiving this game, you do not need to come back to the review to refresh your memory on how to play. The page with the rules also has an example to further clarify how the game is played.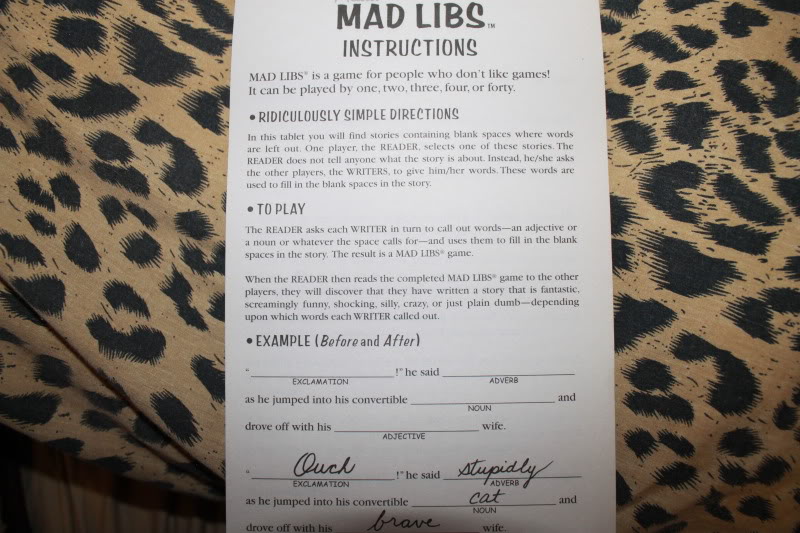 Here is an example of how you play (I made this one up, it is not in the book):
(insert name of person) (insert verb) down the street with his/her (insert noun) on his/her (insert body part).
These games can turn into hilarious masterpieces, or end up just sounding really lame. It really depends on the words given by the person/group who is unaware of the story.
One of the great things about this little booklet is that one of the first pages has a list defining all of the types of words (ex. adjective, noun, pronoun, etc), in case you forgot, or have a younger child playing.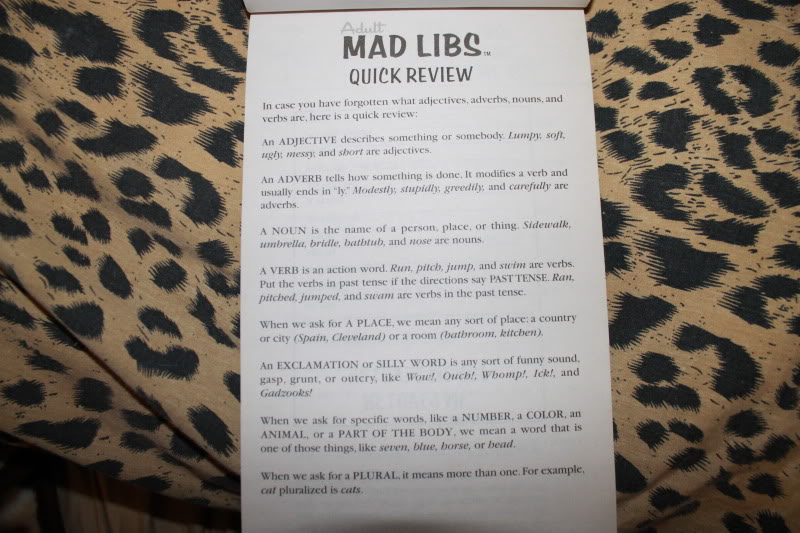 I consider the stories in this booklet to be quite innocent. They are not as naughty as you would expect from something called Adult Mad Libs. Also, the types of words you are asked to fill in should be a bit more specific. I suggest that when you play this game, the reader reads the full story beforehand, that way they can modify the types of words being asked for. The story will flow a lot better if this is done.
Experience
I had A LOT of fun playing this game because we turned it into an X-Rated Game. Like I mentioned above, the stories themselves are quite innocent. We turned this around by only allowing naughty words to be used. This made the game a lot more fun. If we were playing it by just using regular nouns, verbs, etc, then the stories would sound pretty stale (and what fun would that be?).

I was the reader most of the time, and my boyfriend was the person who came up with the words (though I did help him a few times). I had to read through the story first, and modify the types of words being asked for because I found that asking for a noun in certain places, was far too broad of a spectrum. Instead, I would ask him for a part of the body, an article of clothing, a city, etc. This made the stories make more sense when I read them out loud. I highly suggest you do this too before playing the game.

We wrote out our answers in pencil, that way we can erase the answers and play with other people when we have them over. This is a really easy game that can be played with as many players as you wish, and there really is no age restriction.

I would purchase another product like this in the future, but next time would like a Mad Libs game to be a bit more interesting when it came to the stories it had.
Follow-up commentary
2 months after original review
We haven't played the Mad Libs game since I wrote the review, but I still like it because it's entertaining, and can be hilarious! I guess we are just saving it for a rainy day.
This content is the opinion of the submitting contributor and is not endorsed by EdenFantasys.com

Thank you for viewing
Adult Mad Libs
– erotic book review page!