Amazing Fellatio For Beginners
The Amazing Fellatio Instructional Deck is a deck of 52 cards, each having a different tip for performing fellatio. The deck does not come with rules, as it's not a game. The cards are not suited either so you cannot play your favourite card game with these. You'll have to get creative if you want to use the cards as a game, or you can read the suggestions I've given in my review. Most of the cards have tips that are not new to me, but there were a few hidden gems in the deck.
Published:
Pros:
a variety of tips, large print, easy to read and understand, inexpensive, great for beginners.
Cons:
not a game, tips may not be as useful to you if you are not a beginner.
I received the Amazing Fellatio Instructional Deck in the
Getting and Giving Amazing Fellatio Kit
but I wanted to write a review to go into more detail about this specific product. The deck of cards comes in a box, similar to what a regular deck of cards is packaged in. The front of the package states the company name, product name, and has an image of a pair of lips on it. The back of the box has a brief product description and tells you about the background of Dr. Ava Cadell (the person who created the cards). The packaging is perfect to keep the cards in because they fit snugly in the package but it is not discreet whatsoever.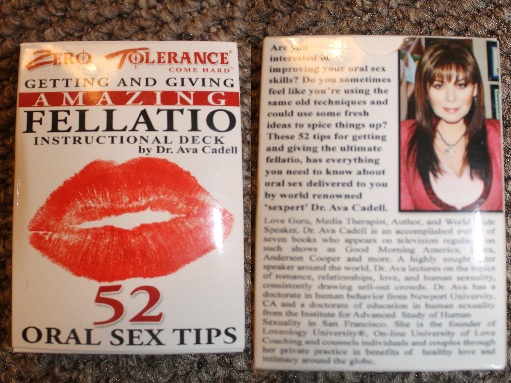 These cards should not be confused with a deck of playing cards. The product is listed under the "adult game" category but it's not a game at all. You can get creative with the deck and make your own game, but there are no rules with the deck and the cards are not suited.
The cards are 3 ½ inches in length and 2 ½ inches wide. They are cardboard cards with a glossy finish. The backs of the cards are all the same. The backs are similar in appearance to the front of the box they came in. The backs of the cards state the company name, company website, say "Amazing Fellatio", and has the image of the lips from the front of the packaging. On the face of each card, there is a tip for performing fellatio. The tips are in rather large print in the colour black. The font is easy to read and the tips are easy to understand.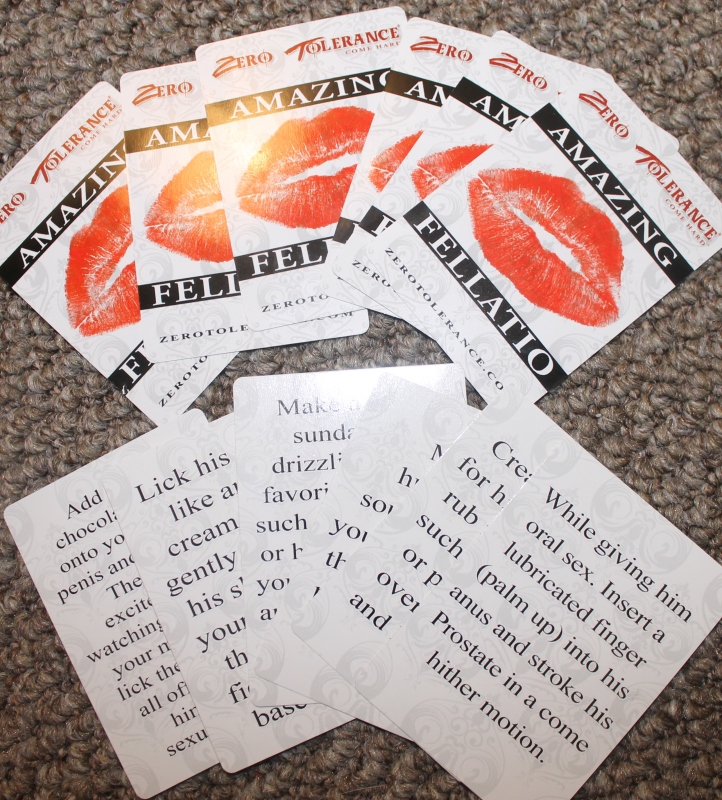 The cards are best suited for beginners to fellatio because there are quite a few tips that an experienced (or even semi-experienced) fellatio performer would already know or have done/tried. Here are a few tips from the deck. I tried getting a variety of tips from silly to interesting.
Tip #1 (the silly)- "Pretend your lover's penis is your favorite lollipop…"
Tip #2 (good for beginner)- "Gargle mouthwash or suck on a mint prior to giving him a blow job for an extra tingly sensation"
Tip #3 (hidden gem)- "Put your finger (palm up) inside his mouth, under his tongue to stimulate his Frenulum while sucking on his penis Frenulum at the same time"
Tip #4 (anal play)- "Spread your lover's cheeks and start to lick around the anus…"
As you can see from the example tips I've listed above, there are a good variety of ideas, though most of the ideas are better for a beginner. There are a few silly tips like Tip #1 that tell you to suck it like ice cream, etc. Most of the tips are similar to Tip #2. There are a few tips like #4, encouraging anal play- both insertion and mouth to anus. Tip #3 is what I like to call a "hidden gem". There are only a few of these gems in the deck. The tip that I had posted above is a tip that I had never heard of before reading through the cards.
Since the cards do not come with any rules or a specific game format, I figured I'd list a few ideas. If you're uninterested in using the deck as a game, you could always just read through them by yourself or with your partner.
So since many of the cards had suggestions that both my partner and I have already done or currently do, I decided to make it an anticipation game. I have the cards laying face down on the table and I told him to pick a few cards and hand them to me before he looked at them. I looked at the cards he chose (so I could read the specific tip), and then I handed them back to my partner. I told him that later in the evening I would be sure to do the tips during play. My partner loved this! While the tips aren't necessarily new to us, he liked that he knew what was to come. He barely could wait!
You could play the anticipation game with a few variations. You could have your partner pick a few cards and not show him which tips he chose until playtime comes. The surprise factor is always exciting. You could also leave a card in your partner's lunch, letting him know what to expect when he gets home.
Experience
...continued


Another idea is to place the cards in various places around the room/house and tell your partner that you've done this. As he finds the cards, he collects them and can redeem them whenever he wishes. The last idea that I have is that you could play a regular game of cards (not with this deck but with a deck of playing cards), and have a few of the tips sitting face down in the centre of the game. If he wins, he can read the tips and expect the jackpot.

Most of the cards are gender neutral so as long as you're giving fellatio, your sex doesn't matter. There are a few cards though that makes the assumption that the reader is female. A few suggestion mention things like having your partner cum on your breasts, and having your partner slide his penis through your breasts as you have them pushed together. There are only a few of these cards though- most will work for anyone.

I've decided to give these cards a 3 out of 5, simply because I'm not new to fellatio. A lot of these cards don't offer any new tips to me. I do think it's a nice deck of cards though and would be quite useful for those who are fellatio beginners. Also, if you get creative or use some of the games that I've suggested, the cards can be fun even if the tips aren't new to you.
Follow-up commentary
2 months after original review
I hate having to choose whether I still like it, don't like it, start to like it more, or don't like it anymore. I chose that I "don't like it anymore" but that's simply because the novelty of the cards has worn off for us. We haven't really used them since. This is probably because a lot of the cards suggested things that were not new to us. I still think it's a nice little deck for beginners.
This content is the opinion of the submitting contributor and is not endorsed by EdenFantasys.com

Thank you for viewing
Amazing Fellatio instructional deck
– adult game review page!