Come on Baby Light My Fire!
These candles are simple but effective. If you've been wanting to try wax play, you can't go wrong with these inexpensive candles. With these low temperature candles, you'll be less likely to get burnt from the wax. A great buy to try something new!
Published:
Pros:
Inexpensive, drip easily, easy to use, no staining dyes
Cons:
Risk of burns, no ingredients list
The Sensual Wax Candles from Pipedream are low temperature candles that can be used for wax play. The set comes with 4 candles and a blindfold. The candles are a great way to add a BDSM element to your play. These candles are made to cause a bit of pain rather than a lightly warm feeling you might get from dripping warm oil. They can be used by beginners or advanced users, but those with sensitive skin or just want something that isn't painful may prefer to try a massage candle first since they have an even lower temperature than these candles do.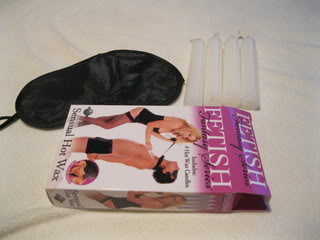 The candles are each 5" long and a little under an inch in diameter. They are white and don't have any added dyes to them. They are also unscented and don't have much of a smell to them. There is no information on what type of candles these are or what they are made of. My guess is that they are paraffin based candles. However, I really don't have anything to base that on other than I have heard that paraffin based candles are typically what are used for wax play because they burn at a lower temperature than other types of candles.
These candles actually remind me a lot of the candles that are used at vigils or candle light services at churches. They drip easily, and dry on the skin within a few seconds. The wax hardens completely and cools quickly too. The wax is very hot when it drips, so this isn't a toy for everyone especially those with sensitive skin. The wax feels hot regardless of whether you drip it near the skin or hold the candle up higher to try and let it cool some. I really could not feel a difference in the temperature regardless of how high he held the candle.
Here is what the wax looks like when dripped on the skin.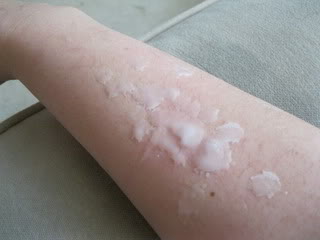 The wax is easy to peel off the skin, and does not pull hair out when doing so. It is much harder to get it out of cloth though, so be careful when dripping this on a partner and try to avoid getting it on the sheets. If you do get some wax on clothing or other fabric, you can get it out by placing some paper towels over the clothing and then ironing it on low heat so the wax transfers to the paper towels. It shouldn't stain the fabric if some wax does accidentally get on the fabric since there are no dyes in the candles.
The packaging was not the same as is pictured on the product page. I think Pipedream must have given this product a makeover and gave it a box with a similar look to the other items in their Fetish Fantasy series. The box is white and has a picture of a couple who are clearly into BDSM. The packaging makes it very obvious that these aren't just any candles, so it's a good idea to tuck away the box if you plan on keeping it. However the candles themselves do not look like they are anything other than ordinary candles. I would not feel anxious at all about someone stumbling upon the candles. The packaging did not give any instructions for use, so be sure to use common sense when using this product.
Whenever you are trying a new aspect of BDSM, particularly something like wax play that has the potential to be painful or dangerous, it is always important to talk to your partner beforehand and to make sure to have good communication about your play. It is also a good idea to have a plan as to what you will do in case of a burn and to familiarize yourself with same basic first aid (information can be found
here
). Always play safe, and listen to your partner's limits.
There was also a blindfold included with the candles which you can see modeled below by my teddy. It is pretty cheap and not that great of quality, but it does block most of my vision when I wear it. I can see out of the bottom of the blindfold. The band is very stretchy elastic and should fit most people unless they have a very large head. The blindfold seems to be made of polyester, although it does not say what it is made of. It does not seem like it would hold up to a ton of use, but for such an inexpensive product I am not surprised.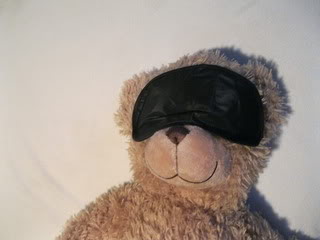 Experience
I was a complete beginner when it comes to wax play. I was somewhat scared to try it too because it seemed a little bit dangerous to me. Fortunately my partner wax pretty experienced in it and was able to do it in a safe way. It was not something I thought I was going to like very much, but I was actually surprised. Especially when combined with a blindfold, the candles creates a unique type of teasing that was a lot of fun to experience.
Follow-up commentary
2 months after original review
We've used these several times now and still have 2 1/2 candles left. I still think they are a great buy and would recommend them to anyone. They work just as well as when we first got them and when we use them up I will happily buy another package of them.
This content is the opinion of the submitting contributor and is not endorsed by EdenFantasys.com

Forum
| Discussion | Posts | Last Update |
| --- | --- | --- |
| Painful? | 13 | |
Thank you for viewing
Sensual hot wax
– candle review page!