Come On & SUCK Me Real Good!!
While overall, the Jumbo Cocktail Straw could be loads of fun for Girls' Night Out or any type of adult party you may have I really don't think they are worth the price. If it weren't for an assignment I probably wouldn't have gotten this due to the price. I give this 3 stars due to the bad seams and cost.
Published:
Pros:
*Durable
*Fun
*Can be Used With Different Drinks
Cons:
*Price
*The Amount You Get for the Price
Use:
The
Jumbo Cocktail Straw
by California Exotics, is a great gag gift for someone when it comes to going out for bachelorette parties or just a fun Girls' Night Out. These straws are available in two colors
Black & Pink
. You can stick this
Jumbo Cocktail Straw
in almost any cup you wish, I can tell you though it won't fit into a Coke can. You can make tons of fun memories walking around sucking on this BIG PENIS straw.
Material & Design
The
Jumbo Cocktail Straw
is made out of
Polyethylene
which is a common form of plastic. Polyethylene ranks a 7/10 on Eden's Safety Scale so what does this mean for you, it means that the material isn't able to be fully sterilized. Many common household items are made out of the same exact material this straw is like:
grocery bags and water containers
.
Jumbo Cocktail Straw
is a pretty thick and sturdy plastic that you won't have to worry about bending it or cracking it. There is very little texture on the straw until you get up towards the "head", you will find an accordion style section where you can pull and extend the straw. The manufacture tried making this as "life like" as possible, you will find that the straw has testicles as well as a defined head. You can make your penis become more "erect" by pulling it out or you can shrink it back down to its normal size by pushing the head down, to collapse the straw. At the top of the penis you will find a smiley face on one side and lines to make is seem real on the backside. I found that this straw has several seams on it that are a little rough in which I believe they could be smoother. While I find no discomfort from the seams others may experience an issue, the seams run down both sides of the straw. The seams are smoother down the bottom part of the straw that you would insert into your drink where the rougher parts are on the penis itself. Upon opening the straw there was no smell present, I didn't taste it or put it in my mouth until I washed it off in the sink an there was no plastic taste present either.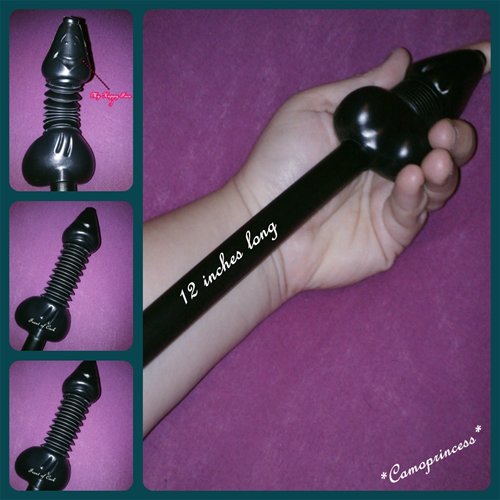 Size Matters or Does It?
I measured the
Jumbo Cocktail Straw
on my own an my measurements are different then the product page. I found that it being
12 inches
long without stretching it out, once I stretched it out all the way I measured it at
13.5 inches
long. The product page states that the
Jumbo Cocktail Straw
is
11 inches
long. As I mentioned earlier this straw will fit in almost any cup but you will have a great bit hanging out of the top of your cup. If you are a soda drinker like me I had bad news, the straw won't fit in the can hole, I tried even moved the tab on the Coke can out of the way but it still wouldn't fit.
Packaging
Your
Jumbo Cocktail Straw
will arrive in a clear plastic bag with a cardboard overlay stapled to it, to keep the straw inside. The packaging for this isn't discreet at all as 1.)You can see through the packaging and 2.)It has in big letters
Jumbo Cocktail Straw
. As usual it has the whole,
This product is sold as a novelty item
warning as well as the California Exotics company logo on it. This product was made in China.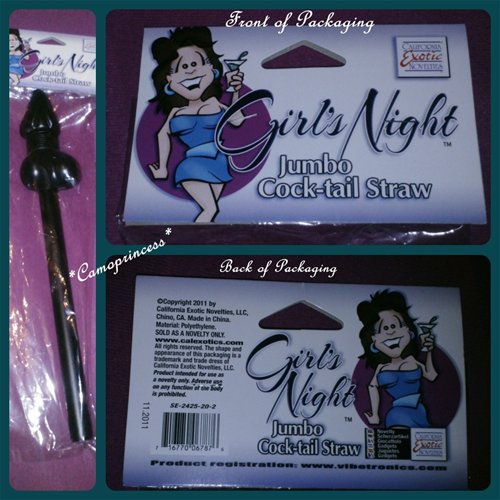 Experience
Care & Maintenance
Caring for your Jumbo Cocktail Straw is pretty simple, I ran the tap water in my kitchen sink until it was as hot as it would get. Once the water was to my desired temperature I poured a drop of Dawn Dish Soap down the head of the penis (painful right), plugged the other end an filled it up with water. To rinse it out and off I just ran water through the straw until there weren't any suds be produced. To dry you can lay it on the counter either on paper towels or a regular hand towel another option would be letting it sit in your drainboard with your other dishes. I personally just shook the straw off an carried it back to my bedroom, don't think anyone else in the house wants to grab my big black penis straw by accident. I wouldn't recommend putting your COCK in the dishwasher though, there weren't any cleaning instructions included. Storing this would be as simple as tossing it in a drawer in your kitchen with other items IF you don't have others living in your home that you are worried about finding it. My straw will be in my room probably in someway displayed on my headboard or dresser with other items.

I must admit one thing I did with this straw was, I blew into it hoping it would whistle like many other straws that have a similar design to it. I got my hopes up as it didn't whistle, that would have just added to the fun of it for me.
Follow-up commentary
5 months after original review
I would still say this is a good straw for going out with the girls for a "GNO" especially for bachelorette parties. Mine hasn't gotten any use out of it since I don't really drink out of cups. It won't fit into cans either, so if you drink most of your beverages alcoholic or not it won't fit. Still would say these are prices pretty high for what they are and you only get one.
This product was provided free of charge to the reviewer. This review is in compliance with the FTC guidelines.

Thank you for viewing
Jumbo cock-tail straw
– gags review page!