Suck It!
This jumbo cocktail straw is sure to leave your guests sucking down their drinks! The comical design is great for adult parties and a little creativity makes their use that much more fun! Though these are a gag item, they are quite durable and will last a long time. They are a bit expensive if you're planning on purchasing several, but they're sure to make hilarious memories that will last a lifetime!
Published:
Pros:
- Fun Design
- Durable
- Great Adult Party Item
- Great For Thick Drinks
Cons:
- Expensive
- Limited Use
- No Care Instructions
Use:
Cal Exotics' Jumbo Cocktail Straw is a part of the Girl's Night collection that's supposed to turn a regular night with your girlfriends into a wild night of unforgettable memories! Each piece in the collection adds another great little element to parties or gatherings, and this jumbo straw is sure to get some attention!
Having a humorous bachelorette party? An adult birthday party? Just a night with the girls? These straws are super fun! They turn a regular cocktail into so much more! These straws can be used simply as you would any; along with your favorite drink, or get creative and make up some games to go along with them.
- Make thick drinks (milkshakes, smoothies, etc) and put them in several glasses. Have several members at your party line up with their straws and see who can suck up all the liquid the fastest. Whoever sucks their 'COCKtail' the fastest wins.
- Have two cups ready for each guest, set them at least a few feet apart. Have one cup full of liquid and the other cup empty. It's a race, see who can suck up the liquid just enough to hold it in the straw to transfer to the other cup where you then 'spit' (release your suction) the liquid into the empty cup. Whoever has the most liquid in the second cup wins.
These are just a couple ideas that can also be used as a part of a race. Ideas for other games to go along with this one can be found
here
. Use your imagination and have fun!
Though these items are geared toward females, their use isn't limited to that. It doesn't matter what gender you are or your sexual orientation; these straws can be used by anyone looking to have a fun adult time!
Material/Design/Size:
These large straws come in both pink and black and are made from
Polyethylene
which is the most common plastic available today. Eden Fantasys rates it a 7/10 on their material safety scale. The long base of the straw is very firm and has hardly any give to it, however, once you reach the top part of the straw, the neck can be moved and bent how you would like and there's a small amount of give to the top.
The straw is designed to look like a very happy penis, fully equipped with the ability to grow longer when you play with it, and even has a set of testicle. The penis sits on top of the long, texture-less straw which is the part that would go inside your drink. The penis has a smiling face and there are various lines and grooves on the top and bottom to make it look somewhat like an actual penis. The accordion style 'shaft' can be pulled on to make the 'penis' larger, and easily goes back to its original shape by simply pressing it back down. There's a lot of flexibility in the neck of the straw, making it easy to bend in any direction you'd like. This makes it a neat and interesting design considering the look of the straw.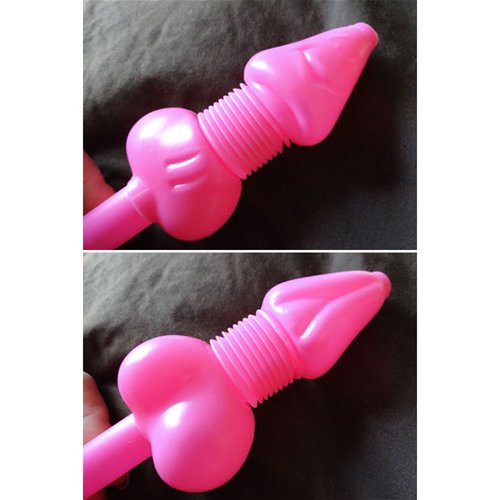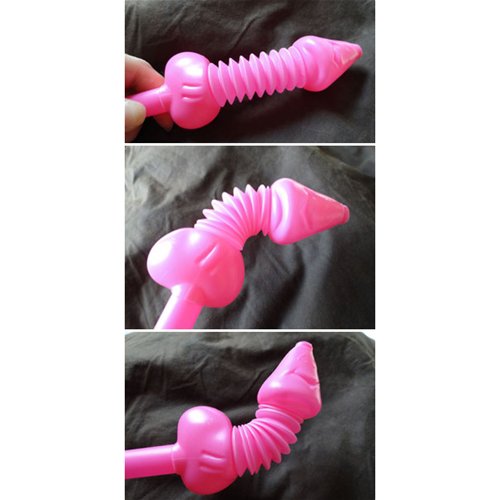 This straw is very large, way larger than I had realized based on the product photos. It measures 10 3/4" when the neck is pressed down, and gains another 1 1/4" when the neck is stretched. The plain part of the straw that goes into the drink is 7 1/4", making the penis 3 1/2" tall. While the diameter of the straw itself is 3/4", the penis is much larger than that. The testicles are 2" in diameter, the shaft is 1", and the base of the penis head is 1 1/2". I was shocked when this arrived to my house! I was expecting something much smaller than this and was quite surprised.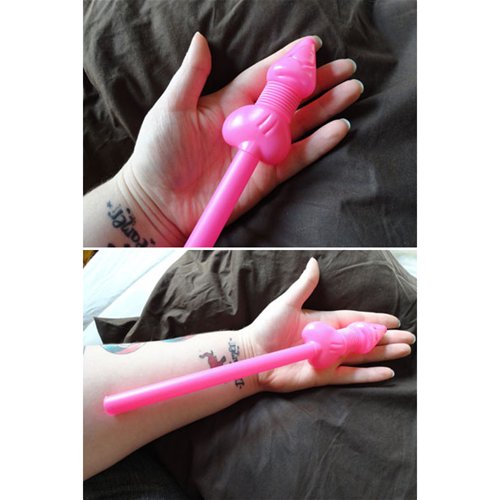 The quality of the straw isn't bad. It seems like it's something that will last a fairly long time and is durable enough to be used on a regular basis (as long as children aren't present). The only area I would be concerned about is the neck of the straw getting weak over time because of the design. If you don't ever pull on it or mess with it (yeah, right!) than I don't see it becoming an issue. The very tip of the straw is the only place I see any real quality issue. It's not very smooth and though it doesn't irritate the lips, it's annoying to look at. Other than that, there are no quality issues with this product.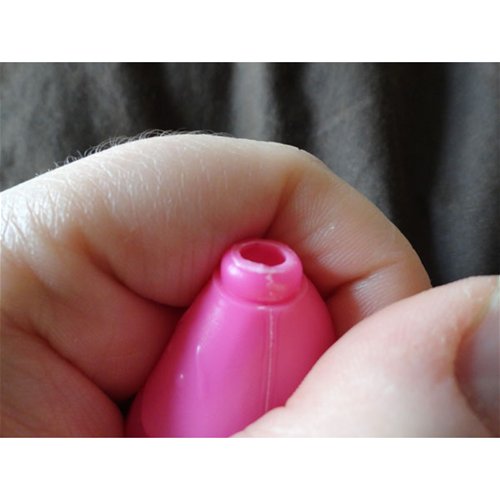 Experience
...Continued
Care And Maintenance:
There's no information on the packaging about how to care for this item. After doing a little searching, certain products made from Polyethylene can be put on the top rack of the dishwasher on a lower temperature. However, since this item doesn't say whether or not it's dishwasher safe, I would suggest simply washing by hand with your regular dish soap.
When your straw is starting to show some obvious wear, it can be recycled in with all your other plastic items.
Where you store this item will depend on who's living in your household. If there are no children in your home, this could easily be stored in your silverware drawer, junk drawer, etc. in your kitchen. However, since this is an adult item, if you have children in your house you'll want to keep it out of their sight. Maybe put it in a small box in the back of a high shelf in your kitchen or some other place they won't get in to.
Packaging:
Each straw comes individually packaged in a clear bag that's stapled to a cardboard hanger. The hanger has a graphic of a woman holding a cocktail and obviously having a good time. The company name, product name, and line are all proudly displayed on the front. The back contains only a small amount of information about the copyright, the company website, and warnings about how this is only a novelty item. There's no suggested use or care instructions that come along with your item. The use of common sense and creativity has to come from you.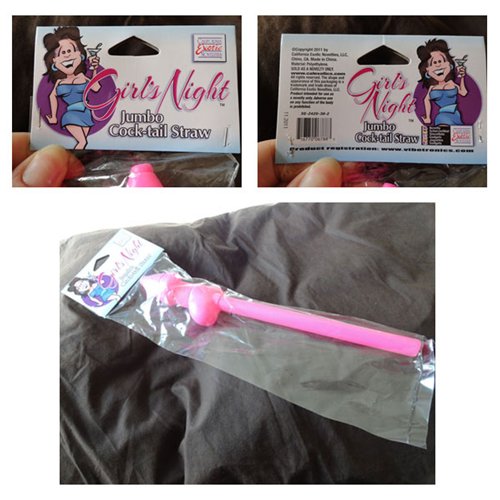 Preformance:
This straw is fairly nice, but is pretty expensive for only one straw. Because the hole is so wide, it works much better for thicker drinks such as a milkshake, smoothie, or crushed ice drink than anything else. It almost seems too big to use with something like water, but that might just be my personal opinion. If you find thin straws to be annoying for thick drinks, this is awesome, but any drink that isn't thick; a normal straw would do a much better job.
Follow-up commentary
3 months after original review
This is a cute straw, but is odd to use by yourself and is too expensive to buy in bulk for guests. The quality is okay, but not perfect. After being used a few times, the part of the straw that extends has some white marks in the plastic that are from obvious wear. Cute for special occasions if you don't mind being the only one to use one since the expense makes it hard to buy for a crowd.
This product was provided free of charge to the reviewer. This review is in compliance with the FTC guidelines.

Thank you for viewing
Jumbo cock-tail straw
– gags review page!