Don't Be Sheepish, Ewe Should Read This
If you definitely on the lookout for an anatomically correct, inflatable, white lamb, you can do no wrong. I can't imagine why you might be in the market for such an item, but who am I to judge. Although there are a few drawbacks, I imagine to suit the needs of most who might consider purchasing this product, you would be quite pleased with the results.
Published:
Pros:
Sturdy build, Eye-catching
Cons:
Definitely designed as a gag gift and not as a sex toy, Doesn't stand up well, Difficult to inflate
By now, many of you are probably aware that I have become quite infatuated with someone on EdenFantasys and that those feelings are really making things difficult for my marriage. These feelings have been tearing me up inside, and I've been encouraged to come clean about it to relieve some of this burden. At the same time, I'm quite the pimp, and figured if I could "come out" about this while at the same time increase the number of people who read my review, it would double my benefit.
Here's the story: I noticed my crush the moment I first came to EdenFantasys. Never before had I met anyone with whom I had so much in common. There was a deep connection I felt with her that completely transcended sex and lust and was something I'd never felt with anyone. It was almost as if we were meant to be together – like we were soulmates. I was well aware what it was going to do to my marriage, but I simply couldn't get her out of my mind.
Sigh.
So, without further ado, the one on EdenFantasys with whom I've fallen for is…
Ewegenia Aries, the Luvin' Lamb.
What can I say? Attraction knows no bounds. So, I took the plunge and ordered her off EdenFantasys. Well, actually I'm cheap, so I got her free from EdenFantasys in exchange for this review, but that in no way diminishes the feelings I have for her I assure you. When the package arrived, I began to tremble with excitement and raced to the bedroom to get Ewegenia out of her box. The package she was in left me slack-jawed the moment I laid eyes on it. There she was on the front, her luscious posterior facing me and her head turned toward the back winking at me and puckering up to give me a kiss. I could hardly control myself; I was positively ewephoric. I quickly opened the 7 x 7 x 1.5 inch (18 x 18 x 4 cm) box and found her folded neatly inside. I pulled her out and soon found her taut nipple (you know, the one used to inflate her) and tugged at it gently before raising it to my waiting lips.
You would think that with all the anticipation I'd have been able to use my adrenaline to blow her up in mere seconds, but it turned out to be very difficult getting air into her. For that matter, as I got her more and more rigid (and vice versa, I might add) it became apparent that the placement of her nipple between two of her legs made it very difficult to get my head between them…and believe me, between Ewegenia's legs was exactly where I wanted my head to be.
Finally, with great difficulty, I managed to get Ewegenia inflated and stood up to admire her beauty. Her smooth, white skin caught the soft light streaming in from the windows and really set off her beautiful, blue eyes and pouting, red lips. My fingers quivered as I stroked her plastic skin, and felt the raspy seams where the various bits of plastic came together to make her feminine form. I turned her over, wanting to caress her belly. There I saw the words "This product is not a floatation device and is not a lifesaving device." I wondered what kind of toothless hillbilly would consider using Ewegenia as a life preserver, but then I recalled that the back of the package she came in featured a note from "Inbred Fred." My wonderment ceased. I then slid my fingers steadily down her belly towards her "girl parts" and was delighted to see she was free of wool. I do prefer my females to be sheared down there, after all.
After I was done caressing and getting to know every inch (cm) of her body, I stood her back up. Well, I tried to anyway; she kept falling over. Now don't get me wrong, there was absolutely a point in my life when witnessing a female be unable to stand upright was a reason to celebrate because I knew there was a good chance of me scoring, but that time had long since passed. Nowadays, I like my ladies to be able to stand up, but Ewegenia had a hard time doing so because her toes come to points. It was an unfortunate design flaw, but by no means did it diminish her beauty.
Experience
So, we made it a date. "After ewe," I said chivalrously as I escorted her to the dining room. I was a disappointed that all she ate was the parsley I used as a garnish and the bouquet of flowers I gave her, but that wasn't important. It was a lovely dinner, and my feelings for her grew by the minute. Finally, I couldn't take it any longer - I had to kiss her.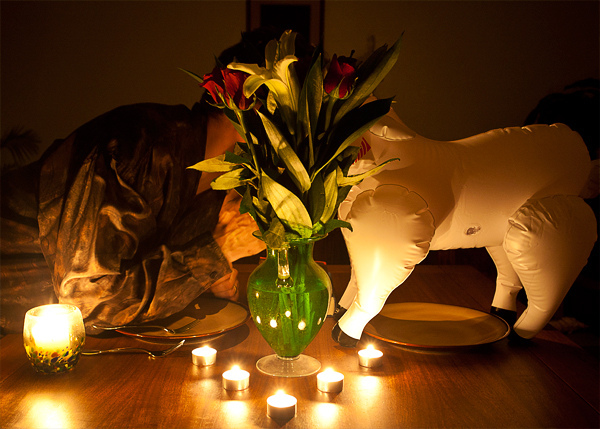 The flickering candlelight lit our faces and accentuated the strong plastic smell of her body. But I didn't care. I was falling for her rapidly. When we broke off our kiss, I began to feel light-headed. Maybe it was the kiss, or the half-dozen drinks I had up to that point, or the chemical taste left in my mouth from trying to stick my tongue in her mouth, or maybe she drugged my drinks with some roofies… Whatever the reason, my head started spinning, and in a matter of minutes I passed out cold and started counting sheep (well, lambs).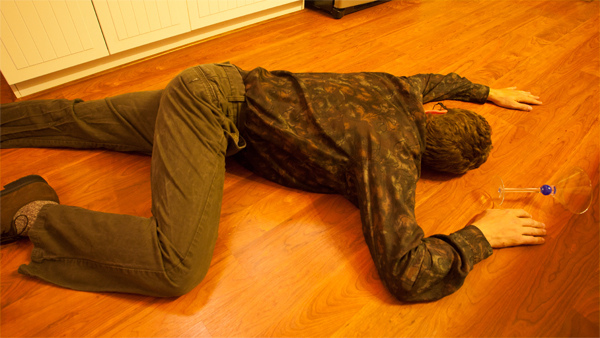 When I awoke everything was black, but my eyes soon adjusted to what light there was. Despite her outward appearance, Ewegenia wasn't your typical lamb, but rather quite the black sheep. She was one baaaad lady. I quickly realized what was happening.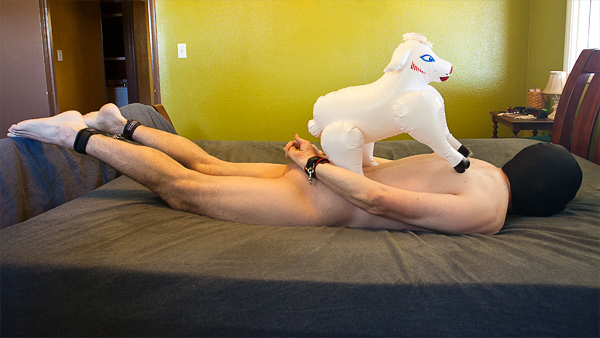 Ewegenia is a firm but fair mistress, and she really got off on dominating me. It wasn't until she satisfied her needs that she released me from my shackles. OK, so I know what you all are thinking, did Vaccinium get to satisfy
his
needs? Well, I'm sorry, but I don't kiss and tell. Wait… I
totally
kiss and tell!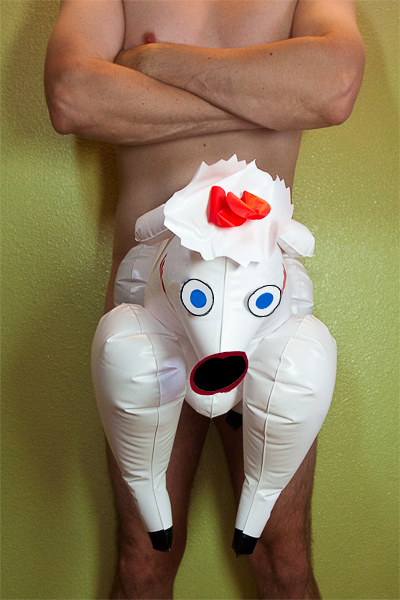 Yeah, I rammed her something fierce. That's right, Vaccinium had a little lamb, whose fleece was white as snow. How was it? Disappointing, frankly. I suppose it was difficult to live up to my expectations, but although she was acceptably tight, her…um…"opening" was a bit rough because of the seams present there - even with the water-based lube I used (silicone would have worked too, but would have been harder to clean). I am probably the only human on Earth who can make this comparison, but it's like sticking your dick into the narrow end of a
traffic cone
. Sure, it's tight, but it just ain't comfortable. I probably should have used a condom to protect myself from the seams. Come to think of it, I definitely should have. I hope she didn't have anthrax or scapie or anything. Gulp. Anyway, when we were all done, we were both a bit sticky from the lube, and quickly and easily washed ourselves off in the shower.
I imagine some of you are sitting there with your mouths hanging open with looks of disbelief on your faces, but let me ask you… would you get a clitoral vibe and not use it on your clit? Would you order a butt plug and never use it anally? Of course not. I'm doing nothing different. If you don't want someone to test out an anatomically correct hole on a blow-up lamb, you shouldn't put it there in the first place. All I'm doing is what AC/DC sang about 35 years ago: Dirty Deeds (Done With Sheep).
This product was provided free of charge to the reviewer. This review is in compliance with the FTC guidelines.

Thank you for viewing
Luvin lamb - white
– animal love doll review page!