Even at the Low Price of $2.99, It's Not Worth it.
The Hugs 'n Kisses Coupon book by Pipedream is a fabulous price, but a ridiculously boring product. The coupons are not creative at all, and most of them are useless for us. The product could have been excellent, but it seems as though Pipedream didn't really put any effort into it. You'd be better off making your own coupons by hand.
Published:
Pros:
Price, Coupons are not gender specific
Cons:
Lacks creativity, Duplicate coupons in book, Unattractive and dull design, Very boring suggestions
We decided to add the Hugs 'n Kisses Coupon Book to our order because it was inexpensive, and we needed a total value in our cart before being able to receive a discount. We didn't expect the coupon book to be extremely useful for us, but we thought it could be cute and add a little bit of fun to our relationship…Unfortunately, it didn't.
The coupon book did not come in any packaging. The front of the book states the product name and its appearance is quite dull in my opinion. Even the colours seem to be dull on the cover (and throughout the book). The back of the book states the company contact information. The book is 7 inches long and 3 inches tall.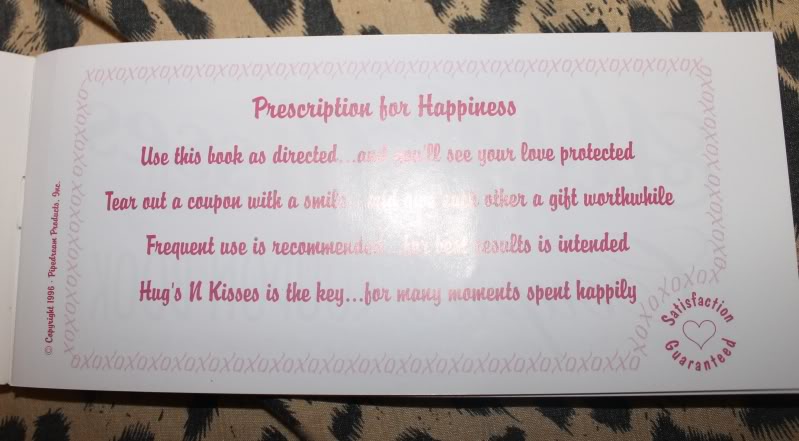 The first page in the book has a short poem called "Prescription for Happiness". My partner and I consider it to be corny and a tad bit lame, but perhaps some people may like it. The poem goes:
Use this book as directed… and you'll see your love protected
Tear out a coupon with a smile… and give eachother a gift worthwhile
Frequent use is recommended… for best results is intended
Hugs N Kisses is the key… for many moments spent happily.
Okay, and just for a bit of fun, I've written my own poem for the book which I call "Prescription for Saving Your Money"
Buy this book, if you choose… but most of the coupons will make you snooze.
Tear out a coupon and give it to your mate…but none of them are really great.
"Don't buy this book" is what I recommend… It'll be $2.99 you don't have to spend.
Not wasting your money is the key… this lousy book should be given for free.
Anyway… on with the review!
The rest of the book is the coupons which you can use with your partner(s). There are a total of 27 coupons. Most of the coupons are quite innocent. An example of an innocent coupon in the book is "A quiet walk together". The most naughty coupon in the book would be the coupon that says, "Grant me this wish" and has a line underneath so that the person can fill in their wish. Even then, it's not naughty unless you make it naughty.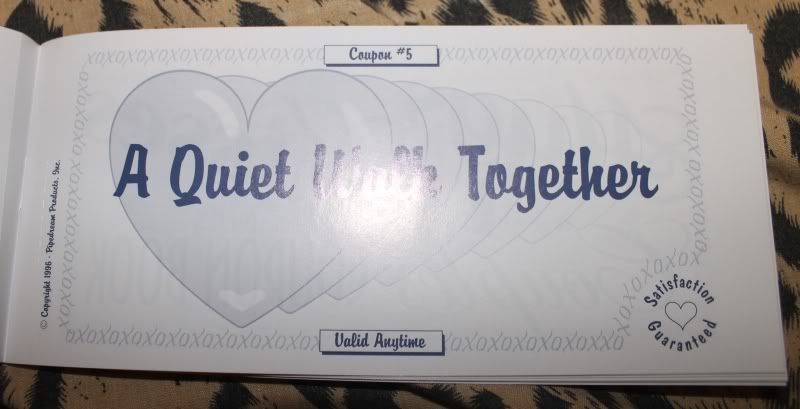 There are duplicates in the book, so there are not 27 unique coupons. They state at the bottom of each coupon that they are "Valid Anytime".
For my partner and I, some of the coupons are useless. I watch shows on my computer, and do not watch the television. One of the coupons is for a certain amount of time to have control of the television remote. My partner has control of that, and I don't care to hold onto the remote so we won't be using that coupon.
One of the nice things about this book is that it is not gender-specific so it can be used in any relationship, not just a heterosexual one.
I think this book would be a cute idea for a couple that has just moved in together and there relationship is still quite new. Though even then, I would probably suggest making the coupons yourself for a much better experience with your partner. My partner and I have been together for quite awhile now and we find many of these coupons useless to us. Most of the coupons suggest things that we've already established in our relationship and/or do already (ie. take walks together, give each other massages, etc).
We feel that the coupons in this book lack any sort of creativity, but I suppose for $2.99 we should not have expected anything really phenomenal.
Overall I would rate this product a 1 out of 5, simply because it's an unattractive design and the coupons are ridiculously boring. If Pipedream put more effort into the coupon book, it could have been great. It's a shame they didn't.
Follow-up commentary
2 months after original review
Unfortunately this book has just sat on our shelf, collecting dust. Maybe one of these days we will take another look in it, though right now neither of us have the desire to do anything with the coupons. We may just give the book away to a friend if they want it.
This content is the opinion of the submitting contributor and is not endorsed by EdenFantasys.com

Thank you for viewing
Hugs n' kisses coupon book
– adult game review page!