Fun to Wear... If You Dare!
Another freebie, the Eden Shirt is bound to end up with you. If it does, it can make a good night shirt or day shirt if you can manage! The fit may not please everyone, so if anything, size up. If anything, there are always creative ways to use it!
Published:
Pros:
Free
Soft
Washes Well
Cons:
Not very Discreet
Form-fit may not be desired
An Eden Shirt? No way am I walking out the door with that!
Don't be so hasty, dear reader! While you may not be willing to strut your stuff outside, there are uses for a *free* Eden shirt! While you are more likely to select a different Eden gift (You guys with your wet wipes!) there could be some merit to this little shirt after all.
I don't know, Mwar... what can I really do with this thing?
The Eden shirt feels really soft. It's made out of 100% good quality, pre-washed cotton. You know, the kind of shirt material you like rubbing to your face on? It's that material. It's quite comfortable and being cotton it is breathable (so if you're a lady, the girls won't be sweating like crazy). If you don't wear this out in public, it can make a comfy pajama shirt. If you plan to use it as a night shirt, I would recommend getting it at least 2 sizes larger than you normally wear (I'll get into that more in the next section).
If you don't give a damn about wearing an obviously sexual shirt, or if you need to do laundry and get desperate, it is possible to wear the Eden shirt in public. It's not discreet. The front of the shirt proclaims "I like things that go VROOM." The V and R are green, one O is orange, one is yellow, and the M is a reddish-orange color. Underneath that is the Eden name and logo in its characteristic pink and green color scheme. If someone doesn't think of vibrators when viewing this shirt, the next closest thing might be cars (they go Vroom too!). Either way, it's pretty obvious and it's up to your personal taste, lifestyle, etc. that decides whether to make it a public or home shirt.
If you do decide to wear this outside or for a form fit, the Eden shirt does stretch and make your figure apparent.
Okay, you mentioned size differences, tell me about size and fit.
There doesn't appear to be a size chart to guide you when ordering your shirt, which I really think there should be. Regardless, this shirt is cut on the smaller side. I've seen some reviews claiming the shirt is up to two sizes smaller than the sizing. I don't think this is the case for a couple of reasons. One: the shirt appears to be in women's sizes and not unisex. If any men are looking to wear this shirt (go you!) be aware of this.
Two: In general, every brand has its own sizing rules and guidelines they follow. In fact: many stores make their clothes bigger than the actual size was or used to be. There's some literature on this if you're interested (or if you don't trust me, you can google. I won't be offended) showing that a size small is becoming more like a medium, and so on. The labeling is done by businesses as a marketing strategy.
All I'm saying is that I think this shirt is more true to size than a lot of the inflated clothes out there. The thing is that it's more of a female cut, and made is made to stretch to fit. If you do not wish for the Eden Shirt to form fit and prefer the look of normal cotton t-shirts, then go at least one size up. If you don't mind feeling the fabric cling to you, go closer than your size. If in doubt, do size up.
I got the size small thinking the shirt was more unisex than female in nature. So when I saw the shirt I was surprised to see it was stretchy. I tried it on, and it is a form fit. I can still breathe in it and move. If I were to comment about one measurement it would be across the shoulders. My shoulders are a bit broader than the average female, but not by much and I can feel that there could be more room there. Since men have larger shoulders, I would be mindful of this.
Note: If any of you darlings are long waisted (or have a long torso) then this shirt should cover your belly with no problem. As a female with a long torso (the tailors always comment on this -.-) this shirt covers my middle completely so it doesn't look like crazy on me. Here's a picture showing the fit.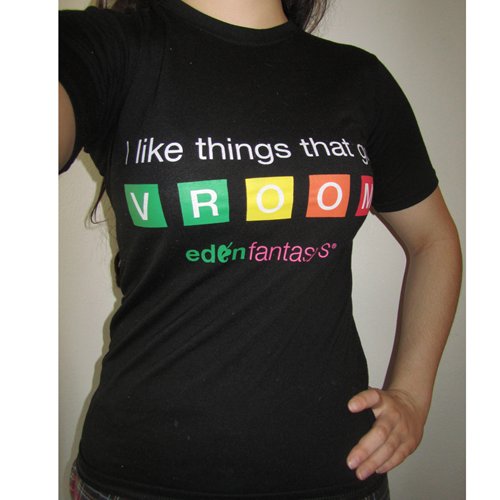 Experience
Anything else you want to mention? Oh! How do I clean this? Does it wash well?

Cleaning: I don't know if there was a care tag on the shirt. I don't have one, only a little tag showing the size of the shirt. Either way, the Eden Shirt seems to hold up pretty well over washes. To clean, it is best to turn the shirt inside out when thrown in the washer. This preserves the life of the wording on the front. It is best to wash the shirt with cool or warm water. The cooler the water, the longer the life of the shirt. You can toss the shirt in the dryer or hang it up. Drying it on a high heat might make your wording crack sooner, though. It folds up pretty compact and will fit in your dresser with no problem.

Special! 10 Creative ways to use your Eden Shirt(s) if you don't like yours or have extras!

1. Dust Rag
2. Impromptu Hand towel
3. Scrap for art projects!
4. Bag stuffer! (Now it looks like you put more thought in your gift! For free!)
5. Make a sexy pet bed for your furry child!
6. Cut into strips for emergency bandages, wraps, rags, and more
7. Protect breakables during moving!
8. You can use the plain black fabric to make a little purse or wallet (or anything)
9. Impromptu blindfold
10. Impromptu pot holder
Follow-up commentary
4 months after original review
I wish they still had these as a free gift!

The cotton is so soft on these tees! They also provide a flattering fit! And if you size up, they're comfy for sleeping in. It was worth getting! I hope they come out with different designs so I can stock up!
This content is the opinion of the submitting contributor and is not endorsed by EdenFantasys.com

Thank you for viewing
EdenFantasys t-shirt
– party costume review page!