Lick-My-Bare-Butt.
The Sexciting Couples Poker Game by Cal Exotics is a cute little game that can be played by 2 adults (or more). You don't have to know how to play poker to play this game because it comes with a hand ranking sheet that explains everything. My partner and I found the game to be fun (and funny), but it really wasn't as sexy as we had hoped.
Published:
Pros:
inexpensive, fun, easy to learn
Cons:
some may consider the cards/words too mild for their taste, made with heterosexual couples in mind.
The Sexciting Couples Poker Game by Cal Exotics arrived in a cardboard package. The front of the package has the company name, product name, and a photo of a female holding cards. The back of the packaging has the same information as the front, along with a summary of the product, contents included, warnings, and company contact information. The cardboard packaging is good to keep for storing the game cards in when the game is not being played.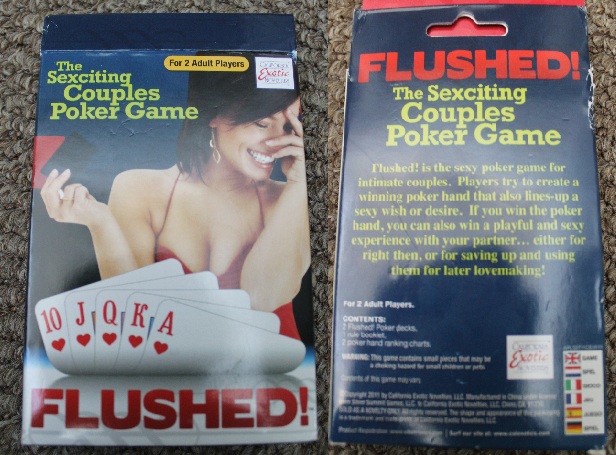 Inside of the package you'll find 2 poker decks of cards, a rule booklet, and 2 poker hand ranking charts. Each deck of cards is sealed with plastic. The game is made for 2 or more adult players.

Each deck of cards has the regular Ace-King in four suits. There are also 4 Wild Cards in each deck. Each card is similar to a playing card size 3 ½ inches in length and 2 ½ inches wide. The cards won't rip/tear any easier than a regular playing card. One of the decks has a red colour on the top of the cards and the other deck is yellow. Each suited card has a word(s) on it such as, "massage my", "expose", "cock". These words are used to make phrases during the game. The Wild Cards in the game can be used any card in any suit or any word you choose to use for the phrase you'll have to create as your reward.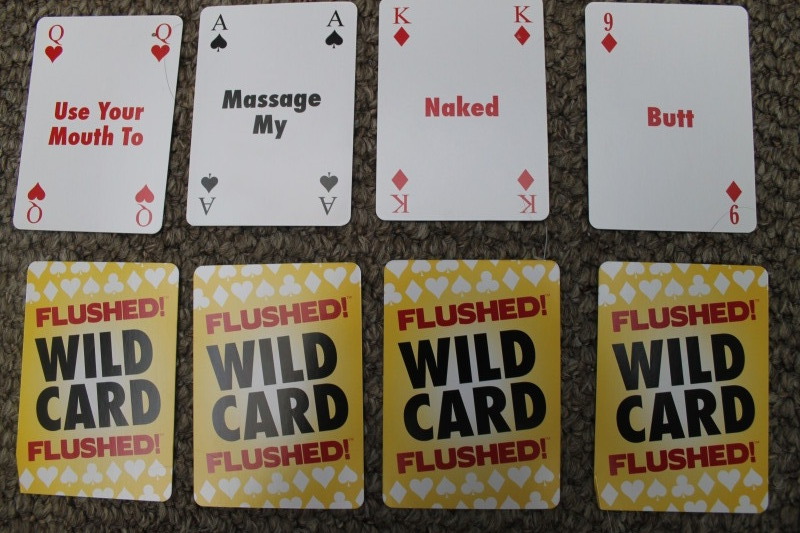 The rule booklet gives an in depth explanation of how to play the game, but I'll summarize the information to give you an idea of how it is to be played. If there are only 2 players playing, use 1 deck of cards. For more than 2 players, use both decks that are included.
Firstly, the objective of the game is fairly simple. With the words on the cards (that you've been dealt), you need to make a phrase, which ends up being the reward. You'll only get the reward by winning the card hand.
To begin the game, the dealer deals 5 cards to each player. As the cards are dealt the players can look at their cards to see what they've been given, and if they have any potential phrases with the words on each card. The phrase must be at least 2 words long. The players are not just looking for a reward phrase, but also looking for a winning card hand as well.
Next, it's time to draw from the card pile. Players can choose to return up to 3 of their own cards, and replace them with new cards from the deck. These cards will be the players' final cards and must be played since this is the end of a round.
Now that everyone who is playing has had the opportunity to draw from the pile, it's time to see who has the best card hand. If a player wants to, they can choose to fold their hand if they have nothing. Whichever player has the best poker hand wins their reward (the phrase they made with their cards). The reward can be saved for a later date, or used immediately.
So basically that's how you play. You don't really need to know how to poker to play/enjoy this game because the game includes 2 poker hand ranking charts. These charts tell you which cards together are what (royal flush, two pair, etc), and they list the hands from highest ranking to lowest.
Some of the phrases that you'll come up with are funny, some will be sexy, and maybe some you'll not want to do. For instance, a person who doesn't enjoy toe sucking may not want to "sexily suck my toes" or maybe a person is not interested in "licking my bare butt". In that case, you could always make a few of your own rules where a person is allowed 1 "pass" card for every 5 rounds played.
The words on the cards make it seem that the game was designed for heterosexual couples in mind. There are cards that may end up being useless for a female-female relationship such as, "cock", and "penis", and for male-male relationships words such as "breasts", "boobs", and "pussy". The cards that are useless for your relationship could be changed to something else (determined before you start the game) but you really shouldn't have to do that. It's too bad the game is not more gender-neutral.
Experience
...continued

The game is pretty fun, though the phrases that can be made are quite mild. This isn't necessarily a bad thing for couples who are just starting their relationship or for those who are just beginning to explore. For those who may find "kissing my thigh" (not mine, but you know what I mean) or "sucking my nipple" quite dull, the wild cards allow you to make your own words to add to the phrase. Depending on how creative you are, this can turn mild into wild. Of course, you have to actually have a wild card in your hand to make this happen.

My partner and I had some good laughs during the game, but overall it didn't really rock our world. Being able to say, "Four of a kind: lick my bare butt!" (or something just as silly) is just downright hilarious to us. Maybe we didn't take it as seriously as we could have but either way, we had a load of fun playing this game.

I've decided to give this game a 4 out of 5. The only reason it loses a star is because the words can only be made into so many phrases, and those phrases are very mild. It's a fun, inexpensive game, but not very kinky.
Follow-up commentary
12 months after original review
My partner and I had a lot of fun with this game but we actually ended up giving it away. It's a cute novelty item and fun to play a few times but you can only come up with so many phrases. We didn't find it sexy either- it was really just for laughs.
This product was provided free of charge to the reviewer. This review is in compliance with the FTC guidelines.

Thank you for viewing
Flushed
– adult game review page!