My Army of Peckers
With these little ice cubes, I do plan on taking over the world. They make my small $5 army of peckers, and they are long-lasting, don't add flavor, and are generally worth it for the giggles you'll get from using them.
Published:
Pros:
Work great as ice cubes, don't add flavor, keep water from melting in the drink, funny, make my army
Cons:
Plastic edges may not be finished
The Pecker Party Ice Coolers is a set of six ice cubes produced by Cal Exotics. These are reusable ice cubes that come in three different colors: yellow, orange, and green. Each color has two "cubes" in a set, so you get a total of six cubes with this one. I've tried looking all over, but I can't get an exact material, but from my own experience, it seems to be a plastic. Each little cube is shaped like a penis and is full with about 3/4 water. Each little "pecker" is about an inch long and his balls are a little cock-eyed just so you know exactly that this is a penis.
There are only so many things I can say about ice cubes, but I'll try my best. These are reusable, intended to be washed before and after use by hand (I'm not sure what a dishwasher will do to these little guys.) in some dish soap and hot water. To turn them into their drink-chilling form, you just toss them into the freezer and pull them out when you want them later. (I owned some of these reusable ice cubes when I was a little girl in sea shapes like a seashell and starfish. They were fun.) After a couple uses, we haven't had any sort of problem with the ice cubes breaking while freezing - they seem to last pretty nicely.
As far as I can tell, the plastic doesn't add any type of flavor to the drink you drop it in. I've tried water, soda, and some juice - nothin'. It does seem to chill the drink about as much as a regular ice cube would, but you also don't have the melting of an ice cube (I hate it when I get a soda and my ice melts and waters down my soda. Hate it with a passion.). The water, once it melts, just says in the little pecker and doesn't go into your drink which is an absolute plus for me.
The only thing I'm slightly worried about is that most of the peckers have unfinished plastic edges. The peckers use two different plastic molds and are joined together along a seam in the middle. Unfortunately, the said seem hasn't been finished all the way, so some edges seem to exist that might end up cutting someone's lip in a bad situation. (Most of the time I doubt they'd cut somebody - they'd just be more of an "ouch".) To avoid this, I used a nail file and filed off the extra edges that the peckers had on them. The hardest place to file was right along where the balls meet the shaft - that seemed to have the worst luck with being finished. However, it'd be pretty difficult to find that part of the ice cube resting up against your mouth, so I wasn't too concerned about it.
The plastic's strength varies in places. Along the shaft, there's no way you could squish the little guy while he's soft (water, not ice), but when he's hard (with ice. hehe.) nothing can be squished period. When he's soft, his little balls are gentle and can be squished a little bit, but it's nothing drastic. It doesn't really seem to
As a note, since EF uses professional photography to take their pictures of the ice cubes, the colors are off. All of the colors are much deeper - no where near as light as EF's pictures have put them. Here is the proper color of the peckers (I love saying that word. It amuses me.):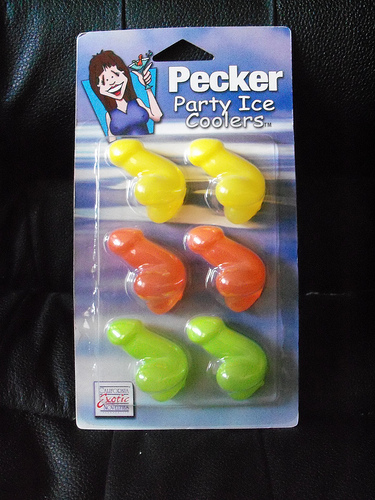 Overall, they're neat little plastic peckers that work great as reusable ice cubes. They are obviously little penises, so you can't get this by on your grandmother or anything, but if you want a little smile while you drink a regular beverage or have an upcoming adult party, these are adorable. I leave mine in the freezer unless I'm using them or they're dirty, and they are holding up great for the last couple weeks. I'm sure they'll break down at some point, but for the price, these are amazing little ice cubes.
Follow-up commentary
3 months after original review
These little peckers are still sitting in our freezer from after the last time we used them. People loved them the last time we used them, and they seemed to be a pretty great success. I cleaned them up and stuck them back in the freezer, and that's where they've stayed. On the rare occasion that we take them out, they cool up the drink really nicely. I haven't nothing bad to say about these little peckers except they tend to get dropped on the floor when the freezer door is open.
This content is the opinion of the submitting contributor and is not endorsed by EdenFantasys.com

Thank you for viewing
Pecker party ice coolers
– gags review page!