Would You Like a Lemon Wedge or Penis with Your Water?
These little penis shaped drink coolers are a fun novelty/gag gift. They can help liven up a party or make a great gag gift to a friend. They take only about an hour and a half to freeze, but unfortunately they also melt within half an hour of being taken out of the freezer.
Published:
Pros:
amusing, colorful, reusable, don't add flavor to drinks
Cons:
plastic is a little cheap feeling, don't stay cold very long
Normally I don't buy this kind of novelty item, but the penis ice coolers looked like they would be fun, and possibly traumatizing, enough to enjoy for a while. When it came time to order some other things off EdenFantasys, I threw these in the cart as well.

Each six pack of penis coolers comes in a blister pack. The cardboard backing is pretty simple. The front states "Pecker Party Ice Coolers" with a picture of a brunette enjoying a penis covered martini. The back shows the same woman surrounded by 6 of the ice coolers. There is very little information on the back of the packaging, basically just to throw these in the freezer and use them to cool drinks when they are frozen through. These are manufactured by California Exotics and are made in China. The packaging simply states to wash before and after each use. I think the packaging is fine if this is handed to someone as a gag gift.

In each six pack, you get two of each color: green, yellow, and orange. At first, I thought these glow in the dark, because the colors of the coolers are similar to those of products that glow in the dark. Unfortunately, these do not glow in the dark. Each penis measures approximately 2 inches long by an inch and a half tall. The shaft of each penis is about the size of a finger, measuring 2 inches around. These do have quite a bit of rough seams going all of the way around them. Other than that, these have a smooth texture to them. The plastic is pretty flexible, though it doesn't feel all too sturdy. Pressing on it, it feels really thin and weak, like when you find a thin spot on a plastic container and keep pressing on it or something. If you aren't playing around with it, though, these should hold together just fine. I couldn't find any information anywhere on the liquid inside of the coolers, though it is probably similar to that of regular cold packs you put in a cooler or lunch box. I would make sure to inspect each penis before putting it in the freezer or a beverage, just in case one may have a leak.

As far as uses go, there's really only one for these: cooling drinks. Unlike actual ice cubes, these will cool drinks without watering them down. They're reusable, but they aren't exactly a better option for drink cooling, as far as the environment goes. You're still using water and soap to wash these off before tossing them back in the freezer, just as you would with ice cube trays. However, unlike ice cubes, the look on a friend's face when they realize there's a tiny penis floating in their drink can be priceless. Each penis does float right on top of the water. None of mine sank to the bottom of my glass. These do take much less time to freeze than a tray of ice cubes. In my freezer, I notice it typically takes about 5-6 hours for a tray of water to completely freeze. These only take about an hour and a half. They do melt pretty fast. I put one in a glass of water I got from my fridge, and it melted within half an hour. These look like they will hang onto the edge of a glass, but they don't. They just plop into the glass.

The possibilities for situations to use these are pretty unlimited. They can be used for birthday parties, bachelorette parties, or small get-togethers with friends. Really, as long as the crowd isn't disturbed or disgusted by this kind of thing, it should be okay to use these. I personally had no particular reason for ordering these, other than that I thought they might be amusing. My fiancé's first introduction to a tiny green penis made an awesome picture.

To clean these up, you can simply hand wash them with dish soap and warm water. A dishwasher may melt these, especially if they are washed in the bottom rack. Since they don't have any texture to them, they're pretty easy to clean. I let mine dry in my dish rack next to the sink before I toss them back in the freezer. I keep them in a small dish in my freezer, which keeps them pretty clean. If they're in the freezer for more than a few weeks at a time, you may want to take them out and wash them to keep them fresh for drinks.

*Continued*
Experience
I recommend these to anyone interested in either little tiny penises or novelty/gag gifts. They'll easily get a laugh out of someone. The price is a little high at $5 for 6 of these, especially since I've bought flower shaped coolers of the same quality in a 5 pack for $1 at Dollar Tree. You probably pay a little more because of the branding and the shape.
And now for some pictures: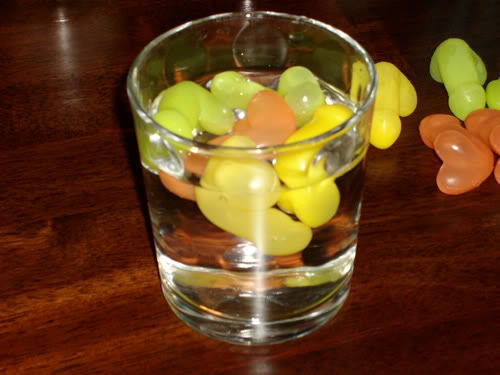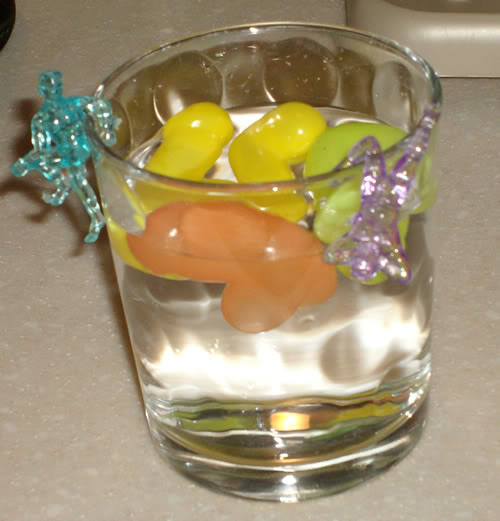 Little plastic male stripper glass decorations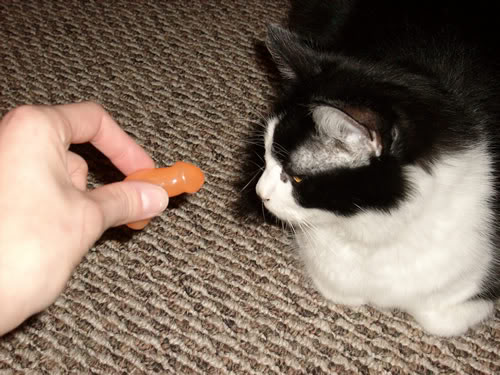 My cat thinks these are toys for him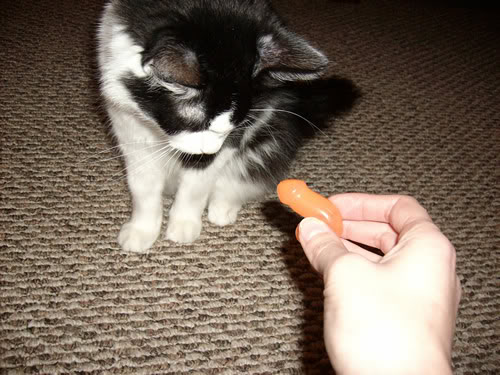 Follow-up commentary
29 days after original review
I still love these penis coolers. Every time I have a drink, I put these in to cool it down, even if it is just water or pop. After use, I just hand wash these, leave them in the dish drainer to dry, and throw them back in the freezer. So far, they haven't fallen apart or anything. None of them look even close to falling apart.
This content is the opinion of the submitting contributor and is not endorsed by EdenFantasys.com

Thank you for viewing
Pecker party ice coolers
– gags review page!