This Joke Was a Joke
If you actually want to use this as a sharpener, don't bother getting this. It's cheap quality doesn't make it usable as an actual tool. However, if you want something cheap to throw in with party favors to make your guests giggle, it will do the trick!
Published:
Pros:
- So cute!
Cons:
- Very cheap and breakable.
I got this item cause I couldn't resist it's cuteness. I needed a sharpener for my eyeliner anyways and thought it would look cute sitting with my makeup in the bathroom, and an obvious giggle factory for guests who see it. However, it lasted for all of five seconds before it ended up in my trash can.
FIRST LOOK
This arrived in one of those plastic containers that are always a pain to open, but this one actually opened easily. It had some cutesy printing you would expect on a gag gift. Once opened, the toy itself is very lightweight and cheap looking. I was still happy about it though cause I wasn't expecting anything fancy at that price. The sharpener is made out of a cheap plastic but was put together well. It's smooth and colored just right. There is a small opening at the top and opens at the bottom to empty shavings. The sharpener itself is lodged up at the top and held up by two flimsy pieces of plastic on either side. The sharpener is cheap metal that you would find in a pencil sharpener you may buy at a dollar store.
About 3" Long
Sbout 1 1/2" Wide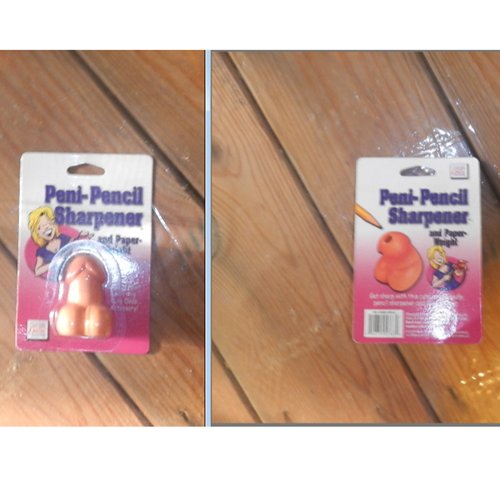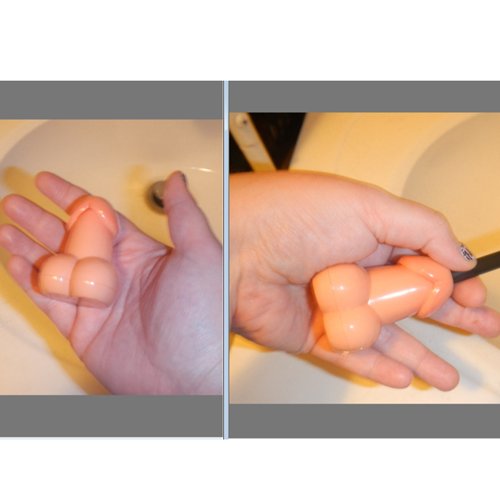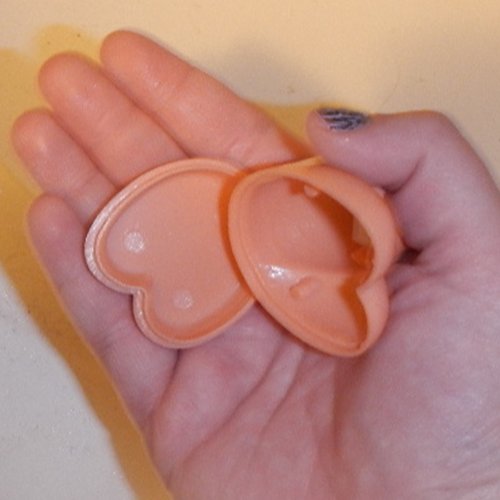 USING/EXPERIENCE
I instantly ran into the bathroom with this because I was excited to use such a cute sharpener on my eyeliner. My eyeliner stick is the same size as a regular pencil, but fit awkwardly into the penis hole. I didn't want to break the sharpener so I was as gentle as I could be to get it in enough to turn it, but I couldn't hear any cutting going on. I had to press more firmly to hear my pencil being sharpened, and when I took it out to see how it was coming along, my eyeliner end was in worse shape then it was before. I washed out the soft eyeliner piece that was stuck inside, and then decided to give this another chance with a regular pencil. It turned more easily with a regular pencil, but it still wasn't cutting right. I had to press more firmly to get it to start cutting right. Once I did, the metal piece popped off the plastic hinges and fell to the bottom. I opened it up and got it stuck back in, but after that it was all over. I just couldn't get the pencil back in without it popping out of the plastic again.
I was SO sad! I really wanted to be able to use this! I ended up tossing this out when I realized it wasn't cute enough as just a decorative piece. As I stared forlornly into my trash can, I realized that I just couldn't blame it. It WAS cheap after all. I hope they make a fancier version one day, because I would love to have something like this that works. I'll pay triple the price for that!
Although it was cheap and cheaper to use, it's still something that could get use as a party favor. You could probably buy a nicer sharpener piece to stick up there with some ghetto rigging so you can have the design and a nice sharpener... I just wasn't in the mood to be creative after being disappointed.
Follow-up commentary
2 months after original review
Because this was so cheap and broke immediately, it ended up in the trash. However, a friend of mine also got one and the inside razor hasn't fell apart yet. She did say hers is just for decoration though as it doesn't sharpen anything well. I had that problem too and suppose I could have kept mine as decor, but I'm not missing it.
This content is the opinion of the submitting contributor and is not endorsed by EdenFantasys.com

Thank you for viewing
Peni pencil sharpner
review page!