This Tiny Penis Gets The Job Done!
This little guy is sure to put a smile on anyone's face! It's super cute, super funny, and works amazingly well! So if you're looking for an inexpensive gag to give to a friend or co-worker or are looking to treat yourself to something that makes you smile, don't look any further! This awesome sharpener is sure to make an impression!
Published:
Pros:
- Inexpensive
- Sharpens Well
- Great Gag Gift
Cons:
- Not Discreet
Peni Pencil Sharpener by Cal Exotics is a great little penis shaped gag that works very well for it's designed purpose. Not only does this work well for giving your writing instruments a super fine point, but it also makes a great addition to a make up bag as an eye liner sharpener.
This sharpener is designed to look like a cute little package; testicles and all! The bottom of the testicles are totally flat which give this piece the ability to be left free-standing. The tip of your pencil goes inside what would be the urethral hole on the penis and the bottom of the testicles can be opened up to remove the shavings. The bottom feels like it might eventually have difficulty staying on well, but for now it's not an issue.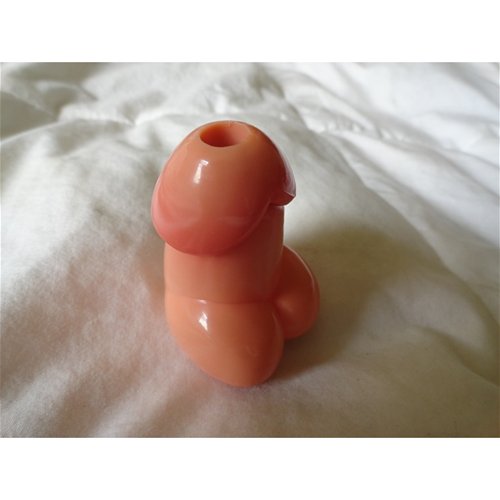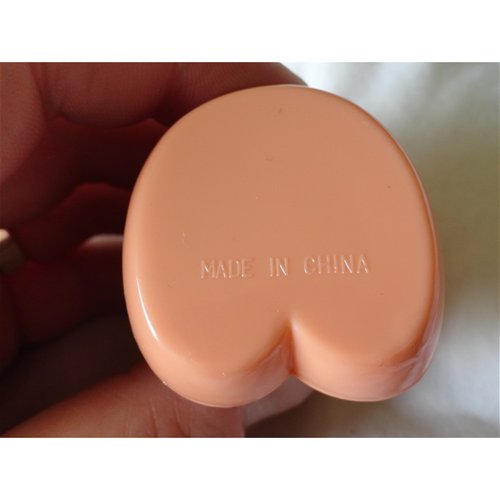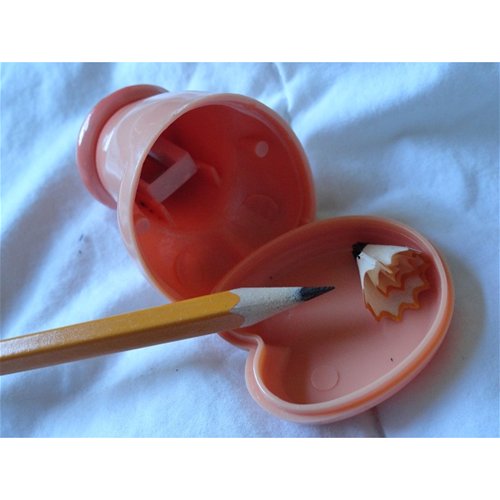 Peni is made from a lightweight, shiny plastic and is flesh toned. When you open the bottom of the sharpener, you can see that inside is a very standard pencil sharpener. The sharpener works incredibly well! The hole at the end of the penis helps give a lot of control when turning pencils, resulting in fewer broken leads; a huge plus if you ask me!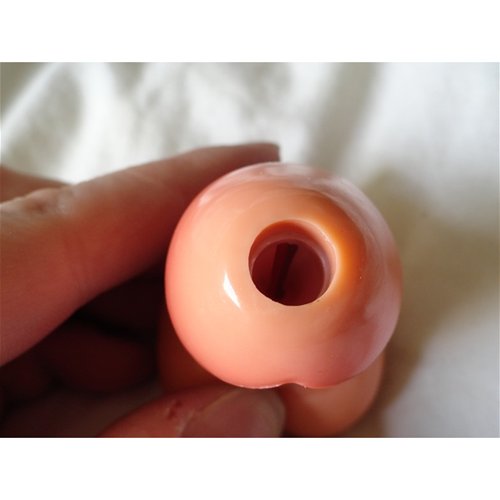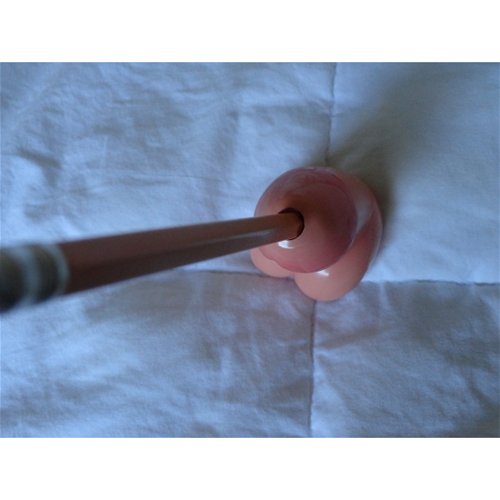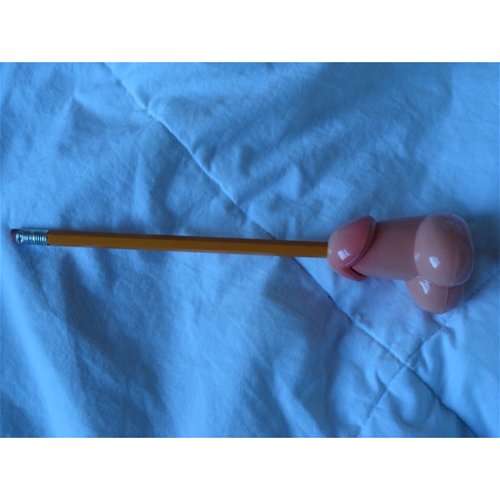 This little guy is much larger than your basic sharpeners, but much smaller than most electric ones. It stands only 2 3/8" tall and is 5 3/8" around the base, 3 1/2" around the shaft and head, and the hole has a diameter of 5/16".
The package this comes in is far from discreet. It has the same look and feel to it that most of the gags do from this company. It has a simple cardboard backing and a clear plastic piece that extends from the package which contains your sharpener. The package is not good for storage and can be disposed of as you see fit. There are no specific instructions on how to use this item, but it's pretty self explanatory.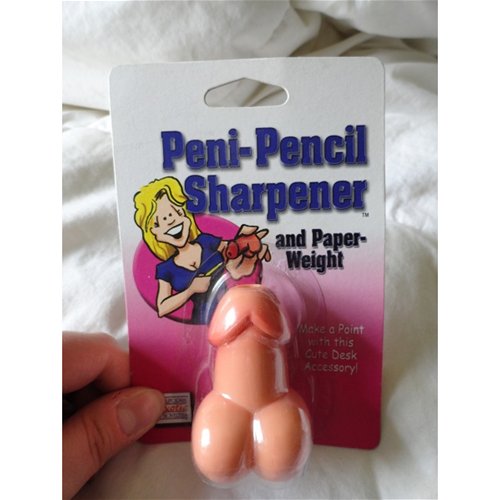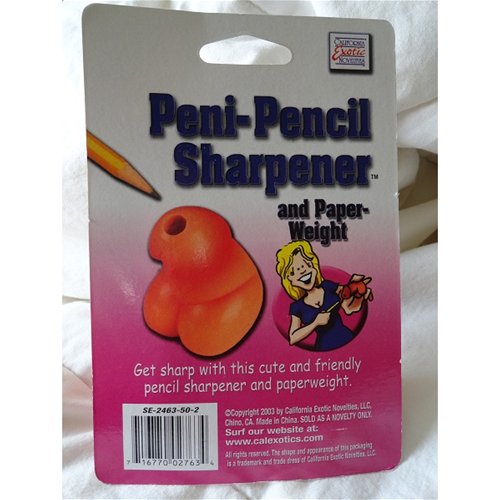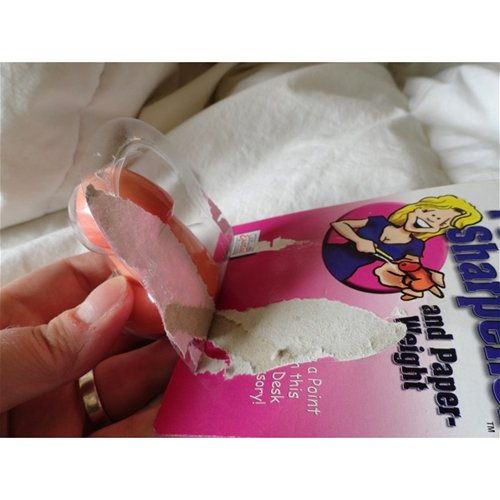 Though the package claims that this is also a paper-weight, it's far too light to work for that purpose. However, I'm extremely impressed with how well it sharpens! I have a small, basic sharpener that I usually use and it often snaps the tips of my pencils right as I'm about to remove them. It's frustrating and unnecessary. Though this is marketed as a gag, it is actually very useful and seems like it will hold up well over time.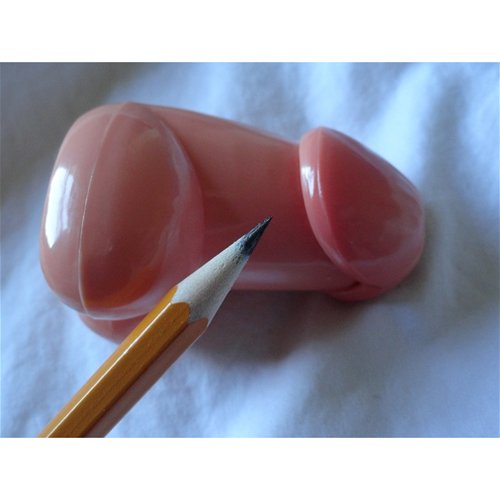 Please keep in mind that this item is an adult product and should not be kept or used around children. This is not discreet and obviously resembles a penis. It is small enough that it's travel friendly and is easily stored in a drawer, make up bag, or backpack, but keep in mind that anyone that sees it, will be able to instantly tell what it is.
I can see this being a funny gift for a college student, a make up artist, or just for a close friend. This cute little guy is sure to bring not only a smile, but also is a useful tool for just about anyone!
Follow-up commentary
3 months after original review
I do still like it, but have found that there are some faults with the sharpener. Inside, the shavings tend to get stuck between the side and the actual piece that sharpens. When this happens it makes it so there's not enough room for the shavings and has to be dumped and needs something thin to scrape them out. Not a huge deal, but can be annoying. The bottom also has started to come off more easily since I first received it; resulting in shavings accidentally dumped in various places, and while in use. These two things are slightly annoying elements of this sharpener, but it does still do a great job at getting pencil tips nice and pointy.
This content is the opinion of the submitting contributor and is not endorsed by EdenFantasys.com

Thank you for viewing
Peni pencil sharpner
review page!