A Beautiful Spell
This G-spot or P-spot vibrator is one of the toys that won't get lost in your toy collection. It's bright brilliant color will make it easy to find and the unique shape will have you grabbing this toy time and time again. While not the strongest vibration intensity in my toy collection, it is quickly becoming one of our favorites to pull out and use for added stimulation and fun.
Published:
Pros:
Unique look, easy to clean, reasonably strong but quiet, different colors to choose from
Cons:
could have stronger vibrations, doesn't have any give to it
The Spellbound, by California Exotics is a unique combination of beads, ridges, and a slightly curved tip designed to provide both G spot and P spot stimulation. Spellbound has three settings of increasing intensity that are controlled by a push button at the end of the handle. It doesn't have a flared end, however, the handle is easy to hold and there are several rows of ridges that make it safer to use as a P spot simulator.
It can be used solo or with your partner. It can also be used to provide stimulation at other areas of the body, including but not limited to all erogenous areas of either partner. Placing the steel balls against the external scrotum provided added stimulation for my hubby. Aiming the tip towards his anal area, the balls reached his opening while laying against his scrotum. I am a sucker for a back massage and when adding Spellbound into the equation, it was perfect. The steel beads rolled and vibrated on my back, releasing tense muscles.
Spellbound is made of food grade material, is hypoallergenic, latex free, non porous, and phthalates free. It scores an 8 on the Eden safety scale with 10 being the highest rating. The majority of the toy is a hard plastic case that feels more like velvet than plastic. The velvet cote makes it easy to clean and easy to share between partners. Water, silicone, or oil based lubes can be used with this toy and a small amount of the lube goes a long way. Upon opening the package, there wasn't any smell or taste. And yes, after the initial washing, I did stick my tongue to it just for review purposes. I don't see it doing anything for my tongue though!
The vibrator is 7 1/2 inches long, beginning with a ridged grip and ending in a slightly curved tip. There are 6 1/2 inches of insertable toy. The shaft is 1 1/4 inches in diameter and the G-spot head is 1/2 inch wide but narrows down the the width of the shaft almost immediately.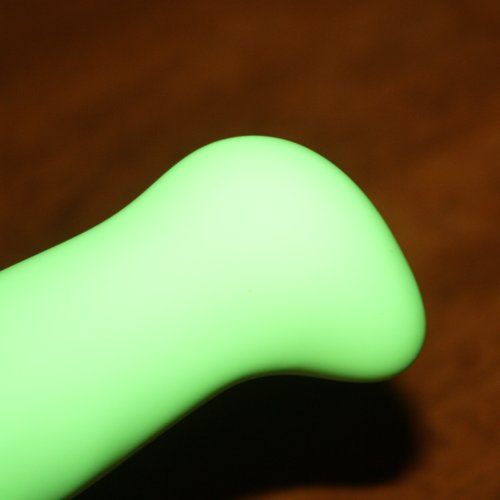 Beginning at 3 1/2 inches from the tip are rows of stainless steel beads. Each row of beds contains three beads and there are four rows dispersed evenly around the toy. The beads fit snugly and do not move around.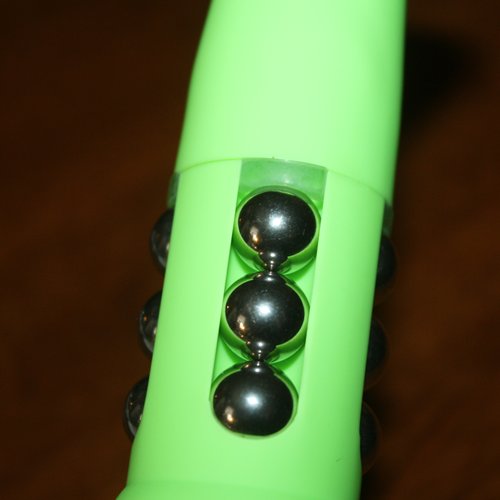 Just below the rows of beads are two ridges that encircle the toy. At the bottom of the toy is a twist type opening that contains the batteries. Two AAA batteries are needed to fuel the Spellbound. The twist opening is grooved and appears to fit snugly when closed all the way. The operating push button is on the bottom and changes speeds by simply pushing the button in. The control has to go through all three levels of intensity before it can be turned off. The button does not light up when the toy is on.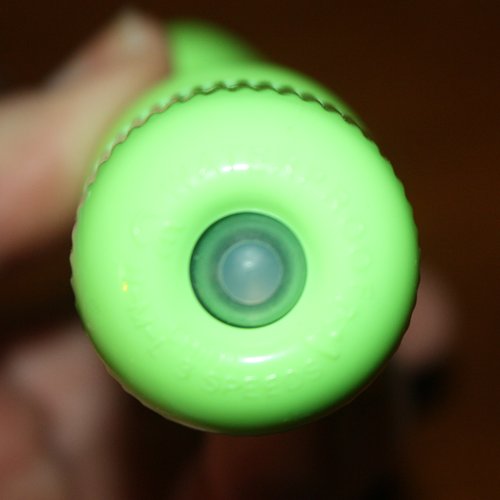 Another added feature of the Spellbound is that stainless steel beads can be heated or cooled by running water over them, adding the temperature component to the vibrator. Care should be given not to boil or microwave the Spellbound and it shouldn't be placed in the freezer. Simply running either cool or warm water over it will change the temperature.
While the Spellbound does take a little extra time to clean it thoroughly, it's not really hard to clean. The top section of the toy twists off and a clear gasket ring can be easily lifted off to allow the beads to move around for easier cleaning.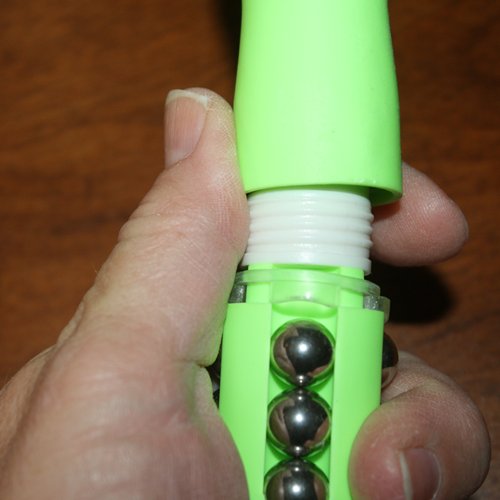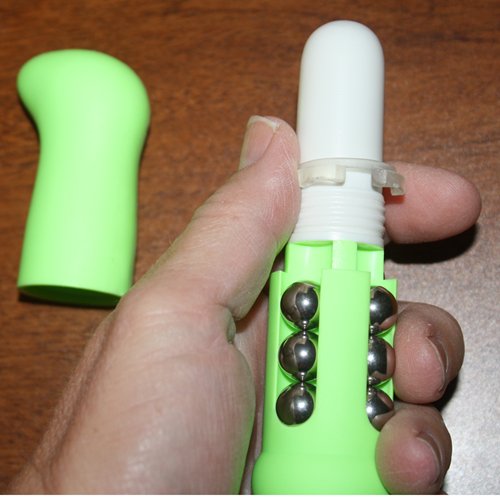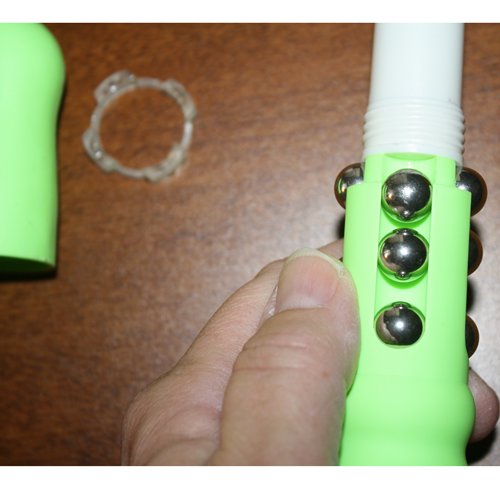 The beads can actually be removed completely if you choose to do so. Warm soapy water or toy cleaner can be used to clean it. If sharing with a partner, use condoms or clean thoroughly between each person.
Spellbound arrived in a molded clear package that opens easily at the top. Information is printed on the front and back of a piece of light cardboard inside the case. An instructional booklet is also enclosed. The toy can be stored in the plastic case as it is only slightly larger than the toy itself. While the appearance screams a sex toy, it is small enough to carry in a pocketbook (if you carry a big one like I do) or a carry on suitcase. It was be wise to remove the batteries before traveling with it or storing it.
Experience
It had been awhile since I had purchased any new toys and felt it was time. I had read several reviews on this toy and fell in love with the color choices. After it arrived, we had to try it out. I am a medium strength vibration girl and this vibrator, with its 3 settings, met my needs, It was long enough to reach my G Spot while the rows of beads vibrated against my clit or vaginal walls.
Spellbound claims to be waterproof and I have found it to be splash proof but the water proof claim has not been tested in the hot tub at the time of this review. I am hesitant to submerge this beautiful thing for fear of it drowning! That, and the fact it has been raining and really cool since I received it has prevented it being in the hot tub.
It can also be used a P-spot vibrator. At this time we've not tried it out on hubby but hopefully by my follow-up, he will have warmed up to the idea.
Follow-up commentary
20 days after original review
This has been a great asset to our toy collection! We have enjoyed it on numerous occasions and the batteries seem to be holding up very well. The vibrations are strong even after numerous uses.
This product was provided at a discounted price in exchange for an unbiased review. This review is in compliance with the FTC guidelines.

Thank you for viewing
Spellbound
– g-spot vibrator review page!