Ace in the Hole? Nah, It's a Spade
The Sexy Spade is one of those toys that you just have to have because it's so pretty! It is going to be too large for people who generally buy anal toys listed as "small", but it will be a nice goal to work toward.
Published:
Pros:
--Beautiful
--Body Safe Material
Cons:
--None, but this is not a traditional "small"
Way back when I found Eden, this was one of the toys that called to me. I finally pulled the trigger and purchased it, and it's just as pretty in person.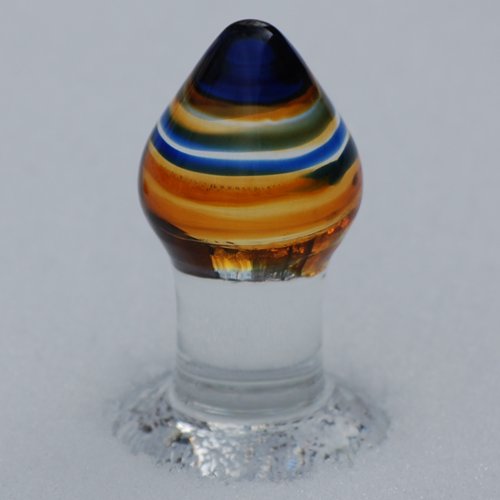 The Sexy Spade Small is a butt plug. I don't think it would satisfy when used for anything else. Vaginally it isn't long or filling enough to make much of an impact. It wouldn't provide much in the way of clitoral stimulation. So, I'd stick to using it for what it's good at; it's a butt plug.
The Sexy Spade has a tapered tip which gradually increases in diameter, and then it drops off suddenly to the neck of the play. The bulb shape that is created by this increase and swift drop off resembles a spade. The neck is a uniform diameter, around 7/8", from the bulb to the base. The neck and base are clear glass, but the bulb is full of swirling beautiful colors. There is deep amber, dark cobalt blue and a hint of a deep green. When you look up through the base you can see the colors of the bulb. I would say that anyone familiar with toys would be able to guess what this plug is used for, so although it is very pretty, it wouldn't be good to leave it out on display.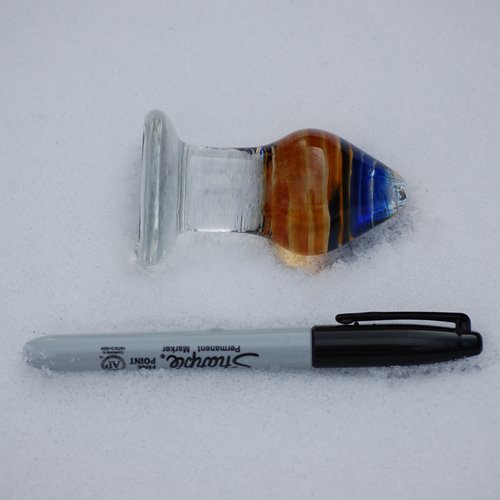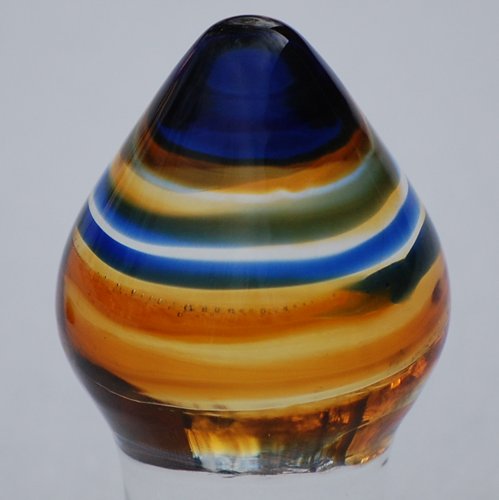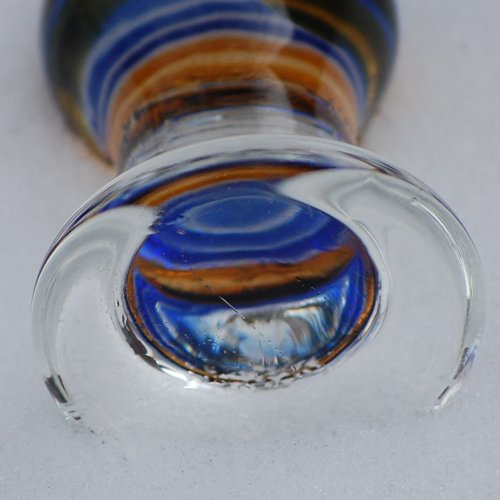 It is the smallest of three sizes of Sexy Spade available, but compared to other beginner plugs it is quite a bit bigger. I'd say that this plug is well suited for an intermediate user, as the glass makes it feel much larger than it is. The overall length of the plug is 3 1/4", with an insertable length of 2 3/4". The diameter of the bulb itself is 1 1/2", which is quite big if you're just getting started with anal play. Even for intermediate users, this play require a bit of warm up.
The base is circular, so it may not be the most comfortable plug for long term wear, but that will depend of personal preference. Because there is a circular base of glass, with no flexibility, between your cheeks when you use this plug, it may be too distracting for you to simply go about your day or wear this plug out to dinner. The base of the Sexy Spade makes it possible to use this toy in a harness, assuming you have an O-ring it will fit through. It could be used for pegging that way, if you so desire.
The glass used to make it is Borosilicate glass, which is a wonderful material for sex toys. It is non-porous, hypoallergenic, non-toxic, latex-free and phthalate-free. It has no smell or taste. Borosilicate glass is better known as Pyrex, the bakeware and dishes popular in kitchens the world over. It is created to break into larger chunks instead of splintering into thousands of shards if it would shatter. The surface is very smooth and slick with no drag or texture.
The Sexy Spade could be used for temperature play, by placing it in a dish or warm or cold water. It does hold the temperature for quite a while. Be sure to not heat or cool the plug to unsafe temperatures, and always test the toy on the sensitive skin of your inner arm before putting it near your sensitive anal tissue.
Cleaning glass toys is easy. You can wash the toy with soap and water, or you can use your favorite toy cleaner. It can be sterilized by placing it in boiling water for three minutes, or washing it in your dishwasher. Because it is a glass toy, you can use any lube you like. A little bit of lube goes a long way, as the glass absorbs none. Be sure to keep a good grip, to avoid dropping the toy, as it gets very slick when lubricated. It does not tend to collect lint or hair.
The Sexy Spade Small comes in a plastic box with decorative designs and a window which shows the toy. Inside the box, the toy is nestled in a plastic form, to keep it from moving inside the box. It works well enough for protection and storage, but I don't think the plastic box will hold up to years of being opened and closed. It doesn't come with any sort of pouch for storage, so if you decide to ditch the box you'll need to ensure the toy is safety stored to ensure it doesn't get broken.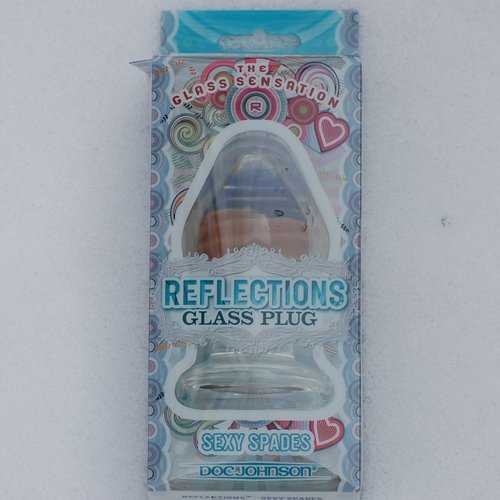 Experience
This plug is a bit beyond my ability at the moment, but I keep trying. It provides a challenge, and a goal. Meanwhile, I enjoy pulling it out to look at it. I'm not the least bit sorry I bought it, as I'm sure I will work up to it one day.

It's not the plug's fault that I find it too large, as I was aware of the size before buying it. Right now, it will be stored and used by my husband, who enjoys larger toys than me. Because it's glass, we can share this one after a quick boil.

I did attempt to use this as a Kegel exerciser, to see if it would work. It was less than ideal, but would work if you had nothing else. It can't be inserted far enough to allow you to really clench and grip the bulb, so it falls short of providing a good work out.
Follow-up commentary
9 months after original review
Although it's still a bit beyond my reach, this toy has held up well and has no issues. I have no complaints. It's a beautiful toy, and a great item to work your way up to.
This product was provided at a discounted price in exchange for an unbiased review. This review is in compliance with the FTC guidelines.

Thank you for viewing
Sexy spades small
– glass plug review page!