Sexy Spades indeed!
While looking for a good warm up plug I found the Sexy Spades Small. The coloring of the tip and the bigger neck is what first drew me in, the price and the fact it is glass sealed the deal for me. While it is not "Small" per say, it is a great intermediate plug that is great for those looking to move up from beginner toys.
Published:
Pros:
Nice shape, Minimal lube required, Nice coloring, Good base, Great warm up for larger toys.
Cons:
No storage pouch, Does not stay put in all positions.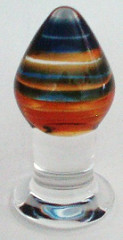 Is there any material that is as pleasing to the eye as glass? Honestly, I think not! With all the colors and shapes that can be molded/formed from glass, the awesome temp play abilities and firm stimulation, no other material comes close. (unless you have a steel fetish like me. lol)
I have been looking for a glass plug to replace my Pink Ripple, the base of the Ripple is just not safe in my opinion. Even though I have bigger plugs in my toy box I still wanted a plug for daily use and a plug that had a bigger neck. Of course it had to have a safe base and that it does.
See ->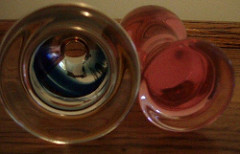 Enter in the Sexy Spades Small from Doc Johnson. This plug is made from
Tempered glass
otherwise known as Pyrex. Pyrex glass is the very same material used for laboratory beakers/test tubes and kitchen cooking dishware. This means to the sex toy connoisseur that this toy will not shatter if dropped and it can withstand extreme temps. Not that you will ever use a toy at the high or low extreme of the thermometer but it is good to know that this material will last forever with just a little of care. Cleaning can be done in many ways; boiling, bleach, dishwasher or good old soap and water to name the most popular.
The Spades has a very nice blue and brown color swirled into the spade section of the plug. You can feel the swirled color with a finger but not during use. The clear portion of the plug is crystal clear and you can see through the tip very easily. If not for the blue/brown coloring this would make a great toy for viewing the insides of ones orifice of choice, it is that clear.
Here you can see the red strip under the plug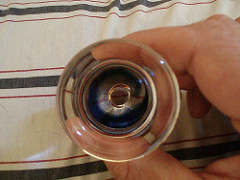 You may have also noticed the wood grain in the 'base' picture above.
Now the Sexy Spades Small is not really all that small, in all reality at 1 1/2" diameter it is more like a medium. In the Sexy Spades line it is the smallest one thus the "Small" designation. When you consider that the medium in the line is two inches in diameter it make total sense. So please make sure you can take the size based on measurements as glass has no give and often feels bigger than a toy the same size made out if softer materials. Just as a comparison, to me it feels half an inch bigger than my Ryder even though it is actually only 1/8" bigger.
The tip is tapered for easy insertion, for many this will make a good starting toy for warm up as it allows you to go slow and stretch as comfort allows. The base makes a decent handle and provides good control for insertion. What I like best is the larger neck, most plugs have a smaller neck. While that is nice for long term wear, it does not really work all that good for warm up/stretching when I want to use a bigger toy. With this one I can put it in and walk around for a bit and them move up to larger toy fairly quick.
Aside from great looks, clean-ability and firm stimulation, another fine attribute is the ability to use any lube you chose. Water, oil and silicone based lubes all work fine. For easy clean up use a water based lube, for long term wear use oil or silicone based lubes. On thing I have found is that in the long term water based lubes dry up faster and thus the base of the plug can irritate the cheeks faster. Furthermore, since glass is non-porous it does not absorb the lube so you will not need much. I can even get this plug in comfortably without lube when things are hot and sweaty. That's not to say you should not use a good lube for your back door play, I am just saying that not much will be needed.
Doc Johnson sends this plug in a plastic box with a form fitted plastic tray that slides out of the box. Since the box is clear you can see the plug thus it may not be the best for storage where people can see it.
The box is OK for storage in a drawer or toy box, but a pouch would have been a nice addition. It is glass after all.
Experience
I am so happy to have the Spades Small. No other plug I own goes in as easy and is so easy to travel with. I can slip this in my pocket along with a small bottle of lube and head out to do my yard work or clean rental apt's. A couple drops of lube is all I need to get it in and I am set. The stimulation is good and it stays in with little effort. I have no problems with the base when wearing it long term as long as I use silicone or oil based lubes. In fact I have only had discomfort when using water based lubes, even my beloved Maximus allowed some irritation after some time.

For most positions during sex it stays in pretty good, only positions that have my legs bent does it want to come out. When I feel it coming out sometimes a flex of the ol Kegel's sucks it back in or a quick finger solves the problem. It does tend to come out during climax but that just adds to the fun. On the other hand It never has threatened to come out when walking around or sitting in a chair.

So in the end (oh yes I did) I am very happy with the Sexy Spades Small. If not for the lack of a good storage pouch this would be a solid five star toy. But I feel that all glass toys should come with a padded pouch.
Follow-up commentary
4 months after original review
This is by far the most used plug I have, it is the first toy in my ass for warm up purposes and the one I grab for a quickie hand job. I am always amazed at how little lube is needed for it to slip right in, gotta love glass, eh?

I really need to get the medium to complete my set, they would just look awesome on display.
This content is the opinion of the submitting contributor and is not endorsed by EdenFantasys.com

Thank you for viewing
Sexy spades small
– glass plug review page!