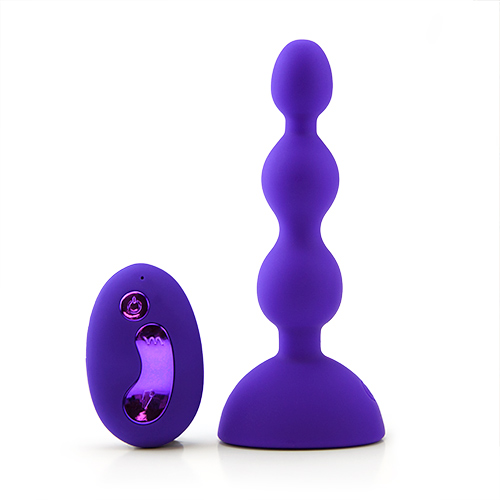 Double explosion
Remote control anal bead vibrator
by EdenFantasys
All 'Bout the 'Beads'? YES! Blissfully Buzzing Badonkadonk!
Don't let this smooth, 'proud-looking' violet vibrator fool you!! It may not look like much at first glance, but this energetic erect toy had my bottom (and...um my vagina) buzzing nicely after just a few minutes of playtime! With just the right flexibility/stiffness ratio and 'Hey! Don't be stingy with that lube!', it's easy and feels great to 'work in', and it's mind-blowing for the experience to literally be in the hands of your partner--the remote is definitely a plus with this toy!!
Published:
Pros
Remote control
Comfortable insertion, flexible
Powerful vibrations
Rechargeable, waterproof
Cons
Slight difficulty with inserting charger into toy
Toy heated up slightly near the base while in use
First Impression:
The Double Explosion was delivered in a discreet packing box. Inside, I found a colorful tuck end box with the name of the toy written on one side and instructions written on the other.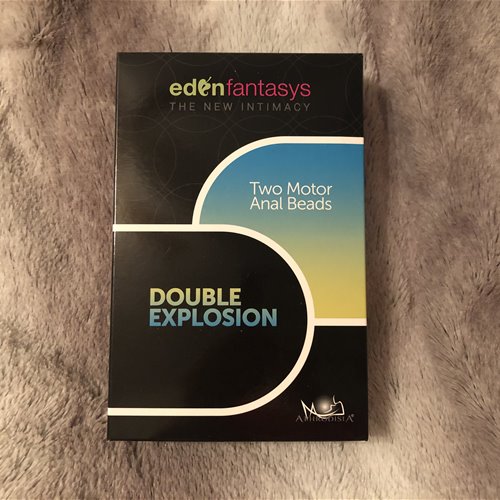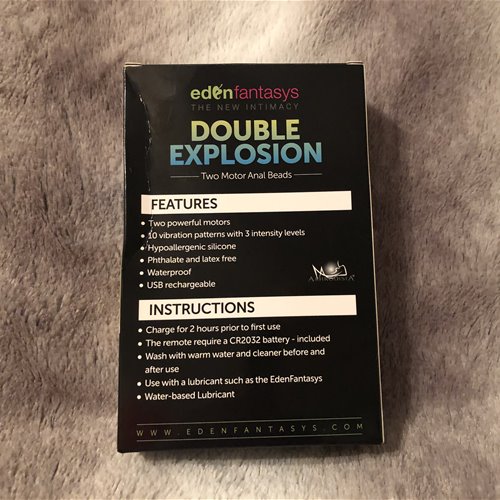 Inside the box was a black plastic tray that held the pretty purple toy and its remote control. The white USB charging cord was found under the plastic tray.
My first impression of the Double Explosion was WOO HOO!! because I absolutely LOVE vibrators of any and every type. I was intrigued by the look of the toy and I liked the increase in size of the beads. I knew I could handle the first 2 with anal play but I wasn't sure about the last bead. However, I do love a challenge! I was also impressed with the fact that this toy has a remote. It's definitely a plus for a vibrator, especially one that will be operating in the derrière, and it's great for couples' play!! The toy is smooth, feels nice and doesn't have a smell. I first held down the power button on the base and a red light came on.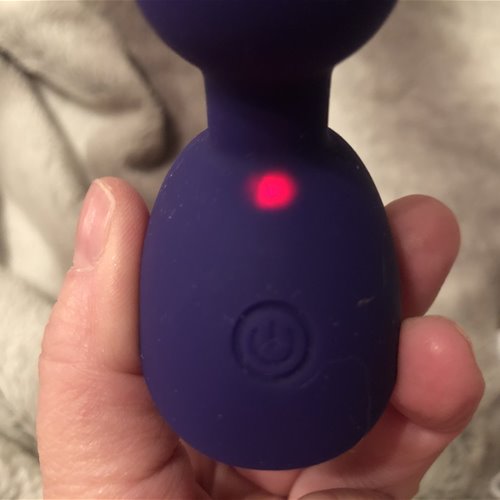 After I pulled the plastic tab out of the battery compartment, I held down the power button on the remote.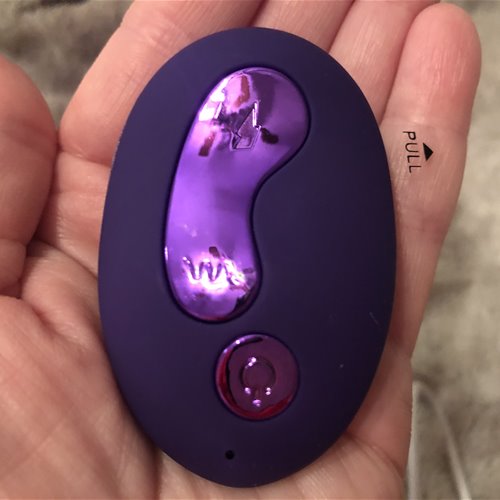 The directions stated to charge the toy before use but I wanted to test the settings first. I pressed the intensity setting for low (ok..), then medium (hmm, that will make an impression), then high (HMM, that will make an impression on my vagina FROM MY ANUS!). I put the toy on my nightstand and watched it dance around as I changed settings. Can't wait!!
Material and Safety Information:
-Made with body-safe silicone; *non-porous, *hypoallergenic and *free of phthalates and *latex
-Flared base
-Warning: Bottom bead heats up with extended use.
Design and Specs:
-Tower design composed of 3 bulbous 'beads', increasing in size from the top bead (1 inch) to the largest bead (1 1/4 inches) at the base
-Body of the toy: purple, smooth/soft texture
-2 motors
-Length is approx. 5 ¾ inches (insertable 4 ¾ inches)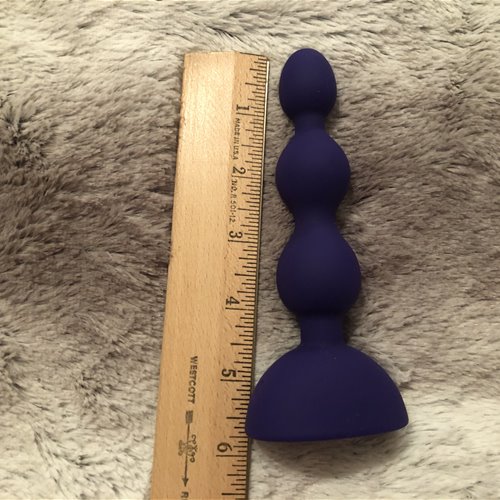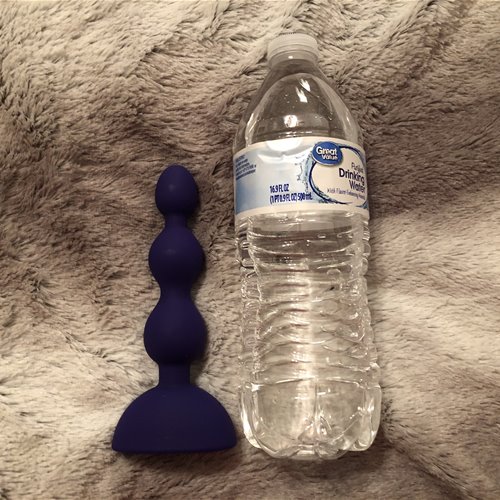 Maintenance:
-Always use water-based lubricant with silicone toys(NO silicone-based lube)
-Clean well with warm soap and water or toy cleaner after use; rinse and dry
-May have to bleach for optimal cleaning (IS safe to bleach); CAN be submerged
-Can be stored in box that it was received in; or within some type of well-ventilated storage pouch (silk, microfiber, organza, mesh)
Usage:
-Charge for 2 hours before use
-Time for charging from total battery drain (blinking red light) = approx. 47 minutes
-USB rechargeable; Note: charger goes straight into the charging port (goes in perpendicular, at 90-degree angle to toy)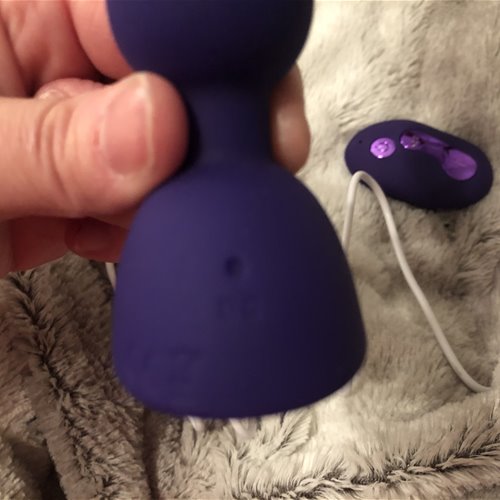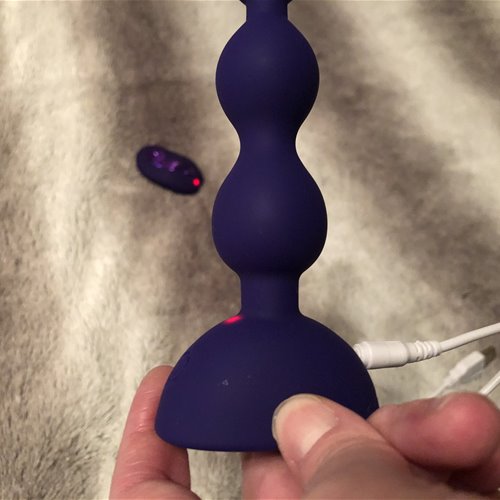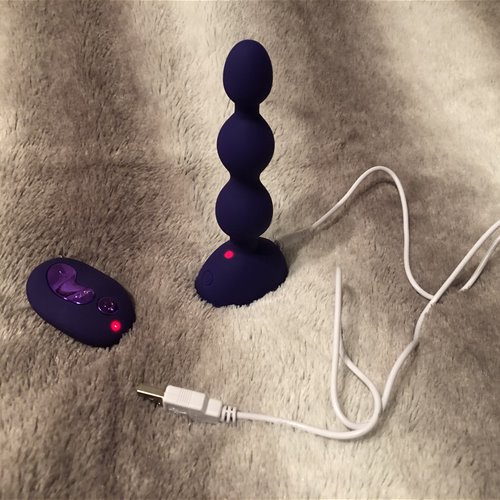 -Wireless operation with remote control
-Easy to use: Base has 1 button; hold down for approx. 3 seconds to turn On/Off
-Remote control buttons used for Intensity and Vibration settings:
>"lightning" symbol controls Intensity settings = 3 total (low, medium, high); Each vibration pattern can be set at the intensity of your choice.
>"wave" symbol controls Vibration patterns = 10 total
Vibration Map:
The vibrations are the strongest in the largest bead where one motor is housed. Moderate vibration is felt in the middle bead where the other motor is housed, and the lowest level of vibration is felt in the top bead. However, on many settings, strong vibrations can be felt throughout the entire toy. It is fairly quiet if held or not touching surfaces. It's more easily heard if placed on surfaces like floors, walls or tables.
The 10 vibration patterns are listed here:
1. uses 1 motor only in one bead; solid vibration
2. uses the other motor only in one bead; solid vibration
3. uses both motors together in 2 beads; solid vibration
4. Pulsating vibrations (rumble), starting low and increasing to high
5. Steady pulsing
6. Steady pulsing at double speed
7. Pulsating vibrations (rumble), starting low and increasing to high; pulse, pulse, pulse
8. Steady pulsing; steady pulsing at double speed; solid vibration; solid vibration slightly longer
9. Solid low vibration to solid high vibration; low pulsating to solid high vibration
10. Steady slow short pulses; increasing in speed slightly, working towards becoming steady longer and longer pulses-until a solid vibration
Double Explosion 10 Vibration Settings video clip
In the video clip, I demonstrate the low, medium and high intensity settings first. Then I go through all of the vibration patterns with the intensity set on low (and back to 1 motor only; solid vibration at the end).
Experience
First Use (imagine a scene from a paperback romance novel):
[cue sultry music] My husband and I (in reality, me) decided to focus on me for this play session. I closed my eyes and let my husband take over. He started by playing with the Double Explosion on my breasts and nipples. It's so soft — I love the way it feels on my skin! He lubed it up and began moving it around between my thighs, changing the settings unexpectedly, and moving close to my clit just enough to make me squirm! Next the toy was slowly inserted into my vagina, bead by bead, while he massaged my clit. I was so close to orgasm and suddenly...[WHAT THE CRAP?! wait..Oh my gosh.uhhhh] The beads moved from my vagina to my anus. When the 1st bead finally slipped in past the resistance of my tight muscle rings, chills traveled all over my body like electricity. I could feel myself getting more wet as he inched each bead in until the toy was fully inside (not too large to be painful but large enough to feel good). He changed the vibration patterns using the remote while using his fingers to stimulate my G-spot, and commented that he could feel the beads and vibrations in my vagina when the toy was in my anus (which proved to be extremely arousing for him!). He changed the vibrator intensity to high and began moving it for more stimulation using slow in-out strokes. Within minutes I climaxed. My orgasm began at an intense level, but when my husband somewhat vigorously removed the toy after it started, the orgasm was [eyes rolling back into my head] intoxicating! My entire bottom was blissfully buzzzzinnngggg!! [end scene]

Further Experience:
The next night I arranged everything on my bed for a solo session. I did tell my husband what I was doing and invited him to join in if he wanted to—but only after I had time to insert the Double Explosion and play for a bit--alone. Long story short: my husband shows up with this HUGE grin on his face. "Can I help?" With my eyes shut I said, "Surprise me". He took control of the toy, instructed me to use my bullet on my clit and "Keep your eyes closed". Suddenly, I feel ice cold rock-hard fullness sliding into my vagina. WOWZA! My glass dildo hit my G-spot. The combination of the 3 intense sensations sent me into a spiraling, long, gushing orgasm. Tip: try new combinations!!
Follow-up commentary
3 months after original review
I still really like this toy! I have to use it in combination with other erogenous zones being stimulated in order to climax (like I described in my original review), but that in no way implies that this toy is not pleasurable using it alone. It is very stimulating!!
This product was provided free of charge to the reviewer. This review is in compliance with the FTC guidelines.
Thank you for viewing
Double explosion
– anal vibrator review page!