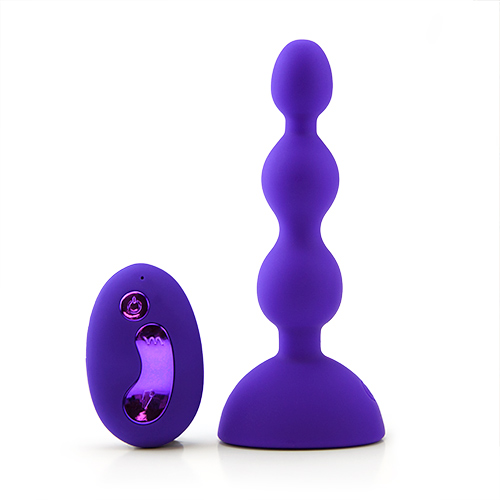 Double explosion
Remote control anal bead vibrator
by EdenFantasys
Fun Time, One Horned, Vibrating, Purple People-Pleaser
This is definitely a great toy for entry-level users who want to turn their orgasm up to 11. It provides so many different options for whatever stimulation you're looking for. I think I would swap it out later for something less flexible so that you're getting the pressure I need and if possible, have a portion that also stimulates my balls.
Published:
Pros
- Very easy to insert and move around for optimal comfort.
- Easy to clean, charge, and maintain.
Cons
- No instructions.
- No map for vibration settings.
The box didn't come with any instructions other than for cleaning, which is found printed on the outside. So, I had to figure this out myself with trial and error. It took me a few minutes, and for a short time, I thought it was broken or completely drained of power. But, the battery in the remote is fully charged, and the beads are mostly (if not fully) charged.

To make sure it's charged, you'll need access to a USB power source or an adapter (adapters charge faster). Plug the white cable it came with into the power source and then the other smaller end into the base of the unit. It's a little hard to see at first, but on the other side of the base from the power button, there is a tiny hole with some of the soft silicone material covering it presumably to keep it as dry as possible. It will give a little bit of resistance upon entry, but once passed the protective outer covering, it slides in deeply. I call this little feature "foreshadowing". If the red LED hiding under the purple silicone flashes, it means it's charging. When it remains solid, it means it's fully charged. Be sure to remove the power cable from the unit before use.

As the minimal instructions state, use soapy warm water before (and after) use. As a matter of precaution, I placed my thumb over the inlet for the power just to be sure water doesn't get in.

Most who use a lubricant on a regular basis are going to have their favorites to use. Just make sure the one you use is water-based and doesn't dry out or get sticky quickly.

To turn on the unit, simply pressing the power button until you hear it click will not do the trick. You have to hold it down for about 3 seconds. When you see the red LED turn on and stay solid, it's on and ready to use. Next, do the same thing with the power button on the remote. NOTE: the remote will not turn on unless the unit was turned on first.

The toggle button on the remote has two controls. The wave shape etched into it controls different vibration presets (you cannot edit those presets), and the lighting icon etched into it controls intensity.

There are 3 intensity settings:
- Low
- Medium
- OMG, I think Nana heard us!

By itself, the High intensity setting isn't THAT noisy. However, if you're sitting in the floor, pressing your bottom against the wall, or anything else solid, the vibrations will be heard or even felt nearby. Even when sitting on a folded up towel used for clean up, it did little to reduce those vibrations. It was useful for me to make sure it was going to safely stay inside or even just where I wanted it. Just be careful if you have nosy neighbors downstairs or impressionable/curious people in the room next door.

There are 10 vibration modes:
- One motor on
- The other motor on
- Both motors on
- Pulsating vibrations
- Gradually increasing vibrations before dropping back down
- Morse code for "help!"
- I'm pretty sure these are the radio waves from PSR B1257+12
- Random AF (I think)
- More random
- Did I just go back to the beginning?

When switching vibration modes, whichever intensity you chose last remains the same instead of resetting, which is nice. Unlike right after turning the unit on, there isn't an "off" mode. To stop it from vibrating, you'll have to turn off the unit (again by holding the button down for about 3 seconds).

This toy is great to use:
- By yourself
- With a partner
- When you're new to P-Spot stimulation
- On nipples, clitoris, anus (also in), glans, and scrotum
- When you can't locate your stud finder
- Showing your lover what you go through for them (REVENGE, SWEET REVENGE!)

I say "revenge", but this honestly could be used to demonstrate to a partner who is pressuring you for backdoor access how important CLPP ("CLPP" - Communication, Lubrication, Patience, and Positioning) is. You can't get empathy for childbirth, but you sure can for sodomy!
Experience
I'm a straight married male who is open to trying new things (even though my wife is not). So, I have no qualms trying this. I've experimented using fingers for prostate stimulation before, but only one recent time I can recall out of it what other's claim. I'm also proficient at anal sex and the steps necessary to take with a new partner (See: CLPP above). So, if you're new to this, try it my way. You'll thank me.

If you're new to this, please follow these guidelines:
- Use an enema (optional), wait until after your AMBM, or have some coffee to move things along and suppress your appetite.
- Get some water-based lubricant as recommended.
- Lay on your side with your knees up toward your chest like a fetal position, or lay on your back with your legs apart and knees to your chest.
- Apply the lubricant to both the toy and outside your anus.
- Very slowly insert the tip. Take your time. If as you are inserting the toy, you start to feel too stretched out, slowly pull it out, and try again. Keep going back and forth until you've become accustomed to it.
- Push just enough to relax if you find you're too tense or are having difficulty inserting it further.
- Try angling the base toward your balls as it goes in deeper, so it fits your natural shape.
- BRING YOUR TOWEL!

I've followed all of the above, and after about the 3rd use, I really start to enjoy the benefits of it. Having it on the first setting with the toy all the way inside give me some real pleasure. Depending on my mood, I may go for the pulsating setting. After I got comfortable with it, I got into a less relaxed position of sitting up on my bare heels. It allowed me to have better access so that I can masturbate, and my heels held the base of the toy in place so it doesn't fall out (which can happen when you're relaxed or you're having an orgasm). To apply a little more pressure to my prostate in any position, I tilted the base away from my testicles, unlike when I was completely inserting it. But, having a hand free to text your wife, "text when you're on your way home", is definitely an advantage.
This product was provided free of charge to the reviewer. This review is in compliance with the FTC guidelines.
Thank you for viewing
Double explosion
– sex toy review page!