Alternative Texture For Anal Pleasure.
While the 15-inch Alterno looks longer and more brutal than necessary, the thrill-seeking anal players that this string of beads was designed for won't need to insert it the whole way to have a good time. I love that such amazing sensations are delivered to those of us who don't want to insert large girths but still want an adrenaline-packed anal excursion. WTP is the perfect firmness for both beads and links, and Alterno, all told, has made my ass glad.
Published:
Pros:
Unique sensations in a nice material, beads are perfectly graduated and fun.
Cons:
Center bead traps air on insertion, long enough that you might want an enema first.
USE
Okay, first things first. This sucker is long. Fifteen inches for anal beads... isn't that a little bit excessive? Frankly, yes. But while the Alterno will look all kinds of intimidating hanging on your wall, SinFIVE did we the challenge-seekers a great kindness when they designed it: all the beads after the center one are repeats, in descending order---you'll only need to insert 9 inches to achieve all the different sensations the Alterno offers. So forget that it has 15 total inches---they're there if that one-in-a-million,
salami
-inserting person wants them---but the rest of us can be content with a really fantastic, unusual, intense experience that's only 9 inches long.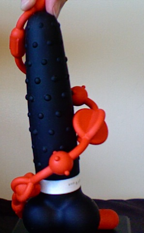 It still looks daunting, though, doesn't it?
As with most anal beads, the joy of the Alterno is insertion and removal. They're not filling so you won't really notice what any individual bead is doing once you've coaxed it past the muscles of your sphincter. Unlike the common, bloop bloop of the average set of anal beads, I wouldn't recommend pulling these out quickly during orgasm. They're each a little too intense, and attention is required (at least in my butt). Using Alterno has been, for me, a dedicated "I'm going to shove a capsule and a mace and a planet inside myself now" experience. I haven't even used a vaginal dildo at the same time---just 1. Alterno in 2. quick clitoral orgasm 3. Alterno out, where steps 1. and 3. last much longer than step 2. Alterno is fantastically fun, though, so even if you don't usually have dedicated anal sessions like this, it's worth a try for the sake of the experience.
Because of the graduated sizes of the beads, Alterno makes a great warmup for PIA sex---but only for those who have gone that route before. I would suggest a
milder set of beads
for the anal novice. I also do not recommend Alterno for partnered play---sure, your partner could watch, but the textured beads could easily be too much if the person pushing them wasn't getting instantaneous nervous-system feedback. Even when you are using them on yourself---when in doubt, go slowly!
I did test these out vaginally, once, before designating them for anal use forever, but I could only get as far as the planet bead before the tip started to press my cervix, so I would say that if you're interested in a set of vaginal beads, you might want to look for something with a more flexible joiner between the beads.
DESIGN
For scale in these pictures, I used a typical ballpoint pen. I ran out of pen too early, so I had to "reset" it---so take it as a diameter reference and not a length reference. When a bead is listed as '3 inches deep,' there will be 3 inches of Alterno inside you when you finish inserting that bead.

Tip bead --- (3/8in dia, 1in deep) Everyone will be able to use and appreciate the tiny little warmup bead. This tip lets you ground yourself before the undulating undertaking you're about to commence. Its rounded nature also means it can make its way inside you without any poking or discomfort, and if it reaches an obstacle (like the curve of the colon, which is ~
six inches in
) it safely navigates without causing any harm or pain.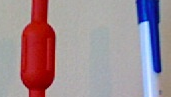 Capsule with lines --- (1/2in dia, 3in deep) This capsule isn't much bigger than the warmup tip, but the lines give you a very nice extra sensation. If you're a beginner, or you're borrowing your more adventurous (fluid-bonded) partner's set of beads, you might want to stop after the capsule.

Planet with orbit --- (7/8in dia, 5in deep) This one always takes me a while to insert. The first two beads have a very small area, and the slope up to them takes you to a large percent of their total diameter. This planet is the first spherical bead, so there's not much slope at all to ease you to the full width. Once it's in and your butt's used to it, it feels lovely on the outstroke, and on additional instrokes (if you like).

Mace --- (7/8in dia spikes included, 6.5in deep) You'll feel the little spikes. They're not "spikes" so much that they'll hurt your skin, but you will feel them. I feel them more in an "ohmygoodness, spikes!" way going in, while coming out they actually feel like a nice massage. On the way out I've stopped to play with this bead (in and out a few extra times) because it feels so exhilarating.
Experience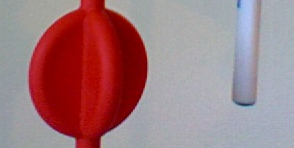 Ex-ball --- (1-1/4in dia, 8.75in deep) I wasn't going to write this review without having tried the biggest bead on the string and the only unique one. It was definitely the most intense to insert--- the size is good, but the shape wasn't very pleasant for me. I assume they make it an ex-shape so that the cross sectional area is small, making it a doable insertion for people who might not ordinarily be up to the 1.25" diameter. But the shape meant that as I inserted it, a bunch of air went in too, and that was just uncomfortable. Nobody wants to feel gassy during an anal play session, even if it is just ambient air.
Alterno's beads then repeat in reverse order.
I was happy to stop after the ex-ball knowing I could give a full report of each of the beads (I only took it that far once, usually I stop after the mace bead). I think at this point the length of Alterno was starting to add up. On the whole, the beads' arrangement does a very good job of warming you up well to the next bead ahead, and while some might be intense the first time in, they're all nice once your muscles accept them. My favorite two are the planet with orbit and the mace, and in the future I probably won't take Alterno any deeper than that.
MATERIAL & MAINTENANCE
WTP
is a nonporous but nonsterilizable elastomer which is a wonderful material for anal beads. It is odor-free, safe, and firm (press a bead and it will not give at all), but the slender links between the beads flex enough to be comfortable. The texture is velvety and it holds lubricant very well. Silicone and water-based lubes are both compatible.
It's very important to be able to clean an anal product well. While WTP cannot be sterilized (bleaching or boiling would degrade the material over time), it can be washed quite easily with soap and water. Wolwin, the manufacturer of SinFIVE, explains that they have added an "antimicrobial agent" to the elastomer, which they say activates when exposed to water. Personally, I'm skeptical of any explanations that don't tell me a mechanism of action, so I will not switch these back to vaginal use after having used them anally, and I will not share them.
I should also mention, as long as this toy is, if you're squeamish about fecal matter you should clean yourself out before use. Alterno (inserted past the ex-bead) is long enough to go deeper than your natural "clean/not-clean" sensors---so enema up if you're not wanting to deal with santorum.
FINAL THOUGHTS
I enjoy Alterno quite a lot. I'm an experienced anal player but I don't like insertable toys that are much bigger than an average penis, so I was really thrilled to find this string of beads---it gives many fun and unique sensations without stretching me wider than I want to be stretched. I don't need more than the first four beads, but playing with them all has been a really spectacular experience. It's not an every-day, go-to toy, but I'd recommend Alterno to anyone who thinks they'd enjoy a stimulating string of beads.
This content is the opinion of the submitting contributor and is not endorsed by EdenFantasys.com

Thank you for viewing
SinFive Alterno
– beads review page!