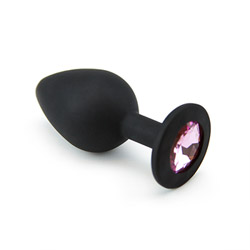 Back play gem
Beginner butt plug
by EdenFantasys
Anally Adorable: Pretty Little Princess Plug
If you want to feel like a princess, this plug is definitely for you with its top-notch materials and pink gem! While I typically prefer metal plugs for their added weight and temperature play possibilities, I found this silicone plug a solid choice for those looking to add to their anal plug collection.
Published:
Pros:
Silicone, Adorable, Flexible stem
Cons:
Friction with removal, Lightweight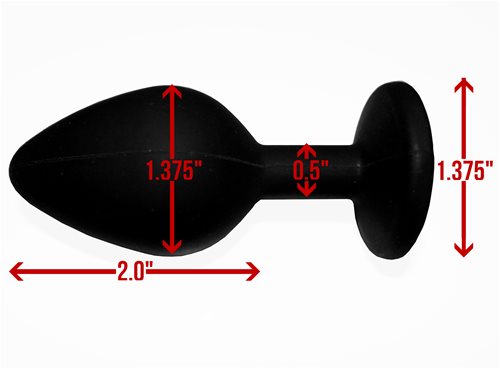 Out-of-the-Box Impressions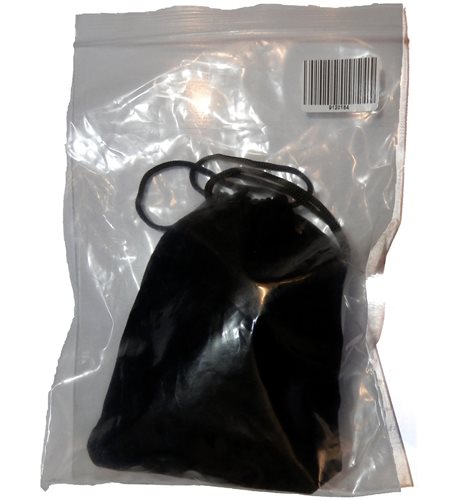 When the discreet, brown box arrived in the mail, I was eager to try out my new toy. I love anal plugs. They're sexy, comfortable, and feel decadent. I typically wear plugs long-term, so comfort and material safety were top on my priority list. As a silicone toy, this plug fit both of those criteria. As someone who likes glitter and cute, fuzzy things, the pink jewel on the base was a definite selling point!
Out-of-the-Bag Impressions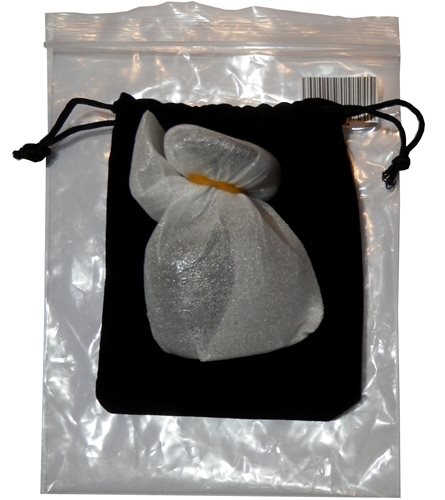 Among air bag packaging, I found a single plastic bag containing a small, black velvet bag. This bag looks classy and unassuming. Inside the velvet bag was the silicone plug, wrapped in tissue paper. Holding the plug in my hand for the first time, I was struck by the smoothness of the material. The black color added to the sleek design. I noticed a slight rubbery smell to this toy. However, after washing the plug with soap and water, the smell was unnoticeable. The weight of this toy was surprisingly light, comparable to a pack of sticky notes.
Gem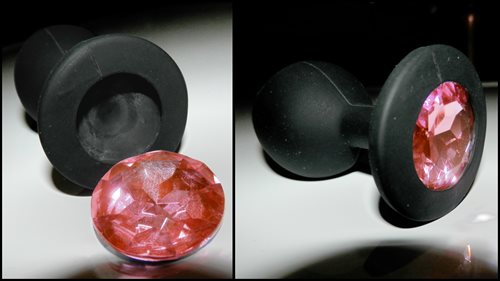 The gem is plastic, has a pointed, mirrored back, and is an adorable bubblegum pink color. The base of the plug has a pocket, which makes inserting and removing the gem easy peasy! I was happy that the gem was removable so I could clean around it, preventing bacteria.
Comparison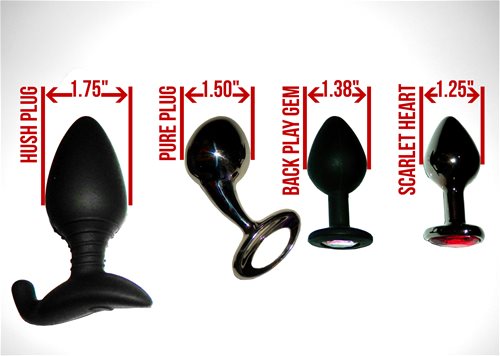 Above is a comparison of (left to right) "Hush Plug" by Lovense, "Pure Plug Large" by njoy, "Back Play Gem" by EdenFantasys, and "Crimson Tied Scarlet Heart Anal Plug" by Master Series.
Weight -
I prefer heavier butt plugs since the feeling of a weight pulling at my anal passage feels deliciously good. The lighter weight doesn't illicit as much of a response from me. However, a heavier plug is more likely to slip out during long-term wear. The "Back Play Gem" weighs less than half the weight my 4.55 oz iPhone 6 (without a case). While the "Back Play Gem" weighs 1.7 oz, the "Pure Plug, Large" weighs 11 oz. The longest I have worn this toy is for eight hours. I found that I never feared the plug would fall out, a frequent worry when wearing "Pure Plug, Large" and even "Scarlet Heart."
Material -
The "Back Play Gem" is made from silicone, which is a body safe material. Click
this link
to learn more about silicone. I find metal toys more comfortable. Even if I have been wearing an anal plug for a while, when I remove it, I want the plug to come out easily. I find that with silicone plugs, there is more friction on the way out than with a metal plug. While there are times that I find this friction exciting, most the time, I just want to remove the plug quickly and don't appreciate the added discomfort. One of the major disadvantages of metal is that it scratches easily. I don't have to worry about scratching my "Back Play Gem" plug if I drop it on the ground.
Size -
Per my measurements, "Back Play Gem" is 1.375 inches in diameter. This toy is considered a mid-sized plug in my collection. However, I have noticed that a plug made of silicone (with its added friction) makes the toy feel larger than metal plugs of the same width. I would consider the 1.375-inch diameter a good second plug. I recommend that beginners start with lubed fingers, then play with a plug that is 1 inch or thinner. Once you feel comfortable accepting the 1 inch plug into your bum, you'll be ready for the "Back Play Gem."
Temperature -
Metal plugs offer the possibility of temperature play, warming or cooling the toy for added sensation. While silicone can retain a small amount of heat, if you are looking for a toy that can get really warm or really cold, the "Back Play Gem" is not the plug for you.
Smell -
I have found that my metal plugs, "Pure Plug, Large" and "Scarlet Heart," do not have any smell after being washed. However, silicone toys often hold a bit of the "butt plug smell" from long-term wear even after multiple washes. My "Hush Plug" is pure silicone and is a bit stinky after multiple overnight sessions. I found that regular soap and water did not dispel the smell. I worry that over time, the "Back Play Gem" will develop a smell as well. Fortunately, the gem can be removed and the toy can be boiled or washed in the dishwasher.
Experience
This plug has a very flexible stem. I found that I could barely feel the plug at all while it was inserted.
Follow-up commentary
4 months after original review
I absolutely love this toy. Now that I have the
Bunny Tail Plug by EdenFantasys
as well, I have grown to appreciate this toy even more. As I talk about in the Bunny Tail Plug review, the gem and tail are interchangeable, so I can use the gem accessory with the 1⅜" plug that originally came with the Back Play Gem Plug or with the 1" plug that came with the Bunny Tail Plug. This toy is now my go-to plug for wearing under my clothes. The light weight and silicone material ensure the plug will not slip out of my butt.
This product was provided free of charge to the reviewer. This review is in compliance with the FTC guidelines.

Thank you for viewing
Back play gem
– butt plug review page!