Blinding buttplugs, Batman!
This plug is rather simple in design, and it does its job really well. The construction is somewhat unique, and the materials are reasonably high quality. The only issue that I had was that it barely stays in on its own, but that's because it's designed as a super-thin beginner toy, not a design fault.
Published:
Pros:
Comfortable, high quality
Cons:
Not much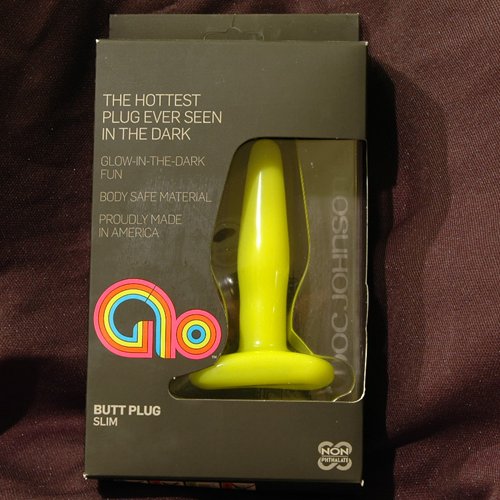 The Doc Johnson Glo line of products puts a colorful, new twist on classic designs. Molded in super-bright colors, the Glo Slim butt plug is a slim plug that's designed for beginners to experience their first anal penetration or prepare for larger toys without breaking the bank. Its gentle taper and small, rounded tip make insertion a breeze, and it's made from body safe materials.
This plug is molded from two different materials - a super bright glowing neon outer skin and a clear inner core. The outer skin is made from a non-phthtalate PVC that Doc Johnson claims is body safe. I did detect a very mild odor, which reminds me of baby powder instead of the usual harsh chemical smell that unsafe materials have. It has only a slight baby-powder taste that doesn't linger in your mouth. The inner jelly seemed to have a slightly different odor, however, it doesn't come into contact with skin during use. The manufacturer has it listed as being made with Doc Johnson's sil-a-jel antibacterial formula, so I would assume that either the inner core or outer skin are porous. Overall, it seems like a reasonably safe material. However, it might not be a bad idea to use a condom anyway. Because it's made of PVC, you can't sterilize it by boiling it, so you should definitely use a condom when sharing this toy with a partner.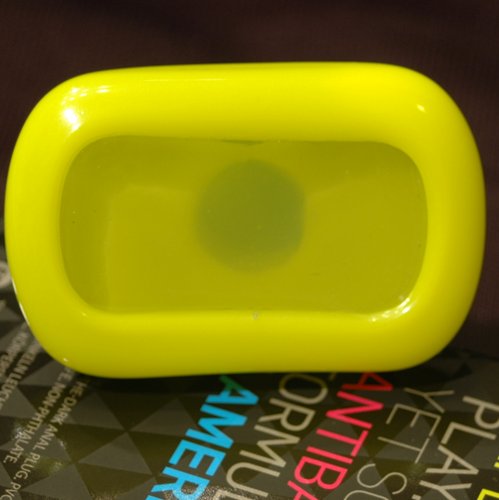 The outer surface is shiny and smooth, and not at all tacky. The inner skin was ever-so-slightly tacky, although it doesn't contact anything, so it didn't matter to me. The outer skin seems to be slightly harder than the inner core, which seemed counter-intuitive, but actually made the toy very easy to insert. It was rigid along its length, but rather soft across the diameter, and didn't have a tendency to buckle under force.
The colors are very bright, almost blinding in daylight, and seem to follow a traffic safety theme. It's not glow in the dark, but you should have no problem finding this toy in anything but complete darkness.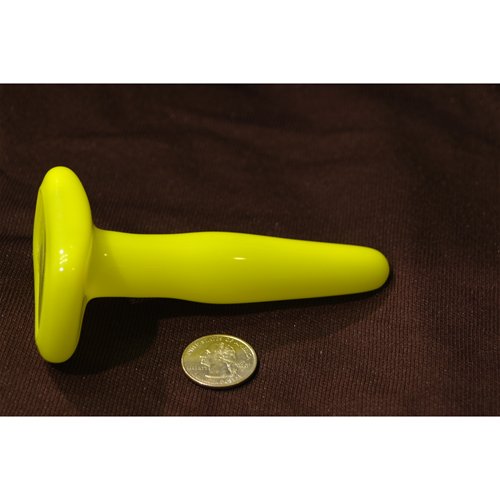 With a very narrow tip, and a long, slender taper, this toy should be easy and comfortable for anyone to insert. It has a large, smooth, flared base that fits comfortably and ensures that the toy can't slip inside. The shape is rather simple and functional, although there isn't much difference from the widest part to the base. I was able to carefully keep it in on its own, but it wasn't very secure. The usable length is about 3.5 inches, with a maximum diameter of about 7/8 of an inch, and almost an inch from the widest part to the base.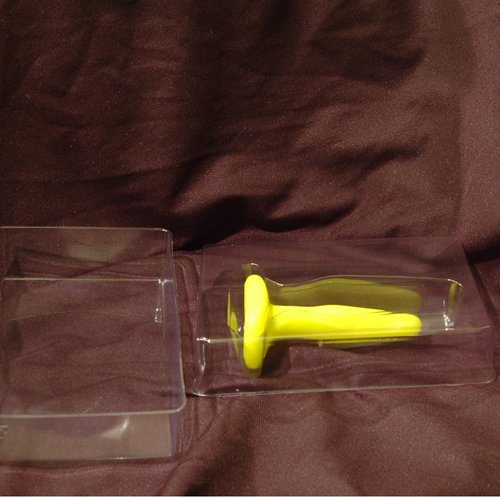 The toy comes packaged in a cardboard box, with a plastic inner liner that holds it securely. The packaging isn't discreet at all; anyone who finds this is going to know what it is right away. Everything looks to be recyclable.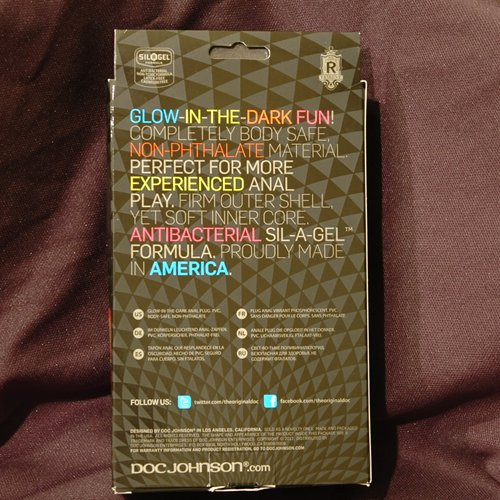 Experience
As an experienced user, I found that because of its small diameter, it was only useful as a tool to warm up for larger plugs and toys, which is probably the manufacturer's intent.
This product was provided free of charge to the reviewer. This review is in compliance with the FTC guidelines.

Thank you for viewing
Glo slim anal plug
review page!