This Glo was a no go!
I would never buy this plug, but it might be a good fit for beginners. I was put off by the size and chemical smell of this toy right away. The plug wouldn't stay where it belonged and it wasn't even pleasurable when inserted to begin with. Basically, there wasn't any part of this toy that was positive to me, but I've also already had experience with larger plugs.
Published:
Pros:
Could be good for beginners
Cons:
Strong smelling material
Very small
Wouldn't stay in place
Picks up lint on bottom
This toy would probably be great for beginners, but I didn't have any luck with it. The Glo Slim butt plug is meant to be used anally, but it could probably be used vaginally if you don't mind the smaller size. I had issues with this plug staying put (there is hardly any decrease in diameter at the base so it's almost completely straight) so I can't comment on the comfort level. I would assume if the plug would stay in place that it would be fairly comfortable for extended use because it's only slightly larger than a finger. Most experienced anal users probably wouldn't get a lot out of this plug and should continue looking. This plug can be used alone or with a partner and it's small enough to be used just about anywhere your heart desires. It also glows in the dark which is probably the best part of this toy in my opinion which isn't really saying a whole lot.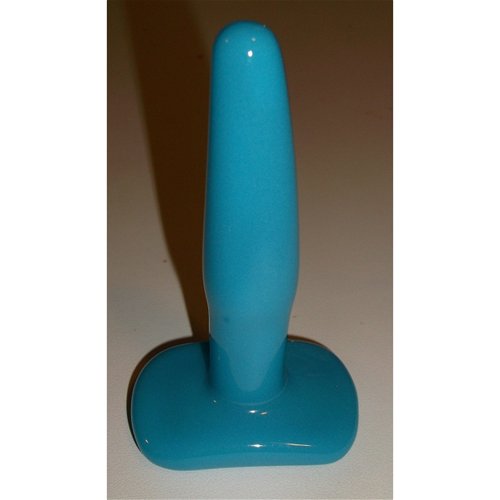 The glo slim is encased in phlalate free PVC which has a rating of 8 on Eden's material safety guide. This material is very smooth and easy to insert with lubricant. The inside, or the core, of the toy is made of Sil-A-Gel which only has a rating of 5. There is an exposed portion of the Sil-A-Gel on the bottom of the plug which attracts all kinds of hair, dust, and lint so this part of the toy is a bit harder to clean. I assume the Sil-A-Gel helps to give this toy its squishy feel. I'm not a fan of plastics, such as PVC, because of the strong odor that it emanates. The odor is strong enough to be transferred to any body part that touches the material. I'm not about to put this PVC in my mouth, but I imagine the taste is as bad as the smell. If strong chemical odors are a turnoff, I suggest sticking to more natural materials such as silicone, glass, or wood.
Plastics are compatible with both water and silicone based lubricants, but stay away from oil. Oil can break down the chemical properties of the toy over time. This plug should be cleaned before and after each use with antibacterial soap and warm water. It should be fairly easy to take care of with the exception of the bit of Sil-A-Gel at the bottom that picks up lint. The toy should be covered with a condom if intended to be shared with a parter to protect against bacteria.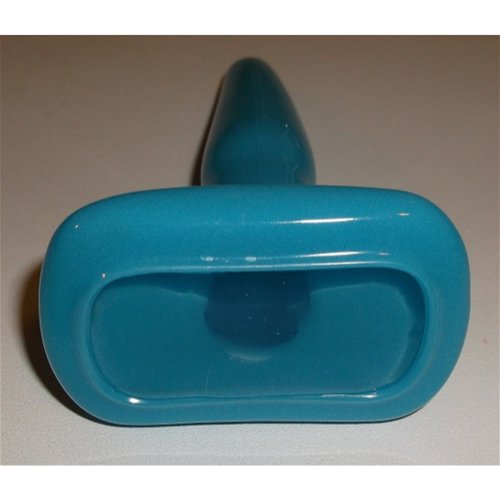 The Glo Slim is just as the name implies: slim. This is a very small butt plug suited for beginners. I would say if you're comfortable with anything larger than a finger or two anally than you are probably past the point of using the slim. I'm not sure what I was expecting from this plug, but I thought it looked a bit larger in the picture. I'm no beginner at anal play though so this plug is kind of a joke to me. It's only about an inch wide at the largest diameter and even smaller at the tip. I took a picture of the Glo Slim next to my Cobalt Bubble plug by Don Wands. Notice the dramatic difference in width! However, the Glo Slim (with an insertable length of about 4") is less than an inch shorter than my favorite glass plug.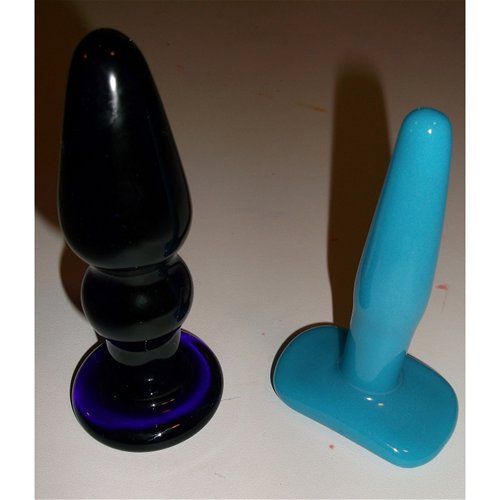 This butt plug comes in a black box with a cutout window to see the toy through. On the inside the plug is in two pieces of plastic. The packaging is in no way discreet so be forewarned. There is some basic information about the plug on the box, but there is no user manual that comes with the toy. This box is not suitable for long term storage of the toy so you'll want to find somewhere else to put it. Being so small, the plug should be easy to keep in any drawer or nook or cranny you can find for it though.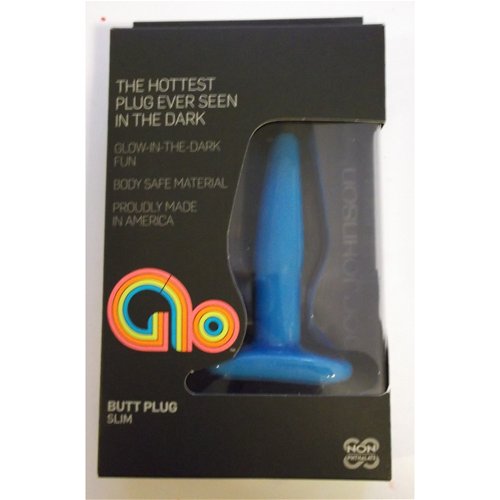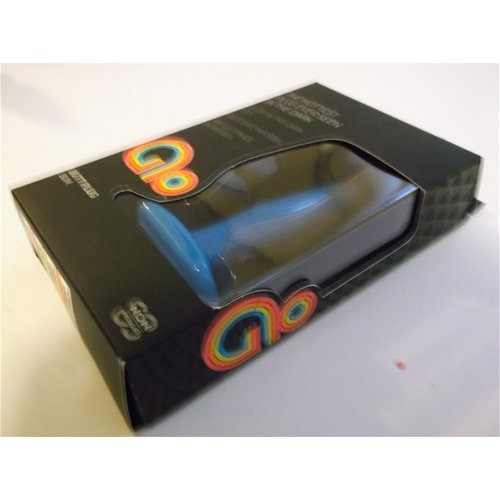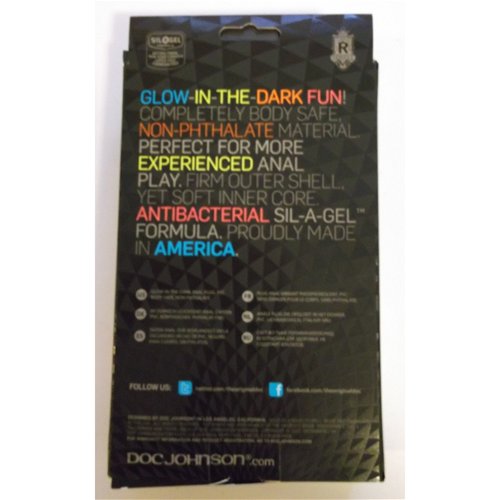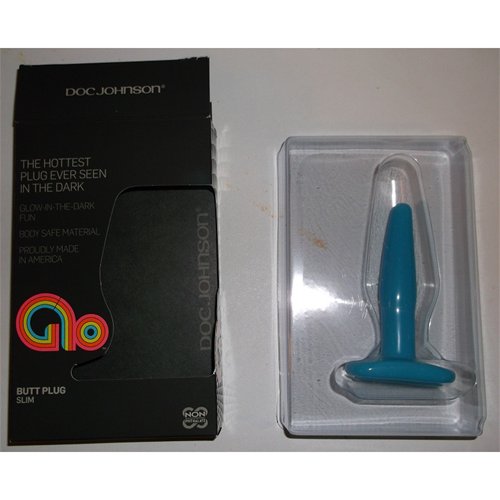 Experience
I really wouldn't call my use of this toy an "experience" at all. I knew just by looking at the plug that it wasn't going to do anything whatsoever for me, but I wanted to really try it to give an accurate review. Basically, I inserted the plug and instantly noticed it popping right back out. My glass plug has multiple places where the diameter decreases dramatically so it kind of pops and is very easy to keep in place. I even walk around with it and go about my business fine with it in. Like I said though, I'm not new to anal play. So anyway, the Glo Slim has no such decrease in size so it's pretty much straight from tip to base until you get to the flared end. Since I couldn't stand up without the plug falling out I decided to just sit on it for a while to see how it felt. I could feel that it was there, but It wasn't really large enough to feel pleasurable. It was kind of more annoying to me than anything honestly so I just took it out, which wasn't hard either because I just stood up and it fell right out. Needless to say, I've put this toy far back in the shadowy depths of my collection where I hopefully won't have to ever deal with it again. I believe that some beginners might enjoy this plug, but if you're anywhere past the beginning phase of anal play than forget it! There are many better plugs available in my opinion.
This product was provided free of charge to the reviewer. This review is in compliance with the FTC guidelines.

Thank you for viewing
Glo slim anal plug
– butt plug review page!