Bubble Lover
While the small end of the Icicles No. 2 certainly is small and won't be for everyone, the larger end is as filling and stimulating as I had hoped. The solid build and oh so bubbly texture combine for an intensely thorough internal massage.
Published:
Pros:
Stimulating bumpy texture, easy to clean, double ended.
Cons:
Small end will be too small and pokey for some.
With a recently found love of everything bumpy and beaded, the bubble shaped Icicles No. 2 was swiftly added to an order the first time I spotted it. With one thick end and one thin, and both featuring a heavy bubble texture; I could see the possibilities for this admittedly somewhat bland looking clear glass bubble wand.

Packaging:

The Icicles No. 2 arrives in the usual style of Icicles packaging, a sturdy black and white box with a front panel that opens up to reveal the toy inside. The sides of the box have images of the toy itself and the style of the packaging is as upmarket as you would get with any luxury toy. Inside, the dildo sits well protected in a thick layer of foam.

The packaging is ideal for long term storage of the toy if you are nervous about throwing your glass toys in a drawer but it can also be space consuming for long term storage.


First Impression:

Seeing the Icicles No. 2 in person, it was exactly what I was expecting. While I find that a lot of glass toys turn out smaller than my expectations, the Icicles No. 2 didn't disappoint in terms of size. It does have a somewhat boring appearance because of it exclusively clear glass and I did find myself wishing that it had incorporated some colour but having recently added the bright red Icicles No. 32 to my collection: anything made of clear glass would look boring by comparison.

Feeling the dildo in my hands, the weight difference between the two ends was the first thing that I noticed. The slimmer end of the toy isn't much thicker than a finger and its weight is modest for glass too. The thicker end of the toy obviously feels much heavier and I wondered how filling this would make it feel in use. The weighty feel of the toys larger end had me tempted from the start and every time I pick it up I have that same thought.


Measurements:

Total Length: 8 ½ Inches

Insertable Length 7 ½ to 8 Inches (til you run out of toy to grip really)

Circumference: 2 ½ to 4 ¾ Inches


In Use/Experience:

Starting with the smaller end of the toy, the finger like thickness of this end is great for gentle probing at the beginning of a session and really only mimics the feel of a straight finger. If inserted deeply it can start to poke because of its thin build but if used for shallow probing it gets the juices flowing at the start of a play session and leaves you well warmed up for the larger end of the toy.

The largest ball at the tip of the dildo has a great sliding/slippery clit rubbing function once you are wet enough or with the addition of lube. It warms to body temperature quickly and can float and slide around the clit with a mind of its own when wet enough.

The larger end feels stretching to insert even when ready, though it is quite a pleasant sensation of stretch. Once inserted it feels infinitely more filling than the smaller end and each movement feels exaggerated because of this stretch and its bubbly texture. With even the slightest thrust, every bump in the shaft can be felt massaging the walls of the vagina as it leaves no spot untouched and creates an intensely fulfilling rhythm of internal massage.

The generous length gives you enough toy to grip when thrusting but the smaller end can be slippery as body fluids find their way down the toy. With the level of stimulation given from the big bulbous end of the toy, slippery play can be a problem.

In terms of G-spot stimulation, for some the bulbous shape of the larger bubbles will be enough to provide some stimulation and pressure. I found that with angling it gave me as much pressure on the G-spot as I required for an intense session without poking or prodding the spot so thoroughly.

Obviously this isn't too ideal for anal use as it has nothing to stop it from getting lost during play. If very carefully keeping a hold of the toy, it can be quite stimulating to use anally. I would recommend only using a smaller amount of the toys length if doing this and keeping most of its length firmly gripped in your hand. This really isn't designed or intended for safe anal use though, particularly if you want to insert the larger end!
Experience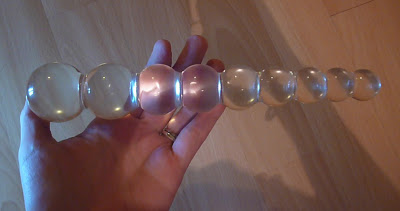 Material/Care:
The Icicles No. 2 is made of Borosilicate glass which is similar to Pyrex glass, it is an extremely smooth and safe, non-porous material. Being non-porous and smooth, it is very easily cleaned with warm soapy water or specialized toy wipes or spray.
It is food-grade material, hypo-allergenic and both Latex free and Phthalates free. Borosilicate glass is quite resistant to shattering and breaking and if somehow a Borosilicate toy breaks it will not shatter or splinter into tiny pieces but will snap or break in large pieces instead.
It also retains temperature very well meaning that it is great for heating and cooling for temperature play. I found that sitting it in luke warm water just before use or even simply warming up in the hands before use is effective in warming it up to body temperature. For those who like the sensation of a cold toy it can be cooled by placing it in cold water or the fried/freezer. Silicone, water, and oil based lubricants are all safe to use with the Icicles No. 2 and being made of smooth glass surprisingly little lube will go a long way.
While the Icicles No. 2 does arrive in luxury packaging that can be used for long term, safe storage of the toy, I keep mine in a satin drawstring bag to save on space.
This content is the opinion of the submitting contributor and is not endorsed by EdenFantasys.com

Thank you for viewing
Icicles No. 2
– sex toy review page!