Snow White Queen
While this isn't a toy aimed for my G-spot, it still produces great vaginal orgasms. The first half of the smaller end has become the perfect warm up anal toy for me, and the larger end has become yet another friend for my texture loving lady parts. It is a perfect all around dildo. It has many uses in the bedroom, and it can double as a winter ornament! No one would be the wiser. For those that love glass and have not tried an Icicle, I highly suggest you hurry up and get one!
Published:
Pros:
Textured, Clear and gorgeous glass, Double ended, Nice packaging, Bigger end rubs my G-spot nicely
Cons:
No pouch, Some may not like the texture or the firmness of glass, Small end can feel pointy
This was my first Icicles glass dildo. I want to start out by saying that I bought this dildo for its looks, and the fact that it was glass. Winter is my favorite season, so it really was a no brainer. Out of the Icicles line, this one immediately jumped out to me. I bought it knowing that there was absolutely no curve to the shaft, so I did not expect it to hit my G-spot at all. I loved the fact that this dildo has a small end and a big end. It reminded me of anal beads, only without spaces between each graduated bead. I do wish they would come out with a curved one for more and better stimulation, but I adore this dildo as it is.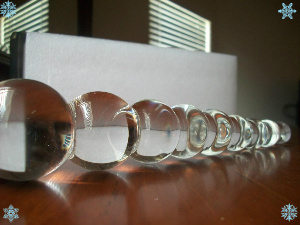 Packaging:
The Icicles No.2 came to me in a thin cardboard box. There are multiple pictures all over the box, so it is in no way discreet. There are no naked ladies or anything racy, and the overall appearance is very classy and elegant. I think, despite the pictures, it would make a very nice gift. The front has a magnetic flap that opens to give you a brief description of the toy as well as a nice view of the toy. When the box is opened, you will pull out a big chunk of white foam. Inside the foam is the Icicles No.2 dildo.
There isn't a storage pouch included for future storage. I suggest buying a pouch, making a pouch, or using the packaging as storage.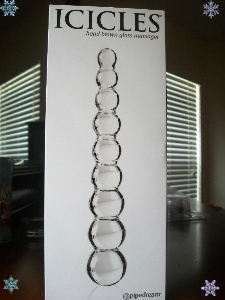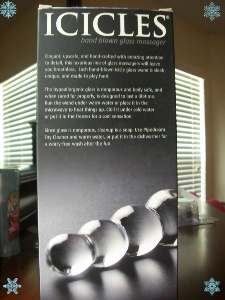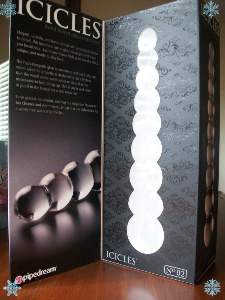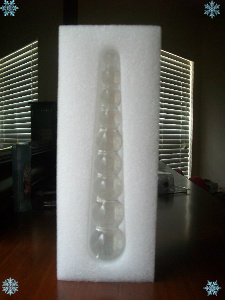 Material:
The entire Icicles line is made out of Pyrex glass. Glass is non-porous, hypo-allergenic, latex free, phthalates free, and does not have any smells or tastes. Glass is a very rigid and unforgiving material, so be careful when thrusting. If bumped against the cervix or other tender areas, glass can easily bruise and become painful. This material is compatible with all lubricants, so lube away! I just want to caution that lubed up glass is very slippery. This is also the case if you are using this toy in the shower. Always be sure to keep a firm grip on it. If it drops and breaks, the dildo will break into large and manageable pieces instead of breaking into thousands of splinters.
Check any glass dildo for cracks or breaks before using it. If you find one, do not attempt to keep using it. Even though glass does not harbor any bacteria, I suggest putting a condom over the toy if sharing with a partner.
Another amazing thing about glass? You can use it for temperature play. Simply place it in a bowl that has been filled with water of the desired temperature. Let it soak for 3-5 minutes. In a rush? Put the dildo under a running faucet until it reaches the temperature you want.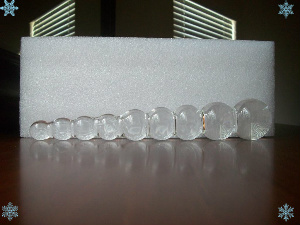 Design/Texture:
If it was snowing outside, I could definitely hang this on my porch. It would blend right in. Pipedream designed the Icicles No.2 to look like the perfect, nature made icicle. During the snowy holidays, this dildo could be left out with the excuse that it is a holiday ornament! It is honestly that discreet. The entire toy is made out of nine beads or bulbs (or whatever you want to call it). It starts out with a small bulb, and then each one gradually increases in size. Each bulb tapers in a little bit before moving on to the next, so this tapered space can act as a stopping point or breathing area while you get used to having something inside of your body. Either the smaller or larger end can be used for penetration. It can be used vaginally or anally. If using it for anal play, never try to insert it all the way and always keep a firm grip on the toy. I love to use the smaller end for anal play. It definitely works as a warm up toy. The smaller end can feel kind of pointy at times when using vaginally, so I usually prefer the larger end vaginally. Because it is double ended with two very different sizes, I think this would be a great dildo for anyone who wants to try it. The bulbs feel amazing when rubbed over the clit and nipples. In fact, this dildo is perfect for rubbing over the entire body during a massage. This has become a multi-purpose glass dildo in my bedroom, and I would not have it any other way.
Experience
Design/Texture continued:
For those that hate texture, this might be a dildo to skip on. Each bulb is smooth, but it can be an intense sensation. Also, keep in mind that the shaft is straight and does not have any give. I have a shallow G-spot, so the biggest bulb can rub mine if angled correctly. Those with finicky or hard to find G-spots will not be too impressed with the overall shape, but I think it could still provide pleasure to most in some way or another.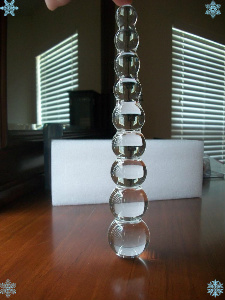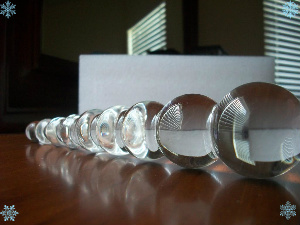 Measurements:
Total length-8 1/2"
Insertable length-7"
Diameter of small end-3/4"
Diameter of big end-1 1/2"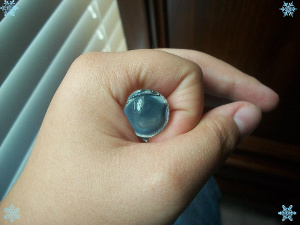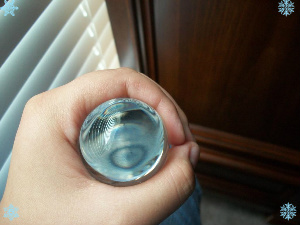 Cleaning:
Clean with warm water and antibacterial soap or a favorite toy cleaner. You can also put this dildo in the top rack of the dishwasher (no soap), clean with a 10% bleach solution, or boil it for 3-5 minutes. Even though glass isn't porous, I still suggest a condom if sharing with a partner. Be sure to clean properly before going from anal to vaginal play. Glass is compatible with water, silicone, oil based lubricants. When everything is lubed up, glass dildos become very slippery and therefore difficult to hold onto so be careful.
This content is the opinion of the submitting contributor and is not endorsed by EdenFantasys.com

Thank you for viewing
Icicles No. 2
– double ended dildo review page!