Bummer For Him But Great For Me
If your prostate is easy to stimulate this might be the perfect toy for you! The toy is very firm, quite weighty, and girthy. Though my guy found that he didn't like the toy as a prostate massager I found that it was great for me as an anal toy. It could make an interesting vaginal toy but I would caution against using it as both without the use of a condom.
Published:
Pros:
Good materials, firm and smooth texture, great bulges and curve
Cons:
Curve might be too extreme for some guys, Long arm may not be long enough
As every guy should know, caring for the prostate is a must. Clearing out the tiny organ and keeping track of any changes is super important to any guy's health. Toward this end we have begun to invest in some prostate toys for Sigel. He is reaching the age where a guy begins to be aware of the dangers of letting a swollen, or enlarged prostate go.
I saw the Pro-Pal for Men by Doc Johnson and bought one when they were on sale at a ridiculously low price. I figured one of us would find it useful and I was right. Like a trooper Sigel tried it out but found that it was awkward for him to use due to some serious injuries he is currently dealing with. If he has a partner to help then the toy isn't too bad but it is rather bigger than he really likes.
The Pro-Pal is composed of rigid, firm and smooth plastic that is molded with bulges and curves to excite and stimulate the prostate powerfully. This is a fairly girthy toy measuring in at around 5.75 inches in total length and about 4.75 inches around the largest bulge! The user will definitely feel this toy. The toy is curved at a sharp angle and has a very prominent handle making it nearly impossible for this toy to pull a disappearing act.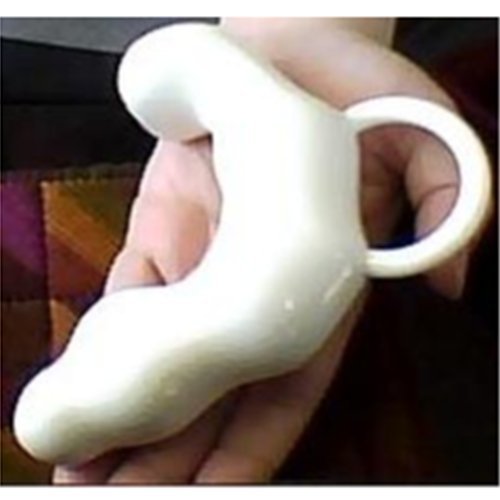 The Pro-pal offers a user two distinct experiences depending on the side of the toy chosen. The shorter end measures a mere 2.5 inches of curved length. It measures about 4.25 inches around and resembles a thumb, albeit a large thumb. If the user likes a short but wide plug this is a sure bet but it doesn't quite reach even the most easily reached prostate. It is rather excellent as a warm up for larger toys. The end of this side is dominated by the thin but prominent handle.
Now the other side is where the real fun begins. The end of the toy is blunt and rounded to avoid poking a sensitive anal sphincter. The length is just over 4 inches which may or may not be long enough for every player. It was not long enough for Sigel and he found that in order to hit the area where feels the most pleasure he had to angle the toy so that the bulbous end hit him uncomfortably in the taint.
He did like the ripples of the longer end of the toy. The first bulb starts out as just over 3 inches where it dips in a half inch. It then bulges out to 5.25 inches which can be quite challenging for the new or moderate player. The bulge then tapers back to 4 inches before bulging out a half inch before the handle. The handle is located on a flat bit of the toy and it provides a nice resting point for the anus after the challenge of fitting the toy inside.
The Pro-pal is very hard and rigid plastic that is made of food-grade material, hypo-allergenic, latex free, and phthalates free plastic. This must be taken into consideration by the user because there is zero give to the toy. It will make what is a moderately large toy feel larger still. The user should also remember that although plastic is not very porous it is still quite capable of harboring bacteria. This isn't a toy one would want to interchange between anus and vagina nor between partners. One could use a condom for easy clean up as well as cross contamination.
The toy becomes very slick with lube and either water based or silicone lube is perfectly fine to use with this toy. As with any anal toy regardless of it's material make, one should use a goodly amount of lube to prevent damage to the sensitive mucosal lining of the intestine.
Cleaning the toy is as simple as hot water and soap or a commercial toy cleaner. You could boil it for a few minutes or sprayed with a 10% bleach and water solution. It can also be washed in the upper rack of the dishwasher without soap. It cannot be totally cleaned but it can be kept clean enough with a condom.
This isn't a terribly discreet toy. It doesn't scream sex toy but it is so very unusual looking that it's bound to inspire questions. It is fairly compact, though, and can fit easily in a bed-side table drawer or sock drawer.
Experience
While Sigel did not particularly like this toy as a prostate massager I found that I actually did like it as an anal toy for myself. It has proven challenging and satisfying as a mild thrusting toy. I like to push a strong vibrator through the handle for added stimulation. While I don't have a prostate to massage I do find that this toy really hits the spots that I find particularly pleasant. I can insert the longer end anally with a strong vibrator pushed through the handle and curve the toy just so that I get lovely stimulation to the clitoris or just below it.
All in all even though the Pro-pal seems to be sort of hit or miss for guys, it works well for women. I have not used this vaginally because it was used without a condom anally but I could imagine it would be great for easy to stimulate G spots. It could provide some firm pressure, be rotated in circles over the sensitive tissues or with some added vibrations, it could become quite a pleasant toy. The bulges and curve of the toy could prove very interesting for female bodied players as well as male!
Follow-up commentary
9 months after original review
This toy isn't one of my most favorite dildos but it is nice for a once in a while change. It still looks amazing and I am still looking for a guy that this will work for...in the mean time I will have a little fun with it!
This content is the opinion of the submitting contributor and is not endorsed by EdenFantasys.com

Thank you for viewing
Pro-pal for men
– prostate massager review page!