Cassini....My Not So Flexible Friend
The Cassini isn't a bad toy but nor is it a great one. I like that it is a safe material and the vibrations do transmit well. However it is very rigid and both my partner and I found it a little uncomfortable to use. That being said if you like really rigid toys then this might be for you.
Published:
Pros:
Material, Decent vibrations, Various modes
Cons:
Very rigid & might be uncomfortable for some
-Packaging -
I was delighted to be reviewing the Cassini prostate massager as I have tried several in the last few months but this was the first with more than a basic vibration function. The packaging it arrives in is actually quite stylish. It is a cardboard outer shell with a large window on front and back that shows the toy held in place by a plastic inner sleeve. It mentions that the toy is splashproof which is a plus as it makes cleaning a little easier. It also mentions that it is made from 100% Platinum Silicone (I assume they just mean the insertable portion). Overall I was quite impressed by the packaging; Functional and thankfully free from any sleazy phrases or pornographic imagery.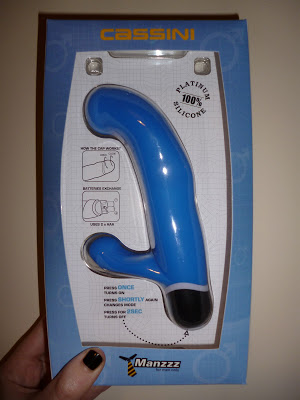 -Material/Specifications-
I was pretty pleased once I had removed the Cassini from its packaging. The silicone has a velvet feel to it. The design looked very promising with the shaft curved and bulbous at the tip. Perfect for p-spot stimulation. The toy is made from Abs plastic on the base with silicone coating on the shaft. Silicone is an ideal material for an anal toy as it is non-porous and won't take in bacteria. Additionally it is also latex and phthalate free. As you would expect with a silicone toy it is completely without scent or taste. The base unscrews and has a rubber washer inside to maintain a semi-waterproof seal. It is powered by 2 triple A batteries which is great as these are very widely available. The head is bulbous and the toys widest point is where the curve of the head meets the length of the straight shaft. Its measurements are as follows.
Overall length = 6 ½ Inches
Insertable length = 4 ½ Inches
Perinium stimulator = 1 ¾ Inches
Circumference (widest) = 4 ½ Inches
Circumference (slimmest) = 4 Inches
-In Use-
The shape of the toy makes it good for prostate stimulation but I was a little daunted by how solid the toy was. There is a seam that runs the length of the shaft but is not so pronounced as to be very uncomfortable.
The shaft as I mentioned has a velvet feel so lube is definitely advisable. As it is a silicone toy you can use either water or oil based lubricant. Silicone lubricant is not suitable for use on silicone toys as it can cause the outer layer/finish to degrade.
The vibration function is controlled via a single button on the base. To turn it on you press once. You press repeatedly to cycle through the various modes of vibration. There are 7 modes in all including low, medium and high settings of constant vibrations. It also has pulsing modes and various cycling modes of vibration.
Upon initial insertion the curve and the firmness of the toy made it a little uncomfortable for me but once I relaxed; I managed it a lot easier. The vibrations are quite pleasurable as I have never experienced a massager that does vibrations internally. It is not the loudest vibrator in the world but is also not the quietest. When you have it set on high speed vibration there is a noticeably buzz from it.
The button was a little bit of a problem for me. It is very easy to press which is better than buttons you have to hurt your finger trying to press. Unfortunately when you are using the toy it tends to get pressed by accident when you thrust with the toy. This means it will suddenly change modes on you when you don't want it to. It isn't the worst problem but just a little bit distracting.
It has an extra bit that sticks out (somewhat like rabbits ears on a female rabbit vibrator) this is designed to stimulate the perineum during use. I have never been too fussed with them but this one was actually pretty decent. The vibrations travel well through it so it spreads the feeling of stimulation around rather than just having it internally.
It is not overly bulbous at the tip so there isn't that "pop" sensation that you get with an anal plug but it does sit against the prostate nicely. Once you are finished you have to press and hold the button firmly for a few seconds to get it to turn off. I cycled through the modes a couple of times before I figured that out.
Experience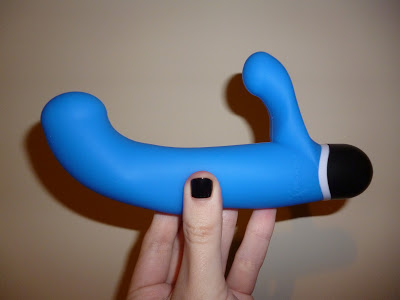 -Care-
Once you have finished using the Cassini cleaning is fairly simple. You can use warm water and mild antibacterial soap or specialist toy cleaner. The splash-proof feature is handy for cleaning as you don't have to worry about running water getting on the base. Once it is completely dry you can either store it in the box or to save space what we find works best is a zip-seal plastic bag. This keeps it clean and dust free for next use but doesn't take up extra room. Make sure that when you are not using it that you remove the batteries as they can leak and damage the toy if left in long term.
Just a note on cleaning, there is a "Manzzz" logo near the base that is raised up so you might need to clean it with a cotton bud to make sure no fluids get stuck there.
-Summary-
Overall, I am happy enough with the Cassini. They outer packaging is pretty nice to look at and shows off the toy well. The insertable portion is made from a great material which is a serious plus where anal play is concerned. The vibrations work well and transmit through the material with no noticeable weakening. I have used toys in the past that despite sounding powerful, loose a lot of kick as the vibrations are absorbed by thick layers of material.
If I could change one thing about it, it would have to be the button. As I mentioned above it is not a huge problem, just a little distracting when you are using it. The splash-proof feature is great as you can clean it easy. While some prostate toys can be used by women fairly interchangeably this design doesn't really allow for comfortable vaginal use as my partner tried it before me. All in all it was an ok toy.
This content is the opinion of the submitting contributor and is not endorsed by EdenFantasys.com

Thank you for viewing
Cassini
– prostate massager review page!