Color Reminded Me Of The Joker, But This Thing Is No Joke!
I was absolutely thrilled with this toy. For the price, I would certainly recommend you buy this! The seam around the probe portion of the toy could be smaller (or even non-existent), but still not a horrible flaw. Great for anal beginners and I am sure even some vets would enjoy this. Color choices would have been awesome, but that is only cosmetic.
Published:
Pros:
Inexpensive, Powerful
Cons:
Definitely the seam
The Anal T can certainly be used solo as intended, though it could also be incorporated into couples play. It is designed for anal, but as powerful as the vibrations proved to be, should work great for clitoral and possibly even g-spot stimulation. I love nipple play, and I'm sure it would work great for anyone who enjoys vibrations on the nipples (I prefer biting/sucking/pinching.. so I didn't try it). It isn't a hands-free device exactly, but after it is turned on/turned up you could certainly set the control down and use it hands-free. The 't' between the base and the insertable portion make this perfectly safe for anal (not everything that vibrates/is semi-phallic shaped is okay for wreckless thrusting into your ass).
This looked like a fun little toy, but I was headed out of town, so much to my dismay I put it up and had to wait all weekend to get to use it. Hurriedly hiding the toy (and throwing the package away in the process), I didn't manage to take pictures, but the packaging is clear plastic with a cardboard insert. There is NO WAY that if anyone saw the insert that you could deny this being a sex toy. The plastic shell of the package just snaps open/closed, so no annoying clamshell plastic here. All the green fans out there will be pleased to know that all of the packaging is recyclable.
As far as odor, it has a very slight (even holding it to your nose) and not at all a "bad" chemical smell like some toys have. The Anal T itself is hard plastic with
Velvet Cote
, rating at 8 on the safety scale. Velvet Cote is a non-porous coating, and also pthalate-free, it transmits vibration exceptionally well. The Velvet Cote on this particular toy has very little drag to it, and with the approved silicone or water based lubes, drops to absolutely nothing.
Design: See attached picture/map for locations of different portions of the toy.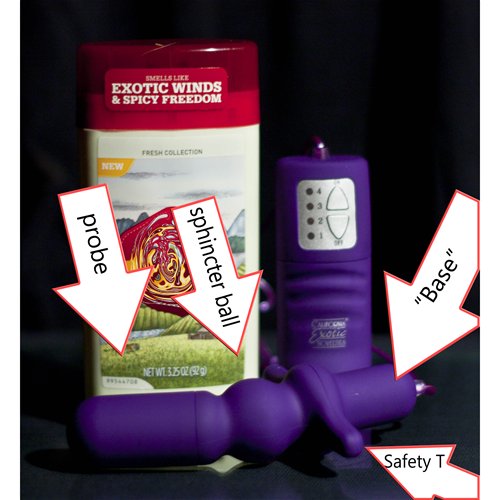 The probe portion is simple; bullet shaped, with a seam near the transition area from probe to "sphincter ball"
As seen in the picture, it isn't as smooth as it COULD be. I'm not a seam sensitive person, but this could pose a problem for some (especially with anal use).
The sphincter ball, between the Anal T and the probe portion of the toy seems to me there simply to rest between the sphincters (a huge aid in keeping the toy inserted), although I am sure this may be uncomfortable for some.
The 'safety t', is what it sounds like. Without this feature, you would certainly run a risk of losing it inside (and no one wants to explain to anyone they need help fishing sex implements out of their ass)
The "base" so to speak, is (for me at least) the primary way to hold the toy while inserting it. It's large enough that even covered in lube I had no problems holding on.
The control box is simple. It has 2 buttons that control both turning it on, and the power level. While the toy is off, pressing the button once gets you level 1, twice gets level 2, and so on. There are only 4 levels, but the 4 proved to be PLENTY for me. The same applies for turning it down/off, each press of the button drops the power a level until it is turned off. No fancy functions or patterns here, just vibro-power. I think this toy has the power to titillate everyone from the very vibro-sensitive to those who can handle an above average "vroom" so to speak. It does require 2 AA batteries (not included), and is waterproof. The base of the control box screws off, and you insert the batteries (make sure to pay attention to how you insert them, or it may not come on!) and has an o-ring to seal the battery box from moisture should you decide to venture into an aquatic environment while playing.
As far as size, it isn't at all "threatening".
Length: 5"
Insertable length: 3"
Circumference: 3"
Diameter: 1"
Cord Length: a little over 28"
Control Box: 4"
As for visual comparison: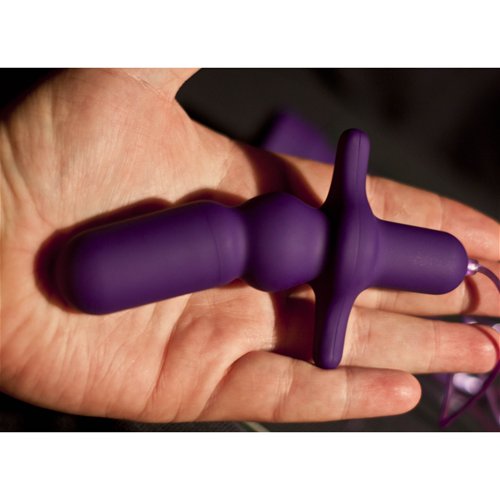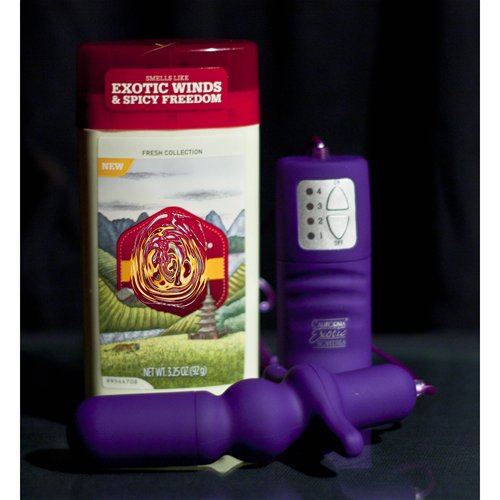 You could definitely store this in a shoebox, purse, or coat pocket in the closet.
I think anyone with more than a little ambient noise would be safe using this. It's quite loud while outside the body, but once inside the sound level drops pretty low. I couldn't hear it laying on my bed on full blast through my door, but through a blanket in the same room I could tell something was definitely going on.
Experience
When it finally got to play time, I loaded fresh rechargeable AAs into it, and pulled a sample pack of
Astroglide-X
and a plastic cough syrup syringe (the syringe is absolutely amazing for anal play, as you can get lube exactly where you need it easily), and lubed up. This toy's surface had very little drag to it anyway, but with the addition of any lube it is definitely slick.
It did take a little more effort to get it inserted than I initially expected, but by no means was it difficult.
First, I just paid attention to how it felt without being powered on. While I could definitely feel something in my ass, it wasn't annoying or unbearable. No other worldly feelings of fullness, and certainly not too long, it felt quite nice. While not hitting my prostate entirely on it's own, with a little bit of moving my ass against the bed it absolutely hit the right spots.
I probably used a little too much lube though, as when I moved it slid out very easily (I used a whole sample pack!)
After re-inserting it (and admittedly, wiping away a little lube from between my cheeks) I pressed the up button once; bringing it to the first power level. This was a delightful sensation; a low steady rumble, not too loud or powerful but definitely noticeable.
The second power level was exactly that, double the power of the first level. It felt great, and was still pretty quiet.
The third power level was positively a surprise, but thrilling none the less. While I expected it to be just another small step in power it felt STELLAR. It may have just been my particular unit, or even my own sensitivity, but it seemed to have tripled in power from the second to third level.
The fourth level, oh, the fourth level. Houston, we have orbit. I felt as if I were riding a jet engine. The sound was definitely loud at this point, but my TV on low volume drowned it out completely!
A little cock stimulation later, with one of my favorite porn clips playing, and I had one of the best orgasms I have ever had. Muscle spasms and cumming like a garden hose.
I love this little thing!
Follow-up commentary
29 days after original review
I decided to give this another thorough testing, and I love it now just as much as I did the first time I used it. It slips in wonderfully easy, and now that I know not to over lube it, it stays in place well. It's not my FAVORITE anal toy anymore, but it is still enthralling. The vibrations against the prostate are WONDERFUL.
This product was provided free of charge to the reviewer. This review is in compliance with the FTC guidelines.

Thank you for viewing
Waterproof pocket exotics anal-T
– prostate massager review page!