Dr. Joel screws it up again!
The Anal Screw from Dr. Joel is a good attempt to make a anal toy for screwing your ass. It just came short of being a good one. The threads are not that stimulating and do not provide a "screw" effect. If they were just a bit taller they would work much better. Furthermore, I would prefer a base instead of the cord. The cord does work but in the event that it goes inside, the cord is rough and painful when against your sphincters.
Published:
Pros:
Nice size, retrieval cord, Slick surface.
Cons:
Can't feel "threads", Retrieval cord is hard to clean throughly.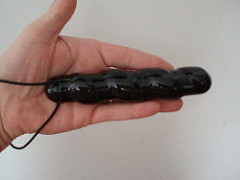 The Dr. Joel Anal Screw is designed for anal use but could be used vaginally as well, in fact it may work better that way, I don't have a vagina otherwise I would tell you. You get a 6" long dildo that has "threads" molded into it. These are half an inch wide and protrude about a 1/8 of an inch. There is a 6" long looped cord attached to the end that makes it anal safe. It is a 1 1/4" in diameter, measured at the outside of the threads.
The cord is made out of nylon; this is attached to a hard PVC (Polyvinyl chloride) "plug". This in turn holds the main shaft of the toy, which is made out of a soft PVC. Inside the PVC shaft, it feels like it has a foam core. This provides some flexibility but takes away from the threads effectiveness. A firmer core would enable you to feel the texture more effectively. The finish is a high gloss and glides with ease with just a little lube.
Speaking of lube, water and silicone based lube are suitable for use with this toy. Do not use oil based, it will degrade the material. When the fun is done, clean it with a toy cleaner or soap and water. I do not think it is sanitize-able, due to the cord. So use a condom over it if you plan to share between partners or orifices.
The Anal Screw comes in a clamshell type package. The toy is displayed on the front along with "Anal Screw" in a big font, so it is not very discreet. On the back is the standard info on California Exotics as well as some info on the material. I found it interesting that the package says it is a Butt plug, WTF? Have you ever seen a butt plug with no base?
Experience
I found the Anal Screw kind of fun to use but the treads did nothing but provide a light texture. I had the wife use it on me to see if the threads would work. They did not. Sure they will if you provide the in and out stroke but not by themselves. Like I said if the core was firmer or maybe if it were made out of a hard plastic, it would work better.

For the sake of science, I inserted this toy fully into my rectum (not the easiest thing to do) then used the cord to retrieve it. It works but the cord against my sphincters was not pleasant. I think a base or longer length would work better for this toy. Still, if you keep hold of the cord you will not lose it.

In closing, I will say this is n OK probe. It has a good size and glides with ease. Someone with a bit of experience in anal play could use it and more advanced users may enjoy it as well.

I am rating it at three stars. If the threads could be felt better I may have gave it four. I just cannot rate it any higher; to me a toy sold as an anal toy should be longer or have a base, not a cord. Ya know?

Really Dr. Joel? For the love of Pete! Can you make anything that most guys would like to use?
This product was provided free of charge to the reviewer. This review is in compliance with the FTC guidelines.

Thank you for viewing
Dr. Joel anal screw
– anal probe review page!