Finger bang with boneless fingers
This prostate locater endorsed by Dr Joel, is designed with the beginner in mind. The largest diameter is about the size of a finger and the material is soft and flexible. Unfortunately, the flexibility is the big downfall with this toy. Sure, it will gently graze the prostate but it will not provide much in the way of stimulation. It will be better used for getting accustomed to something in your ass.
Published:
Pros:
Great size for beginners, 100% silicone
Cons:
To flexible, Handle is hard to hold for self manipulation.
Dear Dr. Joel,
Sometimes I think you just put your name on anything. Did you try this toy out yourself? Probably not! If so, you would have noticed that the shaft is to flexible for any real stimulation and the ring is only big enough for one finger and not placed in the right direction for self-use. Damn son, test your toys on your self!
Wondering,
Dwtim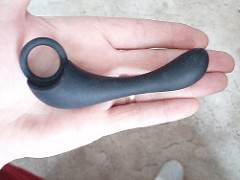 The Dr. Joel prostate locater is designed to be a beginner's toy. It has a small diameter and soft, flexible material. It is good for those new to anal (or vaginal) play. There is a ring molded into the handle that helps during use and will "help" prevent the toy from going to far in. Although, the ring is so soft that this toy could be pushed in if care is not used during use. So, keep your finger in it! One problem I had with the ring is the orientation. If it were mounted 90 deg from where it is, it would have made it much easier to us with one finger. I had to twist my hand just to use it. It does work well when your partner is using on you though.
If you do not want a black one, you can also buy the
Silicone G Ami
in pink and purple. They are the same exact toy, just a different color.
This probe is made of 100% silicone, which is a big plus for an anal toy. This means that it is non-porous, hypoallergenic, Phthalates and Latex free. It has a matte finish and has some drag to it. Cleaning is super easy; just a toy cleaner, boiling or a 10% bleach solution will work fine. You cannot use silicone lube but water and oil based lubes will be fine.
Size wise, this probe is about as big as my middle finger, 3/4" diameter (2 3/4" circumference). The tip is tapered for easy insertion but you get the biggest part right away. Luckily, if you work some lube into your ass, this toy will go in with little effort. After the somewhat teardrop shaped tip, it drops down to half an inch for an inch before it tapers back up to the handle. If you insert it to the handle you will get about 3 1/2" of usable length. I will say this is good for those new to anal play; chances are you will not find it uncomfortable or intimidating.
This view shows the comparison to my finger
Since it is small in size, it is easy to store and carry. I store mine in a snack size zip top bag.
I am not sure how good it will work for finding your prostate if you are new to P-spot play. The shaft is just seems too flexible to me. You cannot manipulate/apply pressure to the tip while it is inserted but you can feel it graze across the prostate if you are sufficiently aroused. Still I feel it would be good for those that do not want to stick their finger up there butt or those that want a small toy to thrust with.
Experience
This is my third prostate toy from Dr. Joel and I must say I think he is an idiot! The first was a plug that did not have a firm enough base to use anally, the second is a screwed up butt toy (review coming), and now this one. Seriously, is Dr Joel a real person? Does he try these toys out himself? Does he give a damn about the person's using the toys he endorses? I do not believe so.

~End of rant~

OK, I'll admit, this IS a great probe for those that are new to butt play. It will help you get accustomed to something in your ass and is nice for small, light thrusting. It also works well for partner play, especially if your partner is new to using toys on you. The small diameter and length are nice and the flexible material will not cause much concern of hurting or bruising.

If it were only firmer, this would be a great probe! As it is, you only get some light stimulation to the prostate.

Therefore, for a beginner toy I give it five stars. For someone that is a bit more experienced, I can only give it three stars. It is no bigger than a finger, so anyone that is used to finger play will find it lacking. Averaged star rating, four.
This product was provided free of charge to the reviewer. This review is in compliance with the FTC guidelines.

Thank you for viewing
Dr. Joel prostate locator
– anal probe review page!