Glo, Baby, Glo!
This little plug is groovy! It glows in the dark, provides decent vibrations and is a great size for a beginner. If you are curious about anal play, and you're looking for a toy that isn't scary or intimidating, this cute little guy would be a great choice.
Published:
Pros:
Great Size for a Beginner
Glows in the Dark
Bullet Packs a Punch
Cons:
To Small for Some
Can't be Sterilized
This little guy has got to be the cutest, least intimidating plug I have ever seen. How can you balk at the thought of anal play when you're staring at this pink, fun ball of glow in the dark goodness? You can't.
The Glo Pop Plug is a vibrating butt plug made consisting of a PVC shell, resembling a ball with a neck and rectangular base, that houses a small cylindrical vibrator. The PVC section itself is hollow; the structure of the ball portion is due to the air trapped inside of it by the vibrator blocking the entire neck. If you squeeze the ball firmly, you can compress it. It isn't a firm toy, that's for sure, but if you're new to anal play and just looking to try it out, a forgiving toy that has a lot of flex to it might be just what you're looking for. The give to the end bulb makes this easier to insert, in spite of the fact that it has no taper to the tip. You do need to apply a bit more pressure than you would need to if the toy had a gradual increase in size, but the Glo Pop is such a small toy that inserting it isn't too great a challenge. The neck helps the toy to stay in, and it does a decent job of staying put as long as you aren't moving around too much. The base is very bendy and flexible, as that portion of the PVC shell has nothing to secure it, but it is large enough to provide a safe flared base. The surface of the Glo Pop is shiny and smooth, with no texture at all.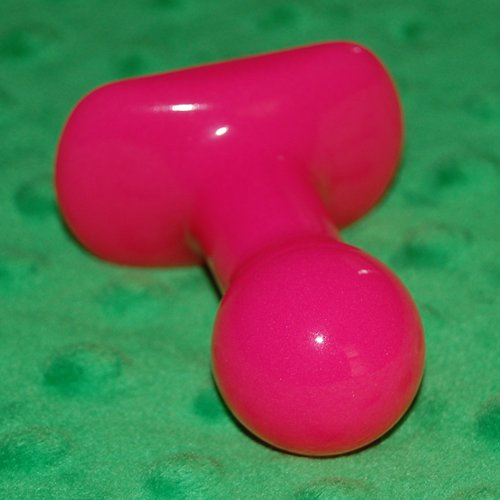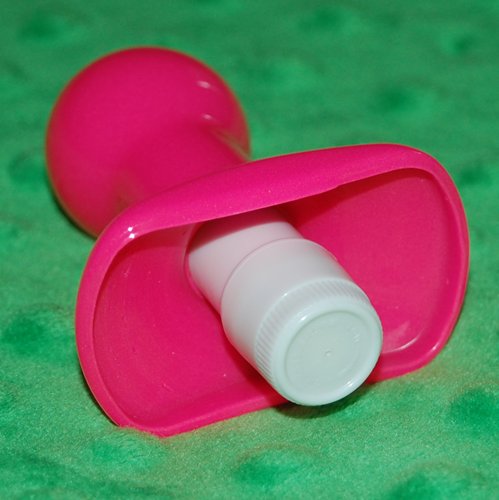 The total length of this little plug is only 3", with just 2" of that insertable. The bulb itself, which is the widest portion inserted, is just over 1" in diameter. It would be great for a beginner, and the vibrations make it great for any skill level.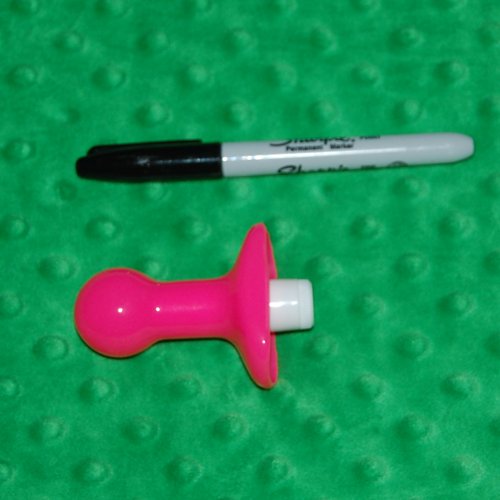 You could use the Glo Pop on your own for solo play, or with a partner. I think a large part of the fun of this toy is that it glows in the dark, so partner play would allow that feature to be appreciated! After holding it up to the light and letting it "charge", it does glow quite brightly for close to 10-12 minutes. The entire toy is waterproof, so you could use this plug for fun in the shower or bath!
The vibrator used for this plug has a simple multi-speed wheel as a control knob. You turn the wheel more for more vibrations, and back it down for less. The vibrations are very buzzy, with a sound that sounds like a hum. I'd say it's on the high side of average for a bullet, as far as intensity is concerned. When it's turned all the way up you can faintly hear it over the covers, but you wouldn't hear it through a closed door unless you had it over the covers and your ear pressed to the door. The sounds from a stereo or a TV would mask the noise from this toy completely. The vibrations transfer nicely through the entire toy, and are buzzy enough to numb your hand a bit. I didn't find this to be a problem because you aren't going to hold on to this toy for thrusting. The bullet does take 3 of an odd battery type, LR44, which are included with the toy. After about 40 minutes of use, the batteries died, so I advise having extras on hand.
The Glo Pop can be cleaned with soap and water, or your favorite toy cleaner. It is waterproof, and can be rinsed off or submerged with no issue. The vibrator is a bit tricky to get out, you have to really struggle it out of there, but it can be done. It cannot be sterilized, so if you intend to share this toy please cover it with a condom. You can use any lube you like with the Glo Pop, as it is safe with both water and silicone based lubes. The package is retro and cool, but it isn't discreet, as the toy is clearly visible through a clear window in the front of the box. You could use the box for storage, or simply put the Glo Pop in your drawer. It does collect a bit of lint and hair, so be sure to inspect it before use. It has a faint smell, as many PVC toys do, but it's not overwhelming.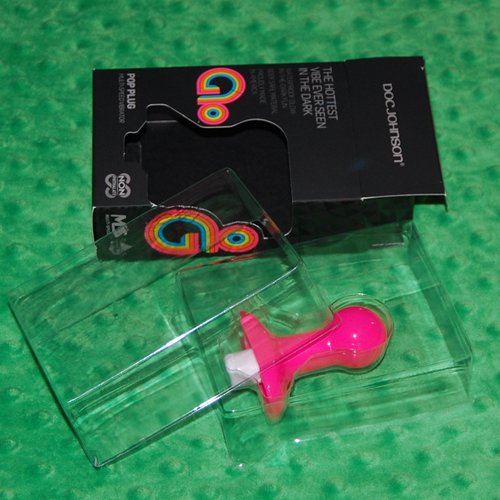 Experience
I will admit I did a little squeal of delight when I opened the box with this toy inside. It is just so cute and little, and I was excited that it would glow. I opened it up and ran to test out the glow feature, and then proceeded to turn off all the lights in the kitchen and living room to show my husband how it glowed pink!

Is it large and filling? No. Is it great for p-spot play? No. But this little plug is great for those times when you just want a little something extra, and you don't want to warm up to it or have to ease into a larger toy. It can just be that extra bit of fun, with no big commitment or pressure, and there are certainly times when that is all I'm looking for.
Follow-up commentary
8 months after original review
The fact that batteries are used up in the blink of an eye, and the fact that it takes odd batteries, make this one sit in the toy box unused. There are better options out there, and since I own them, they are what I use.
This product was provided free of charge to the reviewer. This review is in compliance with the FTC guidelines.

Thank you for viewing
Glo pop plug
– sex toy review page!