Grips my P and keeps on grippin!
I think this will be a regular toy in my growing rotation and definitely my go to Prostate massager. Just the thought of using this during intercourse arouses me now. While it is very stimulating, I wish it were a bit stronger in the vibration dept. I paid just under $28 and feel it is well worth it. I will experiment with different lubes and report back my experiences in 2 mos. I just hope my GF doesn't get jealous that I will want to use it often!
Published:
Pros:
Easy to clean, variable speed, hits the spot, good size for most.
Cons:
Could be stronger, not as easy to share without covers. Hard to remove cap.
I have been intrigued with this toy for a bit, ever since seeing it in a store and reading the reviews on EF. It was on sale at EF and I decided to give it a go after reintroducing myself to Prostate stimulation recently. I had tried some in the past, but never found that perfect toy and kinda drifted away from it.
The packaging is nice and reusable like most Evolved vibrators & toys. A hard plastic case with a unique shape. There was no noticeable smell upon opening the package. It takes 2 AAA batteries, but the battery cover is a pain to remove (now I understand what the other reviews were talking about). I'm still not sure how it works, but you have to press on two hard to see indentations and pull/push it off. There is little give in the material, so it takes some patience and trial and error to get it open. There is no real "click" to let you know you got it on securely. It doesn't seem to close as tight as when it was empty either as has been stated, so I might be reluctant to jump in the shower with it just yet. Though really, a little electrical tape could solve any apprehensions to prevent any water possibly seeping in. I doubt I will use in in the shower. Its talents belong elsewhere.
The toy has 7 different speeds/vibration patters. 3 standard low, med, high and 4 different pattern vibrations from escalation to the standard buzz buzz buzz.....buzz buzz buzz. The intensity is good, but not off the charts, which may be good or bad depending on your preference. As a P spot vibrator, I have no complaints. It does the job just fine and even for those who don't like vibration, I think it still might have something to offer in the way of Prostate action as it seems to move against your prostate with your anal/PC contractions. There is one button that sits under your balls, when fully inserted, to turn on/off and change vibrations. It is easy to reach on your back or standing up, but a bit more challenging during sex with a partner. If using this on someone else, the button fits conveniently where your thumb is within easy reach, while gripping the base/handle.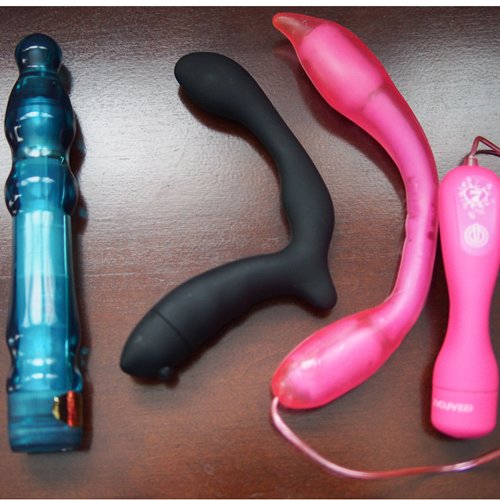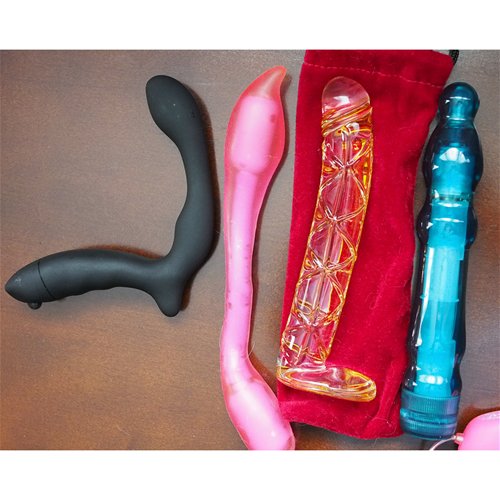 The material is PU Coated plastic. Its black and matte looking and sorta velvety. I couldn't quite tell from photos what to expect. I used water based lube and it doesn't hold it well. There is a bit of drag (a new term for me with toys now) and I would guess silicone lube might work better (I have never tried silicone lube) or perhaps KY type jelly. I found it took a little finagling to get this inserted, but not because of the size. I think it was more to do with the shape and drag. My shy reluctant GF was too scared to try herself and had never done this with anyone before.
The toy is PU coated ABS plastic and cleans up easy with Soap/water. It has a matte velvety smooth surface. It is safety rated 7, so sharing is not really recommended without using a cover. Safe to use with water/silicone lubricants.
I think this toy can be useful for a female as a G spot vibe that is hands free, but is more in tune with P spot use by design I think. I think much depends on individual anatomy.
I think this toy would really shine during oral sex where the giver would have everything at easy reach. It works fine as a stationary tool. I'm not sure I would enjoy it thrusting in and out, because of the drag, but a little rocking motion is very good. The right lube could also make a difference.
PROS
-Hits the P spot
-Good value
-Well constructed (other than the cap)
-Easy to clean
-7 Speeds
-Stimulates Prostate, anus and perineum simultaneously.
-Waterproof
CONS
-Slight Drag
-Hard to remove battery Cap.
-Vibrations are good, but could be stronger even
-Works with any lube
-Not recommended to share with others without covers
-Difficult to change speeds during intercourse in some positions
It's far too early to tell, but I swear my PC muscles already feel stronger and have more frequent contractions as a result of using the Get a Grip. It's possible using this regularly will develop my PC muscles more and have erectile/sexual health benefits. I think I might even be noticeably squirting further, like I did in my 20s too. I will report back with my findings in a few months, when I have some more solid conclusions.
Experience
Once the toy is inserted it stays put. My first experience was during intercourse (Used in conjunction with
Diving Dolphin
for her) and wow, it was pleasurable. Every thrust I could feel the bulb pleasuring my prostate and anus (as well as perineum) as my muscles clenched and almost felt like it was moving in and out or rocking possibly (the handle presses up against your perineum and back of your testes a little and to me that added even more pleasure than being stationary. I did find switching speeds was difficult in missionary, since the button was down below my balls, not up near my anus where my partner or I could easily reach. Just a minor drawback. During intercourse, I think its fine to pick one speed and focus on the pleasure, so it may not be necessary to switch often. Just being my first experience, I wanted to try them all. Laying on your back, it is very easy to change and reach the button.
My orgasm while having this inserted was among the most intense I have had in recent memory. I've always wanted an anal toy I could use during intercourse with no wires and that didn't fall out (Like anal T vibes do). This seems to fit the bill. After I got this in the mail, I had to wait 2 agonizing days to play with my new toy and it was well worth the wait. My ass has been craving this since I ordered it.
Well after my wonderful orgasm last night during sex, I had to head home and try it solo during my lunch break today. This time I was less aroused, but the toy helped get me up and ready for action quickly.
Instead of my GF, I fucked my
Stoya
Fleshlight this time. It was a very similar experience and wasn't long before I came. I would say I have an even larger volume of cum, than normal, especially for it having been less than 18 hrs since my previous ejaculation. Orgasms are noticeably more intense then normal while using this toy.
I find it slightly discomforting to remove the toy after orgasm. It's best to lay on your side and relax. Again, this is due to the drag and normal for me with anal toys that taper, so that might not be anything surprising. While I am not an anal expert, I am not a beginner either and don't enjoy large girth toys. I think this toy is great for a beginner to intermediate.
I also used this on my GF prior to inserting in me and she enjoyed the G spot stimulation. I found the handle easy to maneuver the head in a side to side, up/down or in/out motion. When inserted completely, the handle part resets on the outside of the vulva and near the clit, but it takes a little pressure to hold it all the way up to the clit. If she was sitting it would press firmly against her though. We have some other toys that I think are more suited for her, so I might be selfishly hogging this one.
Follow-up commentary
2 months after original review
I love this toy more and more by the day, and I use it a few times/week if my body is in sync. I could use it almost every time I have sex. I only wish I bought it sooner. I am revising this toy to 5 stars.

This does what I had hoped an aneros would do without the discomfort. It will be my favorite toy for a long time and has opened up pleasures I haven't experienced for a long time, if ever. Certainly gives unique sensations and keeps me interested in prostate stimulation. The shape fits my body perfectly.

My favorite way to use this is wearing it during intercourse (or fucking a fleshlight solo). I've even found I like it without the vibrations on and still get the same level of pleasure, just focusing on the contractions and glide, pulling it inside me, then relaxing and feeling like it is falling out almost. It is the perfect shape to stimulate my prostate like no other toy I have tried does. I still feel like I can explore more with this toy and perhaps someday have a hands free orgasm like the aneros promises.

I can insert it while I go down on my girlfriend and contract my muscles to stimulate myself in preparation for sex, pulling the toy inside me every time. Same goes for when we have sex. It actually improves my erections and muscle tone too. It glides in and out gently massaging my prostate, until I come like I never have before. Kudos to evolved for designing this toy just right. It could be used for kegels too, as a reminder to contract your muscles.

I am still in search of the perfect anal lube to make my experience complete. That is something I haven't gotten to yet.

TIP: use plenty of lube. Having a cushion/pillow under the females rear while thrusting creates a lovely gentle nudge on your prostate with every thrust and you can control the intensity. It is this intense, slow-building tease until you choose to release your cum. Just out of this world!
This content is the opinion of the submitting contributor and is not endorsed by EdenFantasys.com

Thank you for viewing
Get a grip
– vibrating c-shape prostate massager review page!