Having a ball
My partner and I are all about the butt, so the chance to try out an anal toy with a kegel ball inside was not to be missed. It seems the experience is fairly subjective. My husband found the toy uncomfortable, but I love the shape and the way it feels. Can we get some more anal toys like this please, in different shapes and sizes? Especially since this one has a serious flaw that makes it dangerous!
Published:
Pros:
Movable ball inside for extra sensation
Cons:
Unsafe! Outer coating peeled off
"Diamond" is cheap looking - not worth the extra price
Details
The Dorcel Geisha Diamond butt plug is a tiny butt plug made of hard plastic with a silicone coating. The plug is hollow with a movable inner ball that is meant to be felt by the wearer during movement.
Using "Geisha" in the name of the toy shows some rather dubious taste, given the racially charged baggage attached to the word. Using the word "Diamond" is somewhat laughable given the cheap looking piece of glass that is on the end of the toy. It is, however, a butt plug, and it is made by Dorcel, so the rest of the toy's name is acceptable.
Dorcel also sells
a version
without the "Diamond", and since it's significantly cheaper, I recommend anyone interested in that toy get that version instead.
Performance
My husband was the first to try the toy, and he found it unsatisfactory. The neck of the toy was too short for him, and so the wider part of the toy was holding open his inner sphincter in a way that was uncomfortable. In addition, he was unable to feel any motion of the balls. He kept it in for a while, moving around a lot, but it did nothing for him. He is unlikely to ever use it again.
My experience was widely different. For me, the neck of the toy was just the right length, and I felt every little motion of the inner ball. I loved the extra stimulation I got just wearing it while doing everyday things, and when using it during intercourse, it felt wonderful. I am sure I will use it rather often.
Noise Level
I can't hear the inner ball moving at all, and neither could my husband.
Power Level
The sensation from the toy is subtle, and not at all like the feeling of a vibrating butt plug. The subtlety and irregularity mean it can be worn a lot longer than a vibrating toy could be worn.
Safety / Lube / Cleanup
Except for the glass portion at the end, the toy is coated in silicone, which is a non-porous, sterilizable material. This is important for my husband and I, as we often share our anal toys.
For cleanup, we use warm soapy water, followed by an antiseptic toy spray to ensure cleanliness between uses - particularly if you are sharing the toy with a partner. Since this toy has inner parts that are not silicone, do not put it in boiling water or the dishwasher. You can use a 10% bleach solution as a germ killer if you want to save money, rather than paying for specialized toy cleaner.
Packaging / Storage
The packaging is a simple display box with a picture of a topless woman on the ends. I wouldn't mind the topless woman if there was a topless man on the other end, but no such luck. Hey, Dorcel, men use butt plugs too! It isn't usable for storage, but the toy does come with a black satin storage pouch with the Dorcel logo on it to help you tell it apart from your other black satin pouches.
Conclusion
This is a subjective toy. If it fits you, and you can feel the ball moving around, you're likely to love it. It's really a shame that the Dorcel plugs are the only anal plugs I know of that have the inner ball. Come on, sex toy makers, how about giving us some more shapes and sizes of plugs like this?
Experience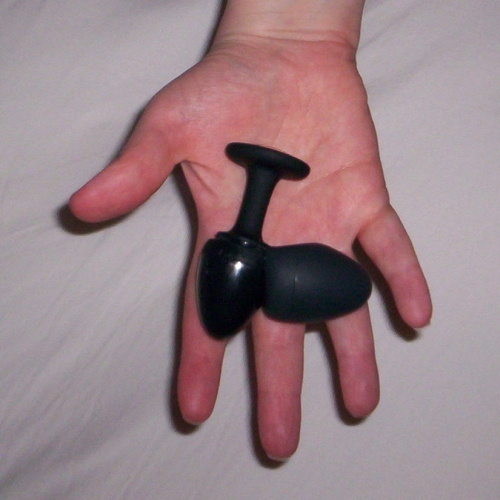 Unfortunately, after writing and publishing the above review, I went to wash the dirty sex toys, and the outer coating of the plug peeled off! What if it had peeled off inside one of us? Potential for an embarrassing ER visit there, as well as it simply being completely unhygienic. Because of this, I am downgrading this toy from a 3 star to 1 star rating. Unacceptable!
This product was provided free of charge to the reviewer. This review is in compliance with the FTC guidelines.

Thank you for viewing
Geisha plug diamond
– sex toy review page!