Hefty being the operative word
For those who want to ease in bigger sizes this is the toy for you. With a down to basics way of use anyone can figure out how to use it. Though living up to its hefty name in size this might be perfect for those who can handle a lot of girth---just remember to prep!
Published:
Pros:
Easy to use, sturdy
Cons:
Huge, not sterilizable
I really like the concept of the Colt Hefty Probe but it takes a lot of prepping. I wish I could use this as a preparation for anal sex with my boyfriend but it seems sadly it has to be the other way around. The whole concept is you insert the probe and slowly inflate it, thus easing into different sizes and making you able to take more girth anally. Whenever I have anal sex I always start with a butt plug first, I always try to ease into making the sex that follows more comfortable for both of us. So I was really excited about trying something new to add to the process, something innovative. In the end I wish I had received a smaller size, something that I am able to take with ease.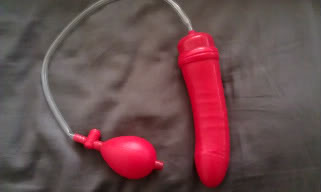 The probe is made of a latex skin, with a core inside. It is thicker latex that feels similar to a balloon, probably more like one of those bouncy balls you use to exercise or play with. The core is firm and not easily bendable---I think it might be made of rubber. There is some ribbed texture through-out the entire body, I think they were going for a natural ribbed effect but in a way it's kind of moot. Once the probe is inflated it you lose all of your texture and it just feels like a blown up balloon but sturdier.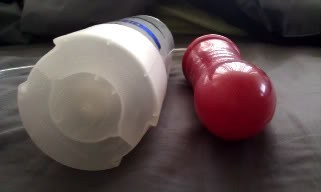 At the back of this probe it is capped off and connected to a tube. The tube is 16" in length and clear---the only thing I can think of that gives you idea of what kind of hose it is, is saying it's the type of hose that works in a fish tank.
Since I work on special effects the whole concept up this was very similar to what I'd call a bladder. You basically create a shape out of latex like boils and after you apply it and messy it up with your blood and what not you blow in the tube and it rises and falls. It's a neat little effect and this product totally reminded my S.O. and I of it.
The design of the toy is phallic but without heavy details. The red penis shape probe does have wrinkle texture that denotes where the head is supposed to be---but it doesn't have distinct shapes. This probe comes in at 7 1/2" in length but only 6.25 of those are insertable. The whole probe has a very slight upwards curve to the head but once again when inflated you really lose a lot of the shape of it. At its biggest point it is 6" in circumference and tapers off to 5" at its head. For me personally I wish the biggest point was at 5" and the smallest 4" I think it would be much less intimidating and easier to manage without a ton of prep work. But then again this particular one is marked as hefty, so it is living up to its name properly.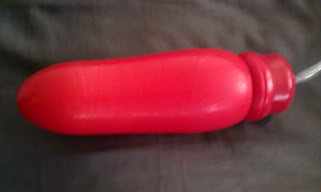 You can inflate this quite a bit---I really tested it to see how far it would go while outside of me. It doesn't give the feeling it's going to burst on you but I would still always remain cautious like you would blowing up a balloon. You really need to find that happy medium of what is the right amount without going too far. As you blow it up you can see it stretch in areas and thin out, but the latex is really thick as it is and a hardy material in this form. Once you want to deflate it there is a tiny button on the squeeze ball to push that will let out the air and take it back to its normal shape.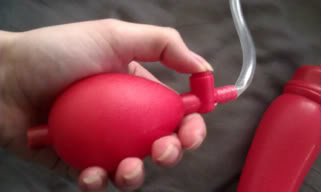 I always use condoms on my anal toys to help with the cleaning process---usually they are silicone but this one is not. So while it would normally be an option of what you prefer, I would recommend to always use a condom with this one since it is latex. I cannot express this enough if especially if you are sharing with a partner. Other than that cleaning is quite easy, use your favorite go to toy cleaning method and store it away.
Experience
I really do like this toy, I do. I just wish it was a smaller size for me, it is just so much prep work involved that I don't want to even use it sometimes—which has nothing to do with how well the toy works. I like the ease of how large you can make it without it being fast and hard. Its comfortable and well made overall.
This product was provided free of charge to the reviewer. This review is in compliance with the FTC guidelines.

Thank you for viewing
Colt inflatable butt plug
review page!