Here Comes The Sun
I took a leap, and while flying through the air I caught a piece of gold. Being a huge texture fan, I found the lace work on the shaft to be just right for my tender backdoor. I also find this dildo perfect for slow thrusting when using anally. While I wish I could say that everyone should own this piece of fabulous, I simply cannot. It will not be everyone's cup of gold tea.
Published:
Pros
Body safe material, Flared base, Amazing for anal, Awesome texture, Gorgeous gold color
Cons
For me-a little hard to clean
For others-slim size, texture, too small to fit in most harnesses
When you hear the word "gold", what is the first thing that pops into your head? Maybe the Gold Rush? No. How about Gold Medal? You are getting warmer. Perhaps you are a toy/glass lover, and you are thinking about the Gold Laced G? If you are then we are totally on the same page!
Use/Experience
The infamous Gold Laced G has received some mixed reviews, and I was a little confused as to why. So I bought one to try it out for myself. The first round, I used it simply for vaginal penetration. The raised lace/web design felt nice. The curved shaft did rub my G-spot, however I felt that the shaft was way to slim to satisfy my needs. So after a few nights, I decided to try it again, only with one big difference. Instead of using it for vaginal penetration, I used it as an anal probe. Goodness! That made a huge difference.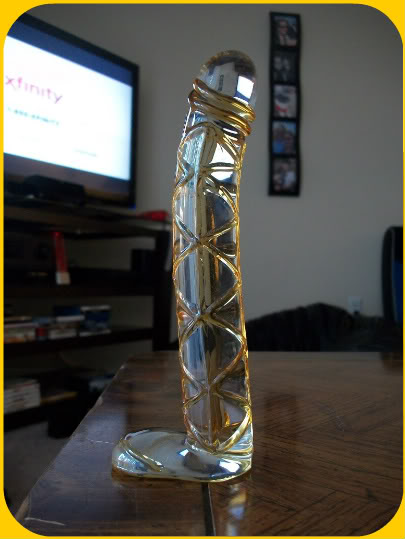 I can suggest this dildo to many people. Do you prefer slim dildos when using toys vaginally/anally? This one is for you. Do you like subtle texture? You might enjoy this dildo. How about those of you who may be a little newer to anal play (meaning you have been playing around here and there, and you know what you like or dislike)? I really think you should give this one a try.
Side note-
I cannot recommend this to those that are completely new to anal for two reasons. Number one: Your first anal toy should be 100% smooth in my opinion. Texture may be very painful.
Number two: Your first anal toy should be made of a softer, more flexible material such as silicone.This will just create an easier insertion, and it will flex and move with your body. Glass will not. Again, this is my opinion. Take it or leave it as you please.
Material:
The Laced G is made out of a material called Pyrex glass, which is also known as tempered glass. One of the many great things about Pyrex glass is that if it does happen to break, it will break into large chunks rather than tiny splinters or shards. However, this type of glass is less dense than regular glass, which means it is more resistant to breaking. Pyrex is hypo-allergenic, non-porous, latex free, and phthalates free. This material can be used with any types of lubricant (silicone, water, or oil). Pyrex glass is great if you are into temperature play. To play with temperature, place in a bowl of water at the desired temperature. When I do this, I leave the toy in the bowl for a good 5 minutes. If you are sharing this toy with a partner, I would still recommend putting a condom over the toy. This especially goes for those who share the toy within the same play session. Keep in mind that Pyrex is extremely rigid, so if you like a little give to your toys this one is probably not for you. Just because it is not a large toy does not mean it cannot do some damage. When thrusting, please be aware and careful. Vigorous thrusting can result in some bruising.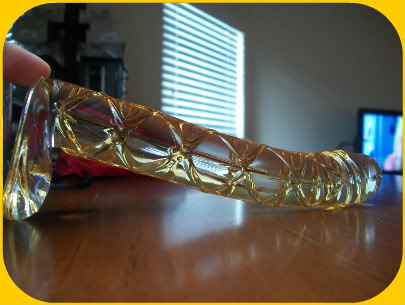 Size:
This is where some people may be turned off, especially if you are a size queen or king. This dildo is by no means large, or even medium in size. As said before, if you like slim dildos either vaginally or anally you could very well fall in love with this toy.
Measurements:
Total Length-6 3/4 inches
Insertable Length-6 inches
Circumference-3 1/2 inches
Diameter-1 inch
Weight-9.7 ounces
The size is perfect for me. I tend to use this more as an anal probe, and thanks to the anal base this is completely anal safe. The small diameter allows me to stretch and get used to something being in my butt. I guess you could say I use this as a warm up toy before using my larger anal toys. To be honest, I am totally in love with this toy.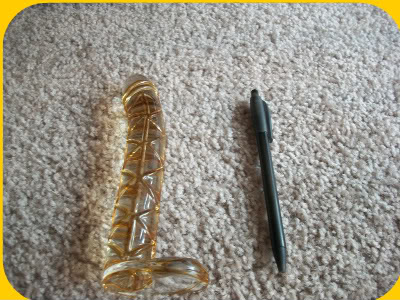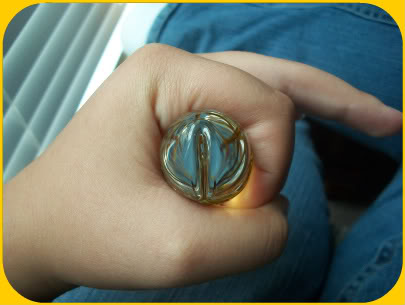 Texture:
The texture is in no way overwhelming. It is raised enough to feel while inside of you, but for me it did not create any discomfort at all. If you are extremely sensitive to texture, this dildo may be too much to handle. There are three different sections of this dildo: the head, the shaft, and the base.
The Head-
In my opinion, the head is pretty realistic. There are two raised lines that go all the way around the underside of the head. These lines are very close together. I feel that this is the most pronounced texture. It feels slightly more raised than the texture on the shaft. There is also a little slit on the head.
Experience
(continued...)
This slit, plus the lines underneath the head, can be a *insert bad word here* to clean. I have spent 15-20 minutes trying to clean between the lines. Lubes and other bodily fluids can and will get trapped in there. I found that if my fingernails were long enough, I could get most of the fluids that got caught. I would then follow that with a moist Q-tip. If I was not satisfied with the results, I would then boil it for 3 minutes.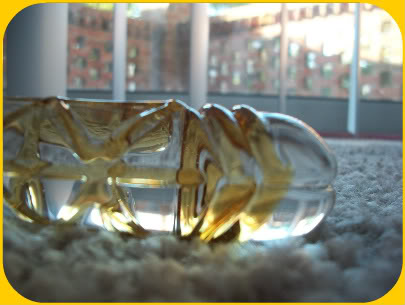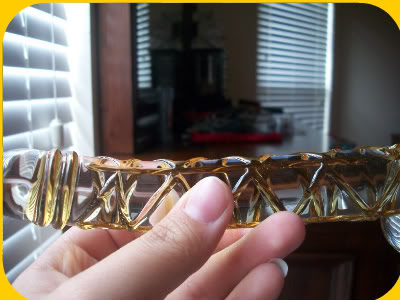 The Shaft-
This is where the "lace" part comes in. The shaft is covered in this lace or web design. It is raised, but barely. As said before, unless you are sensitive to textured toys I do not see the texture being a problem (vaginally at least). I feel the texture a lot more when using it anally. I do not find cleaning an issue when cleaning the shaft.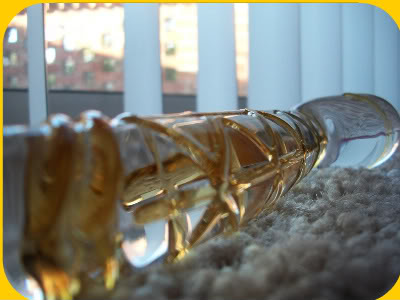 The Base-
The base is completely smooth except for one raised, curved line about 3/4 down the flared base. This helps slippery fingers keep a nice hold. That said, glass definitely becomes slippery very quickly and easily so please be careful.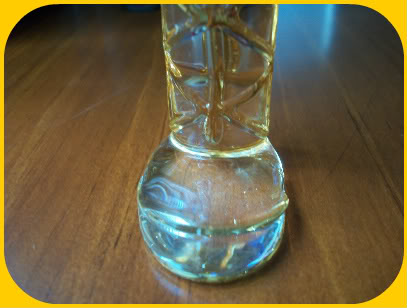 Design:
I do not have much more to say about the design except that the G-spot curve will not hit everyone's sweet spot. I also think this will make a wonderful P-spot toy for men. I have yet to talk my husband into it, and that is okay. I respect his boundaries. I have noticed some bubbles throughout the toy, but mostly in the shaft. Except for the cleaning issue, there is not one thing that I would change about the Gold Laced G. What can I say? I heart glass.
Cleaning/Maintenance:
Glass is super easy to keep clean. Everyday cleaning is as simple as warm water and antibacterial soap, or your favorite toy cleaner. For a deep clean, you can boil it for about 3 minutes or wipe it down with a 10% bleach solution. You can keep it in the pouch that it comes in. However, keep in mind that the pouch is very thin. If you are accident prone, or you are afraid you might break it I suggest buying a pouch. For more details on cleaning, refer back to the texture section of this review.
Packaging:
The Gold Laced G arrives in the typical SSA Glass red, thin, velvet pouch. Inside the pouch is the toy wrapped in bubble wrap. I would love to see SSA improve the thickness of their pouches. The pouch does have a drawstring, but it does not have a fastener to keep it closed. I have never been able to keep an SSA pouch closed, so be careful when picking up. The toy can easily come sliding out.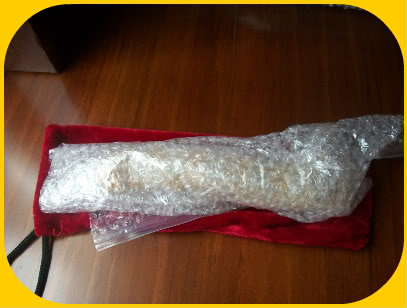 This content is the opinion of the submitting contributor and is not endorsed by EdenFantasys.com
Thank you for viewing
Gold laced G
– glass realistic dildo review page!