It's a plug, it's a probe, it's The Super Big Guy!
The shape of the Super Big Guy is wonderful, as a plug the bulge and neck keeps it in your anus and provides a full feeling while applying pressure/stimulation to the Prostate. The long shaft at the beginning makes for a nice probe. Even though most will need some warm up before inserting the big boy due to the blunt tip, it is still a worthy toy to consider for your back door play time.
Published:
Pros:
Dual purpose design, Wonderful coloring, Stays in, Safe-comfortable base.
Cons:
Blunt tip may require another toy for warm up
Have you noticed all the great new offerings from Doc Johnson? Well folks, this is one of them. Made from 100% Platinum cured Silicone, the Super Big Guy is a dual purpose toy designed for anal play. That's not to say it could not be used for vaginal play too, quite the contrary; the size, shape and material would be good for that too.
Let's take a look, shall we?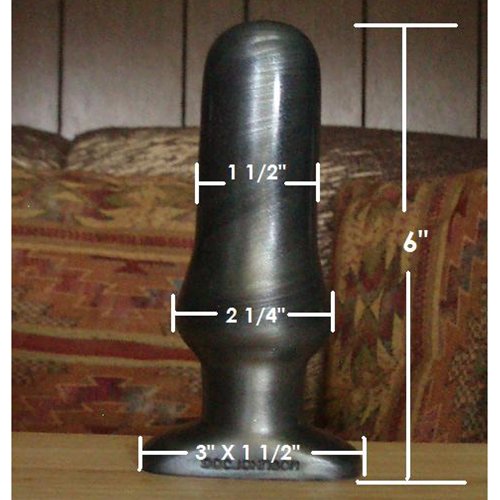 As you can see, this toy is one the big side. At 2 1/4", it is not the best for newbie's or possibly intermediate users. To me, anything over 2" diameter is for advanced users. Although, due to the smaller 1 1/2" dia. first section, it could be used to work up in size for intermediate users. You get about 3" of shaft to use before the gradual increase in size to the large bulge, I thought this was great as it can be used as a probe. Granted it is smooth along the shaft so the stimulation comes only from the stretch to the anus but the silicone is on the firm side so it can be angled to apply pressure to the P-spot, possibly the G-spot too. After the 2 1/4" dia. bulge it tapers down to a 1 1/4" dia. neck which goes a long way to help keep it in during sex or other activities. It is on the long side for a plug as well but I found no problems with that.
One thing you will notice is the rather blunt tip of the toy. It is not the best for insertion if you do not warm up first, it is not uncomfortable or anything, it just takes some pressure to get it started. My asspussy could care less but not everyone has a hungry butt like me.
Here is a pic of the Super Big Guy next to a pop can and my Sexy Spades large for comparison.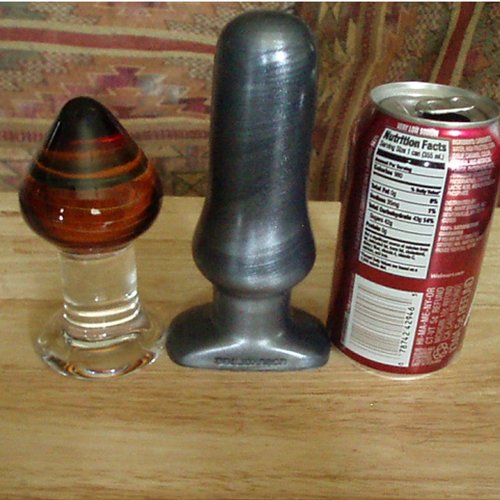 I love swirled silicone and Doc Johnson does a wonderful job at adding a visual appeal to this toy. A mixture of grey and dark grey look so nice all swirled together. The finish has a nice shine to it which only gives a small bit of drag. This can be a double edged sword, so to speak. It makes it nice and smooth for insertion and thrusting but your lube will not stick to it that well. No big deal though, just use plenty of water or oil based lube and all will be well. The finish is also nice in keeping hairs and dust bunnies away, you will still get them but not as much as other silicone finishes.
Silicone is among the top materials for toy use, certainly the best soft material you will find in terms of back door play, sharing and sanitation. It is safe for those with sensitivities to latex and those concerned about Phthalates because there is none! This silicone is a food grade material (like bake ware), and is totally non-porous.
After you catch your breath from using this big guy, clean up is a snap. You can use an antibacterial soap and warm water, boil it, use a 10% beach solution or toy cleaner. There is one small area at the bottom of the toy that has the Doc Johnson log molded into it that will require some special attention when cleaning but otherwise clean up is pretty straight forward. Just make sure to sanitize it before sharing with a partner or when going from anus to vaginal use.
Doc Johnson uses a clam shell type package that is used to hang it on a store display. There is no naked body's which is nice but you can see the toy on the front. This can be used for storage or you can use a zip lock type bag or other storage method you prefer. Just keep it away from dissimilar materials to avoid a possible reaction or discoloration.
Experience
I am pretty happy with this toy as it works so good as a plug and the probe use is nice too. The base is decent for short time wear and does not dig in or chafe my cheeks during regular use. Long term wear, say over an hour, it does get a bit uncomfortable but I prefer something with a smaller neck for long term wear so that is not an issue. I find it works perfectly for a warm up toy for my big toys such as the Sexy Spades large and is a joy to use all by itself.

My only complaint is that I wish the neck was longer, that way I could use it more like a P-spot massager as in using my pelvic floor muscles to work the toy in and out. As it is I can only move it about a quarter of an inch. While it is stimulating to my anus it does little for the prostate aside from applying some pressure. Still, I see no reason to knock a star for that. Five stars and a high recommendation to those that can take the size or those looking to work up in size.
This product was provided free of charge to the reviewer. This review is in compliance with the FTC guidelines.

Thank you for viewing
The super big guy
– anal probe review page!