Jack of all trades and Master of none?
Cal Exotic's Love Rider Rippler could be the type of toy you'd hope to find in your bag of tricks on a deserted island. If you're looking for an inexpensive dildo that covers a lot of bases then this is worth buying. But while it's better than the price suggests, it doesn't quite compete with higher end dildos.
Published:
Pros:
Price, easy to care for, curved for G or P-spotting, can be used traditionally or in a harness
Cons:
The ripples can be painful if used for pegging, dildo is a little too stiff for us
Sometimes you buy a dildo that's meant for a specific purpose. Other times you'll buy one that that's going to be your Swiss Army Knife of the toy chest. It might do a lot of things well but still leave you wanting just a little more. Cal Exotics' Love Rider Rippler is just that - it might not have the corkscrew and scissors but still multitasks well enough for most.
Thanks to Eden, my hubby and I have gathered quite the collection of dildos and each new one seems to make its way to the top of our list, at least until the next one arrives. If we're honest, this one didn't quite make it to the ever-changing Number 1 spot, but that's not because it falls short. Far from it - it's good, just not
OhMyFuckingGodYes
good. That's not to say we were expecting to be blown away, especially at this price point, but when it comes to our own collection this fella's up against some stiff competition which right now takes the form of a couple of Vixen VixSkin dildos.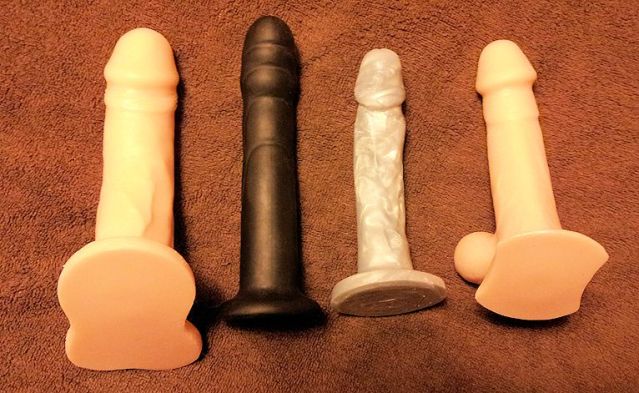 Size differences: VixSkin Johnny, Love Rider Rippler, Slim Jim, VixSkin Goodfella
Out of all of our toys, the Love Rider probably comes nearest to Happy Valley's
Slim Jim
for girth and overall feel. Both are made from Silicone which is rated 10 on Eden Fantasys'
Safety scale
. For those of you who may be new to Silicone, it's latex-free
and
phthalates-free food-grade material and is both hypo-allergenic and non-porous. Silicone is easy to use and to maintain, although it can often tend to be something of a lint magnet. As you'll see from our pictures, the Love Rider is no exception and can easily pick up hair and dust just from lying around. Luckily cleaning silicone toys is as simple as giving them a quick wash and wipe (or even better, a silicone-friendly toy-cleaner) or for more thorough cleaning they can be put in a dishwasher or boiled in water for 3 minutes.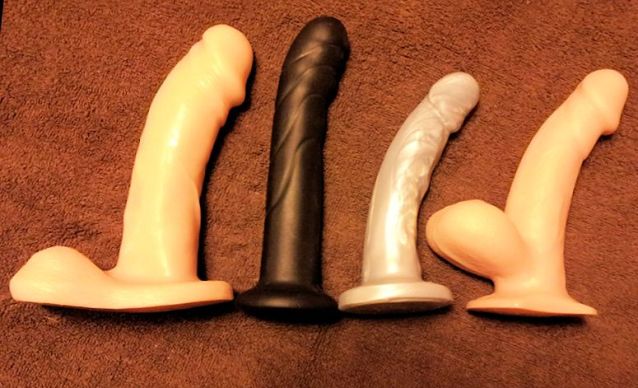 Curve comparison: VixSkin Johnny, Love Rider Rippler, Slim Jim, VixSkin Goodfella
The Love Rider came in a completely indiscreet white box with pictures of the dildo on two sides and the words 'Silicone Love Rider' on all four sides. While the box is great for storage, people are going to know exactly what you've got if they see it. The dildo itself officially comes in at 7 1/2" overall (we found it to be about 1/8" over), with 7" of this being the insertable length. With a circumference of 4 3/4" and a 1 1/2" diameter it's a little thicker than our Slim Jim but has the extra length we were looking for. I think with a little less girth, this could have been an even better dildo for us but that's because we tend to use dildos of this type mostly for pegging. It's great as a regular vaginal/G-spot dildo though, so we're not going to take any points off just because of our preferences. We've read other reviews that mention this having a seam but oddly enough ours doesn't have one except for underneath the toy below the flared base.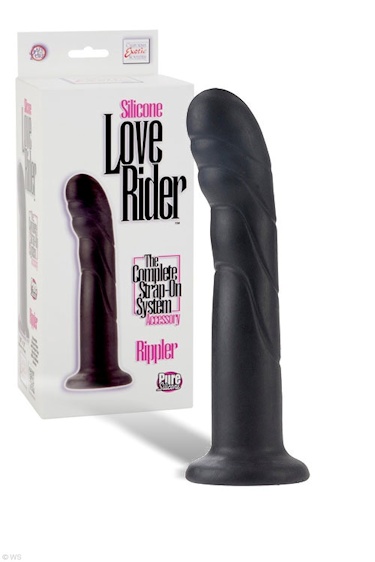 Experience
One of the main features of the Love Rider Rippler is, as the name suggests, the ripple. Mostly focused on the slightly angled head, there are varying ridges going most of the way down the length. I could only feel the ripples slightly when using this vaginally and hubby said that he actually found them a little uncomfortable when we tried pegging with this. One of the problems is that the head of the dildo (which is fairly realistically shaped with a head to it) isn't smooth. While that can be interesting if you're working this in and out of yourself, it's actually annoying if you're trying to ease this into a tight little ass, even with the obligatory water-based lube. Obviously not everyone will use this for pegging, but we feel it's worth sharing that info about the ridges.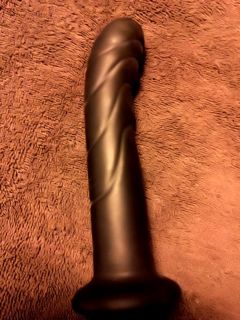 Those ripples!
We've used this as a vaginal dildo by hand (hubby on me and me alone) and I liked it quite a lot for that. Slim enough to easily work in and out, the curve is just the right shape and firmness to work wonders on my G-spot but again I only really felt the ridges when I'd slide this all the way in or out. Used anally (on hubby only) the curve hit his P-spot too but he felt it was a little too firm to be very comfortable. As an added bit of info we found this worked just as well in our RodeoH harness as it did in our SpareParts Joque, with the slight suction of the flared base making for a very interesting (in a good way!) sensation against my pubic mound.
Overall it's a great dildo to have as part of your collection and will serve a lot of purposes. It just might not be the last one you'll ever buy.
Follow-up commentary
2 months after original review
Oh I wish there was a 'Meh' option rather than 'I still like it' or 'I don't like it anymore'. The problem is that since the original review, this just hasn't had very much love. Our feelings still remain the same, it's just that the 'nicer' (i.e. more expensive) toys get far more love than this.

The best conclusion would be that the whole review above still stands and it's really not a bad dildo. But spanding more money will buy you exponentially more fun than the Rippler will probably give you.
This product was provided free of charge to the reviewer. This review is in compliance with the FTC guidelines.

Thank you for viewing
Love Rider rippler
– strap-on dildo review page!