Moon Dance
Don't let this plug's small size fool you. This plug is like a wolf in sheep's clothing. It may look dainty, but it can stretch and please anyone who is willing to give it a chance. While it is small enough for beginners, the average diameter of 1.5" might prove too much for someone new to anal. The color is pretty close to the product page photos. It is an overall good plug for during sex or solo play, but not so great for long term wear.
Published:
Pros:
Beautiful glass, Color, No imperfections, Small yet wide, Padded pouch, Tapered tip
Cons:
Base is uncomfortable when sitting, Base may be a concern for some, Might be too small/big for some
This is yet another glass wonder by XHale. The color is light yet rich, and the size is perfect for the intermediate in anal play. The base might put some people off at first, but in the end this plug is a fantastic addition to any collection.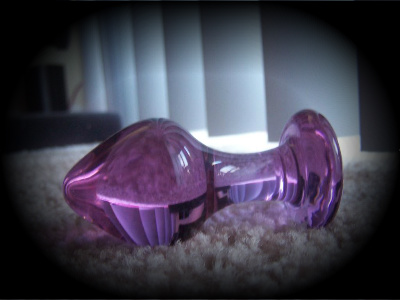 Material/Texture:
XHale is known for delivering some of the most beautiful, high quality glass toys. This plug is no exception. It is made out of hypo-allergenic Pyrex glass. If it happens to fall and break, it will break into large chunks instead of the usual thousand splinters. Glass is compatible with all lubricants, and it usually does not take a lot for it to become slick. This does not mean to use as little as possible. As with any toy, use as much as you and your body needs. When this plug arrived, I immediately held it up to the light. I could not find one imperfection. XHale has not failed me yet when it comes to astonishing quality. Even though glass is non porous, I still suggest a condom if sharing. Speaking of non porous, this plug can be sanitized via boiling or bleaching. If you are looking for your first plug or anal toy, I suggest something more flexible like silicone. If you know you like rigid materials, this could be great for you.
If you enjoy a smooth ride when it comes to anal toys, you will love this one. The entire surface is 100% smooth. I prefer little to no texture on my anal toys, so this has quickly become a contender in my collection.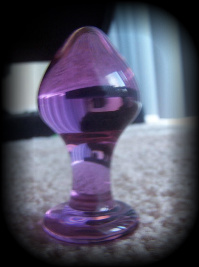 Packaging:
As with other XHale products, this plug came to me in a little black padded pouch. Because the plug is small, they created a bag about half the size of their original pouches (photo comparing the two at bottom). Not only does this help seem less bulky, but it saves space too. It has a drawstring and a plastic fastener to help keep it closed.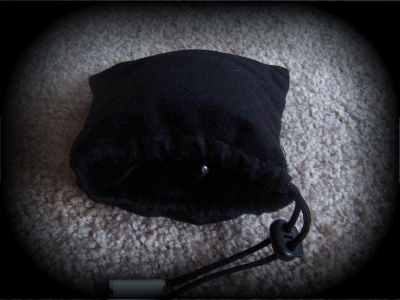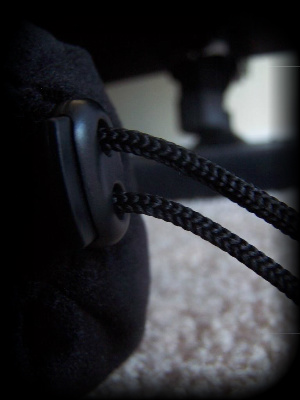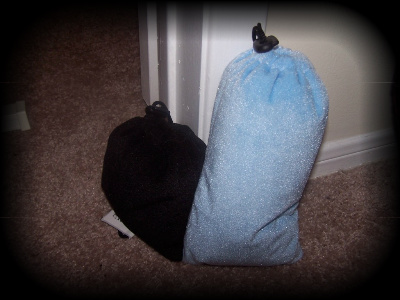 Design:
The design is simple. It is a common design of most butt plugs. It starts out with a small tapered tip, it gradually grows to the biggest diameter, and then it tapers to the neck. The neck is small and thin, which helps the body keep the plug in. It also helps you feel the full potential when it comes to the weight of the toy. What I mean by this is when you are walking, you constantly feel the weight being pulled down on your anus. To me, there is not a sexier feeling. It is a constant reminder of how full and stretched you are. The base is where I thought I would run into some issues. At first glance it looked rather small, which caused some instant worry about it getting sucked in. I have worn the plug in the shower, sat on it, walked around with it in, and had sex with it in. I am pleased to say that at no point did it ever try to go past the point of no return. It stayed right where it was supposed to, which is right between my cheeks. Speaking of, the base is not the most comfortable for long term wear. If you plan on doing a lot of walking, it should be fine for an hour or so. If you plan on doing a lot of sitting, I suggest something with a more flexible neck like the Ryder. The whole plug is rigid because of the glass material, so it is just not comfortable for me for more than 30-45 minutes at a time (while walking/I cannot sit with this plug in for more than 5 minutes at a time.)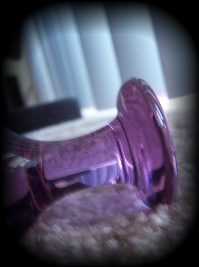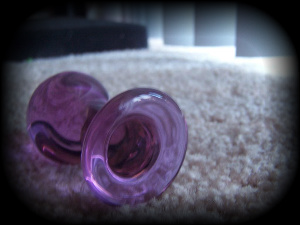 Experience
Size:
I have to admit to being quite discouraged when I held this plug in my hands for the first time. It was so small, and I thought "I am in the intermediate stage. In no way is this going to feel big enough!". However, I was willing to give it the benefit of the doubt. I slipped into the bathroom, took off my clothes, lubed up, and began to insert. I will never judge a plug by its' cover again! The average diameter stretched me out and filled me up just right. I took a 30 minute shower after I inserted it. It was a blissful shower. My husband poked his head in and asked me what was taking so long. I replied with "I am enjoying myself". When I walked into the living room naked and wet, he bent me over and felt that I had a plug in. His response? "I should have known!" I think you know what happened after that! My plug measurements and the product page measurements do not equal, but here is what mine measures.
Measurements:
Total length-3"
Insertable length-2 3/4"
Diameter-1 1/2"
Neck Diameter-5/8"
Neck Length-1"
Width of base-1/4"
Length of base-1 1/2"
First photo below is comparing the plug to the Ryder.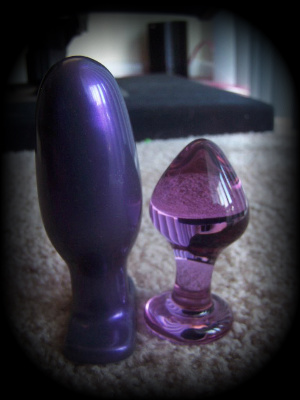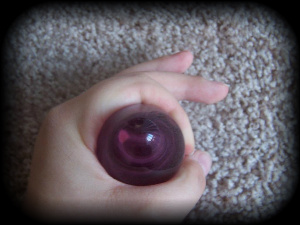 Cleaning/Care:
Glass is ridiculously easy to take care of. Simply apply warm water and antibacterial soap or your favorite toy cleaner. You can also boil it for 3 minutes (remember glass is slippery when wet so be careful), or you can wipe it down with a 10% bleach solution. After cleaning, I suggest putting it in the padded pouch that comes with it. Do not use any abrasive materials to clean this or any glass plug. It can seriously scratch and therefore damage the toy.
This product was provided at a discounted price in exchange for an unbiased review. This review is in compliance with the FTC guidelines.

Thank you for viewing
Violet moon plug
– glass plug review page!