"Moon" wasn't a sexy word until I found this plug!
When all is said and done, this is worth every penny. Comes with a padded storage bag so you don't have to worry about breakage, and looks pretty enough to leave out on the coffee table. The glass is top notch and there are no bubbles whatsoever. I've never had a glass toy with absolutely no bubbles until I bought this plug. Easy to care for and is small enough to store anywhere. Great for intermediate anal play. I only wish the base was larger, which is why I am subtracting one star.
Published:
Pros:
Gorgeous color, Beautiful design, Discreet, Comes with top-quality storage pouch, High quality glass
Cons:
May be too large/small for some, Base is not flared enough for prolonged use
The Violet Moon Plug is a Pyrex glass anal plug of the highest quality. Her shape, size and design is sure to please any tush. She comes in a beautiful amethyst color that is sure to "Wow" your eyes. In certain lights this glass will look almost a clear sky blue, and in others it will look pink. Don't be alarmed if this happens! This anal plug is so discreet that she can be left out in the open and excused as part of your home decoration. I leave mine out on the desk on a piece of paper, and voila! She's just your ordinary paper weight. I do this with some of my toys to free up space in my toy boxes, but this is one you'll want to keep out simply because she is so beautiful.
The measurements of my toy are as follows: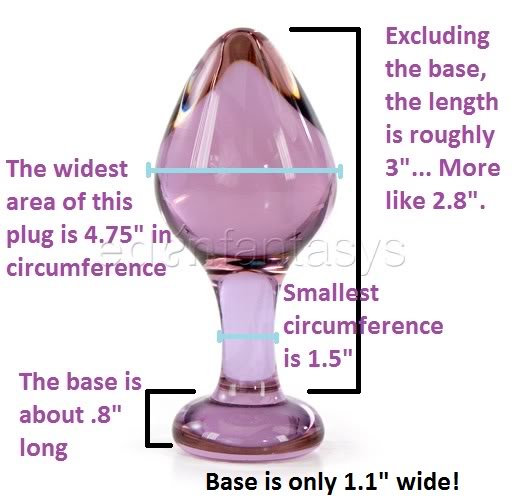 As you might find, the measurements for every toy differ slightly since each piece is hand blown. My plug, however, was hugely different than what others have told me. The base is very long compared to most. Of course, this didn't take away from the pleasure that I felt while wearing this beautiful plug. I was a little scared to use this one at first since the base is so small. It isn't as flared as I would have hoped. However, my bum didn't "eat" this plug like several people described.
If you're used to using much larger toys, I would probably stray away from trying this one out so that you don't have any accidents. If your toy ever gets lodged in there, you can always use your PC muscles to try and "poop" it out. It has worked the two times it happened to me, which would have both been very horrifying experiences if I hadn't had known what to do. So if you really want to try this piece, but are scared that this might happen, just remember to squeeze it out if your tush gets a little hungry with this plug.
This product is made of tempered glass, also known as Pyrex glass/ Borosilicate glass. Borosilicate glass is a type of glass with the main glass-forming constituents silica and boron oxide. Borosilicate glasses are known for having very low coefficients of thermal expansion (~3 × 10-6 /°C at 20°C), making them virtually resistant to thermal shock, more than any other common glass. Pyrex glass can be heated to temperatures between 425°F - 600°F, depending on the production company. Nonetheless, you could easily heat a glass toy in the oven without self-destruction. However, it isn't recommended.
You can find Pyrex glass in your kitchen. Glass baking dishes and mixing bowls are often made of Pyrex due to how well they can withstand heat and cold. This makes Pyrex glass great for temperature play. Just be sure not to go from too hot, to extremely cold, TOO quickly. This can actually result in your toy breaking. You should always let your toy either warm up or cool down to room temperature before switching.
Glass is very easy to care for since it is non-porous. You can wash it using any soap you'd like. Hand soap, dish soap, toy cleaner, or Isopropyl Alcohol solution. Antibacterial soaps are recommended to kill any germs on the surface. I start by rinsing my toy with warm water and applying a nickel-sized amount of soap to the glass piece. Next, I massage the soap all over using my hands or a towel. I usually use a toothbrush to scrub off any surface scum. You can also dishwash your toys on a medium/low heat cycle, top rack, with a glass-friendly detergent.
Before using these methods, you should always check your glass toys for air bubbles. Air bubbles are common and happen when the glass is being blown. They often go unnoticed since glass is clear. Air bubbles can cause your Pyrex glass toys to break under high temperatures. When receiving your toy from EdenFantasys, immediately get a good feel of the surface using your hands. If you feel or see any cracks, sharp edges, air bubbles, or any other imperfections that look harmful, be sure to make a support ticket online. Let your representative know that your toy has a potential health risk or defect. EdenFantasys will cheerfully refund you or send you a new toy. If you aren't sure that your toy has a defect, your representative can refer you to someone who can help you better determine this.
XHale Glass is so kind to provide you with a top quality, heavily padded toy pouch. So storing your toy will be a breeze. If you have any other questions please leave them in the comments!
Experience
This experience was definitely delightful in every way. I had no problems or accidents while using the Violet Moon Plug, and I was able to keep her in for a good two hours. It really isn't recommended to wear one longer than a few hours for health reasons. I don't recommend walking around with this one, only because the base is not flared enough to give you that 100% guarantee that your tush wont swallow it. This could really be a problem for people who have been used to larger things being in their bum. There were no air bubbles or imperfections, and the included pouch does a great job at making sure this plug doesn't break. It is padded enough that if the pouch fell down the stairs with my toy inside, I highly doubt it would be broken. Perfect for travel, home storage, and can easily fit more than one plug as it is about 5" in length and 4.5" in width. It even comes with a loop that you can attach a key ring to and hang it in your closet. I love popping this one in while my fiance gives my pussy a good pounding. It actually popped OUT from time to time because I'm just so tight that it's hard to keep two holes filled at once. However, insertion is a total breeze for both my partner and I. I have walked around with this one only because I know it's not going to get "eaten" by my bum, and it was very pleasureful. I probably use this guy more during solo play than I do sex for the extra stimulation.
Follow-up commentary
7 days after original review
There are a few reasons why I don't like this one anymore. I'm very sad to say it because I was so crazy about this plug when I first got it. Basically, this plug is starting to become painful for me to use, even with lubricant. I don't know what it is, but the shape just doesn't feel good. It is also slipping in now because it isn't large enough. It didn't happen at all the first two weeks, but now it's happened everytime I try and give this one another chance. My fiance is also having this happen, so I guess it's just better for beginners. Far too small for us. Such a bummer :( Great quality though.
This product was provided free of charge to the reviewer. This review is in compliance with the FTC guidelines.

Thank you for viewing
Violet moon plug
– glass plug review page!