My Gateway Glass
The Gold Laced G was my gateway piece to the world of glass and I couldn't have had a better introductory piece. The dildo is non-intimidating in appearance, slim, the texture is very subtle, and it's an excellent price. If you're new to glass and want to give it a try, I highly recommend this piece to you.
Published:
Pros
inexpensive, gorgeous, excellent for beginners to glass, base to toy, easy to clean.
Cons
those who prefer girth and/or texture will be disappointed.
The Gold Laced G by SSA glass was my very first glass dildo. I had purchased this piece, among a few other glass pieces, when they were on sale quite some time ago. I had no idea what I was looking for since I had never tried any glass before. Honestly, the reason I chose the Gold Laced G was simply because I thought it was beautiful (and it was on sale).
The dildo arrived in a red storage pouch with a black drawstring. Inside of the pouch, the glass piece is secured in bubble wrap. The pouch is not well padded so I would suggest investing in a better storage option. Or you could do what I do; keep the bubble wrap and continue using the pouch it came with.
The Gold Laced G is made of Pyrex glass. The difference between this glass and regular glass is that it is less dense. If the dildo were to break, it would not shatter into numerous small pieces. Instead, the dildo would break into large chunks. I own a couple of glass pieces and have not had any of them break even after I've dropped them a couple times. The glass is really strong.

I've taken a couple measurements of the dildo. If you need additional measurements, let me know and I can get them for you.
Entire length of toy: 6 ½ inches
Insertable Length: 6 ¼ inches
Circumference of shaft: 3 ¼ inches
Width of base: 2 inches
Length of base: 1 3/8 inches
Being glass, there is no flexibility to the dildo. The dildo should not be used for hard thrusting to avoid hurting yourself. The gold coloured lacing to the piece is what makes up the texture. The colour of the lacing is more of a yellow. The gold coloured "lacing" is slightly raised, providing a ribbed like texture. When inserted, the texture can be felt but only slightly. The raised ribbing is very subtle. Being so slim with a subtle texture, it's perfect for those who are new to glass. Below you can see a photo of the texture, and how the lacing is not very pronounced.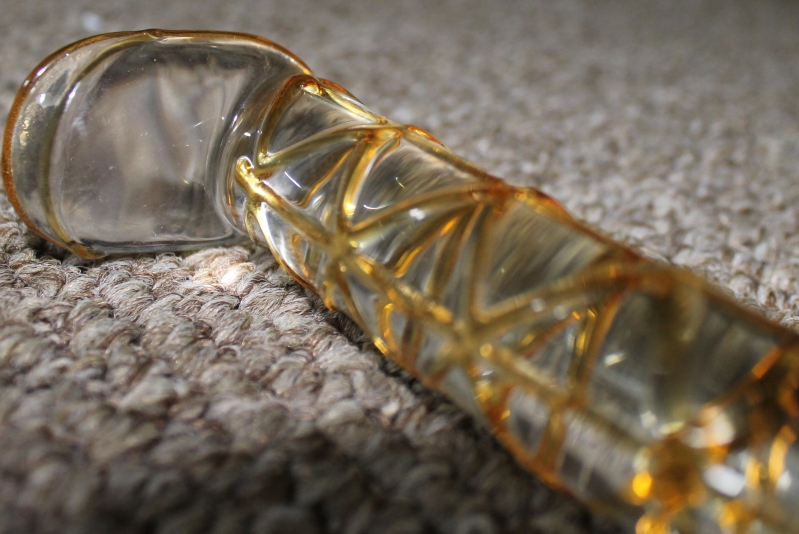 What I really love about glass is that it can be used for temperature play. The dildo can be placed in a bowl of warm or cold water before using it and it will hold the temperature. Most people prefer the warm temperatures and while I do enjoy it, I prefer the cooler sensation. This is actually the number one reason why I love glass insertables so much. If you've never tried it, you really must!
There is an oval shaped base to the toy, which is excellent to use for holding onto during play. I have not used the toy anally but with the base, I presume it's safe. The base is flat so it can sit upright (which you can see in the photo above). There is a slight curve to the dildo. Sadly, I've never had a g-spot orgasm so I'm unable to say how well the curve works for this (for me).
When using the toy, you can use silicone, oil, or water based lubricants. Not much lubricant is needed when using the toy since the glass does not absorb any of it. A little goes a long way with glass. You have quite a few options for cleaning the toy. You can use toy wipes, toy cleaning spray, or water and soap. Using a bleach-water solution or boiling the dildo will disinfect the toy. If you plan on sharing the toy, disinfecting it every time is necessary, or cover the toy with a condom. The toy also needs to be disinfected in between usage if you use the toy anally to vaginally. Since the texture is so subtle, it really doesn't require much more attention while cleaning compared to non-textured toys. The only areas of the Gold Laced G that you may want to spend a bit more time on are the two ribs beneath the head.
Experience
...continued
Overall, this was a fantastic starter glass piece for me. The slender body of the dildo and the very subtle texture makes it non-intimidating and comfortable. As I had mentioned previously, I purchased a couple glass pieces when I bought this one. I decided to use this one first because it was the least intimidating in appearance. Below is a size comparison photo of the Gold Laced G beside my other glass pieces. The Gold Laced G is on the far left. The other pieces from left to right are as follows:
Pink Passion Wand
,
Rainbow Nubby Wand
,
Bumpy Spiral Dong
, and
Amber Wave
.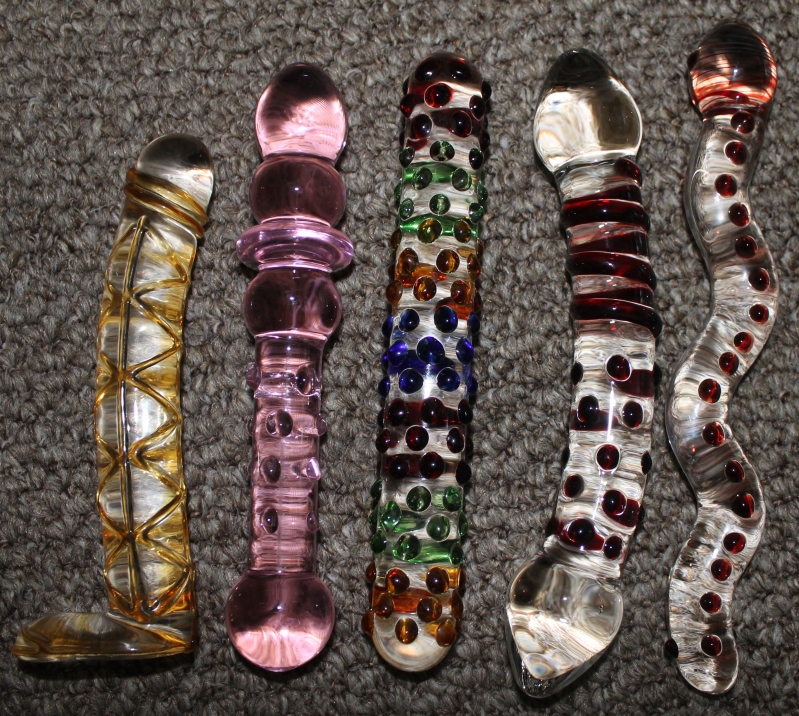 For solo play, I've moved onto a glass piece with much more texture and a bit more girth but this is my go-to glass piece for partner play. Since glass has no flexibility, I get worried when my partner uses a more textured piece on me. When he uses the Gold Laced G on me, I have no worries because as long as he doesn't thrust hard, I won't end up hurt.
I'd absolutely recommend this dildo to those who have never tried glass insertables before but would like to. The price is excellent, the appearance is non-intimidating, the texture is subtle, the shaft is slim, it's easy to use, and the base makes for a great handle. The dildo would also be an excellent choice for those who have tried glass and prefer slender insertables with little texture. I've given the Gold Laced G a 5 out of 5 for being an excellent beginners piece. I'm so happy that I purchased it. It definitely was my "gateway piece" into the world of glass.
Follow-up commentary
2 months after original review
I still love my Gold Laced G! As mentioned in the original review, I have moved on to other glass pieces with a bit more texture and girth but I still love this one. It was my first glass piece and I couldn't be any happier with my choice. I would absolutely recommend this piece to anyone, especially beginners because of the slender body and subtle textures.
This content is the opinion of the submitting contributor and is not endorsed by EdenFantasys.com
Thank you for viewing
Gold laced G
– sex toy review page!