Nifty
Luxury packaging and very high quality materials make this a must have for those who appreciate a higher caliber of toy. This "toy" can elevate your sex play to something beyond your wildest imagination with just a few minutes a day. The Tempo is totally worth the price!
Published:
Pros:
Hygienic materials
Great exerciser
Good size
Cons:
Luxury toy price
Originally I wanted to try this toy to see if it would be compatible with Sigel's electro-stim toys. It turned out to not be compatible so I decided to steal it back and use it myself! I am happy I did, but let's start at the beginning.
The Tempo by Aneros is a steel toy meant to be used for anal insertion. This is a luxury toy that arrives in a lovely heavy cardboard box to store the toy in that isn't horribly large. For people like me who have limited space the box is small enough to sit comfortably in a bedside table drawer.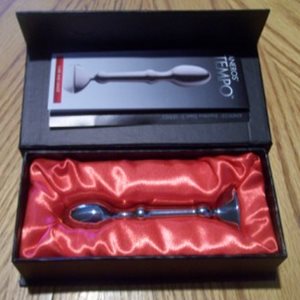 The box has a magnetic closure and foam padding covered by red satin-like material. The toy comes with a brochure detailing care and usage. These instructions are actually surprisingly informative!
The toy, itself, is solid steel weighing in at .5 lb. It is a very small toy measuring 4.25 inches long with 3.75 inches insertable. It is 2.75 inches around at the widest point which is the head of the toy. The base is flared and is wide enough that the toy can be used as a plug.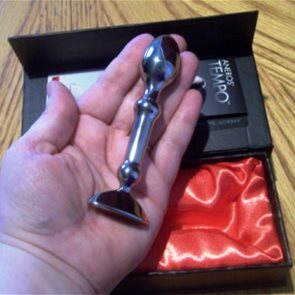 This toy is not just meant to be used as a plug, however. This is a toy that can strengthen the PC Muscles and help to stimulate proper peristaltic muscle contractions. The key to using the Tempo is to relax, insert the head of the toy into the rectum using proper thick lube. You then relax and being contracting the sphincter muscles to draw and push the toy in and out of the rectum. As you become more adept you can add difficulty by standing and holding the well lubricated Tempo in the rectum. You can add intensity by gently pulling on the toy after it is inserted.
The toy is pretty darn good when used during PIV sex for either men or women. It stays put rather well during all but kneeling postures (for guys). It won't cause pain during PIV sex for a woman as it is a slender toy.
We found that temperature play adds a special dimension to either a good work out or a sexual encounter. I don't advise freezing the toy or heating it up in boiling water as both of these will cause too much temperature change and could harm the sensitive tissues of the anus. I use a glass of ice water or hot tap water to cool and/or heat the toy. I also advise testing the toy on the inner thigh of the intended user to test for temperature.
This is a solid metal toy meaning it is 100% non-porous and hypo-allergenic. It is safe to be shared so long as it is cleaned before being passed on to another user! A simple washing in hot water and soap is all the toy really needs but a commercial toy cleaner will work just as well. If can be boiled and bleached but that really isn't necessary.
Experience
I thought this was just a luxury plug made out of metal and I knew that I would outgrow it very quickly. Still we were looking for a solid metal plug for the hubby. When I read the pamphlet and actually saw what this "toy" is meant to do I was intrigued. I gave it a shot and I am loving the difference this toy has made for my anal play. I am more aware of the rhythm of my body and how slowly I need to go to make anal play enjoyable. I have noticed that there are spots inside my bum that are great when stimulated and I have really enjoyed rocking the toy using just the muscles...it's not just fun for the guys!
Sigel has noticed that his orgasms are more powerful and longer since using the toy just a few minutes a few times a week.
So what was a disappointment for one type of play quickly has become a really amazing find for all types of play.
This product was provided at a discounted price in exchange for an unbiased review. This review is in compliance with the FTC guidelines.

Thank you for viewing
Tempo
– probe review page!