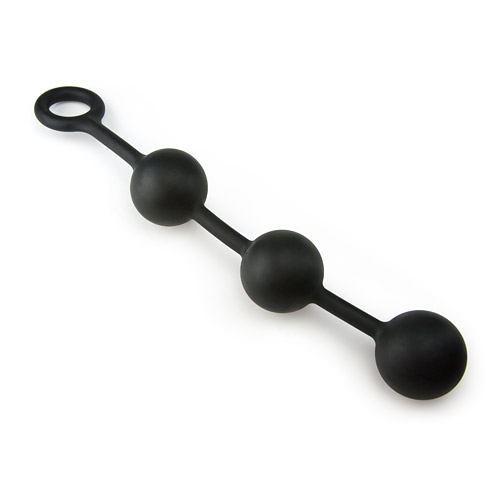 Colossal silicone anal beads
Oversized anal beads
by EdenFantasys
Oh God, Yes! You are so big!
It was eerie this toy showed up because I have been craving something like it: Butt plug, beaded, size-queen toy with a challenge. It has it all. Bigger maybe? But then again it may be just right. If you want a large toy and a lasting experience and not just another "wimpy" toy, get this one! If I were a female, I might have gotten two: anal and vaginal. Bottom line if I didn't have a job, I would let "colossal" f*ck me all day, every day
Published:
Pros
Large, silicone, fills you up thoroughly.
Cons
Might be 1/4 to 1/8 inch bigger in diameter.
What day is it? I can't remember anymore. This "colossal" stranger showed up at my door, dragged my clothing off and, after being liberally slathered with lubrication, spent the next 8 days thoroughly fucking me.

I knew I had been looking for this kind of experience, but never thought I would find the right partner until "Colossal" showed up. Thickness-wise, this silicone lover was not the biggest I have ever had, but he was designed so well that I don't know if I ever need more. If he was bigger, I am not sure I could so regularly allow him to take me. We used a safe water or oil-based lubricant, but silicone lubricants are not compatible or safe with silicone toys. Much lubrication is needed for something this size and it was re-applied regularly.

Safety-wise he was long enough and had a handle on himself that there was virtually no way of him becoming lost inside me. But safety-wise again, this is not for beginners. I have about 30 years of anal play and had to work up to this level over these years. Even so, I was able to go directly to him, without any preparation except the liberal lubrication or warm up with someone smaller. But then, I could only get him 2/3rds of the way and don't know if I will ever be able to swallow all 3 sections. And he didn't push more than I was comfortable with. Safety first. And even with two in, I was left feeling like my anal cavity did about 1000 crunches.

He cleaned up easily, with soap and water. He smelled just fine. I didn't notice any odor at all. If you are really special, you might be able to be discreet with him and have him in you all day because once in, he isn't coming out on his own. Though if you give him a tug, don't worry he will come out. But all-day wear is not really recommended given the colossal size. He really isn't that discreet about f***ing you in the first place.
Experience
I just didn't want to stop and edged myself for a week, filling up with this toy. I am a self-proclaimed size queen, but I'm sure there are those who can do more than I.
This product was provided free of charge to the reviewer. This review is in compliance with the FTC guidelines.
Thank you for viewing
Colossal silicone anal beads
review page!