One for the Lady in My Life
The Njoy Pure Plug Medium is the perfect toy for introducing the pleasures stainless steel can bring to your anal play. The size is just right those not accustomed to larger toys, while it is large enough to be felt and enjoyed.
Published:
Pros:
Stainless steel.
Gorgeous Design.
Perfect size for those who don't like big anal toys.
Cons:
Can't think of any.
A number of months ago I was raving about the perfect materials for anal toys. I have always been a staunch fan of silicone when it comes to thrusting toys. It is body-safe, comfortable, and flexible enough to not cause any lasting damage during vigorous thrusting. At the time I was waxing on about how wonderful glass is for butt plugs and prostate massagers. Like silicone, it can be easily sterilized, but is nice and firm and even more reactive to temperature play. It was at that point that the
ToyTimeTim
suggested that I try some stainless steel. I followed his advice and could not be happier that I did. Stainless has all the properties of glass (smooth, hard, non-porous, sterilizable, temperature sensitive) while added extra weight and the absolutely gorgeous high polished finished. What's more, it is easier to design amazing shapes with steel than it is with glass. I love the stuff.
Once I started playing with stainless I was hooked. I acquired all the larger toys in the Njoy line along with the Nexus Stilo. Mrs. Peg and I have had some wonderful play sessions using them. However, they are really my anal toys, with exception of the Njoy wands. The Pure Plug 2.0, Pfun Plug, Eleven, and Nexus Stilo are simply too big for Mrs. Peg to comfortably use as anal toys. Wanting her to feel the pure delight of having steel in her ass, I got her the Pure Plug Medium.
The Pure Plug Medium is small by the standards I am used to for anal play. It is about 3.5 inches long, but this is a somewhat deceiving measurement as the toy itself is curved. I measured the outside of the curve and the insertable part is 3.25 inches. The inside of the curve is 2.5 inches. However, this was a more difficult measurement as the toy has a distinct 'head' to it. The head is more oval than round and is 1 ¼ inches by 1 1/8 inches, and about 1.5 inches long. The neck of the toy is 3/8 inches at the handle. The handle itself is an oval that is 2 inches wide, and 1 inch tall on the outside. The inside hole is 1 1/8 inches by a half an inch. It is just big enough to fit the tip of my index finger through. There is a nice bevel on the handle so even if you can't get your finger into the hole, you can still get a firm grasp on the toy. The Pure Plug Medium weighs in at 7.0 oz, just less than half a pound.
The Pure Plug Medium is made from pure, hypoallergenic, high quality stainless steel. No smell, no tastes, and nothing unfriendly about it. This toy, if properly cared for, could easily end up as a family heirloom (if you have that type of family!). The finish on this toy is absolutely perfect! It is a high mirror shine with NO BLEMISHES (unlike another steel toy I recently reviewed that I will not disparage here!). Being steel, the Pure Plug medium will stand up to any lube you want you use. Clean up is an absolute breeze afterwards as this can be wiped down with an antibacterial wipe (rinse afterwards), boiled (don't touch until it cools), soaked in alcohol, or run through your dishwasher. It can also be cleansed with a bleach / water solution (1:10) but I do not recommend using bleach on stainless. Bleach tends to pit stainless steel if they are kept in contact for too long. Why risk it when there are a number of other options to keep it clean? Also, NEVER use anything abrasive on it. And if it gets water spots on it, just polish it with a clean, soft cloth.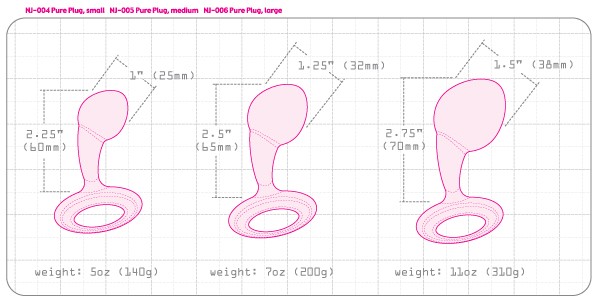 The Pure Plug Medium comes in a gorgeous pink satin-lined boxed that is perfect for gift giving. It measures 4.75 x 5 x 2.5, is covered in a textured paper and has the Njoy logo embossed in silver on its lid. There are retention ribbons inside that keep the lid from opening too far. The pink satin lining covers a cut to fit form that the Pure Plug fits perfectly into so it won't rattle around. There are also ribbons in the lid for storing the informational pamphlet that has the care instructions as well as other members of the Njoy line.
Experience
The Pure Plug Medium is a nice size for Mrs. Peg. It is not too big to be uncomfortable. However, it is large enough to have some presence and to stay in place. It also has a very nice heft to it. Because of its weight, it isn't really a 'walk around the house' plug, but it is fine during horizontal or doggy –style play. What I particularly enjoy about this plug is the curve of the tip. It presses against the inside of her vaginal wall so I can feel it on my cock during penetration. She likes the little handle because it keeps the plug in place but fits comfortably between her cheeks, unlike flared bases.

I think we will be getting much more use out of this plug than we have with other plugs Mrs. Peg has tried. She made this very satisfied sound when I first slid it in and we never got to that point where she decided that it had to come out. Another stainless steel convert!
Follow-up commentary
15 days after original review
I love slipping this into Mrs. Peg. Just played a little with it last night. I am thinking of getting the small and giving it to her as an ornament (as a joke...it is a little big for a pandora charm!).
This product was provided at a discounted price in exchange for an unbiased review. This review is in compliance with the FTC guidelines.

Thank you for viewing
Pure plug medium
– sex toy review page!