Screwing in the dark
"Look honey, my ass glows" Ah come on, you want a glow in the dark butt plug, don't ya? Whipspider has crafted this fine butt plug from soft silicone for the ultimate in comfort and added nice swirls of glow in the dark silicone for some "lights out" fun.
Published:
Pros:
Glow in the dark, soft but not floppy, hand crafted and signed.
Cons:
Does not stay in, not much "glow" on the base
Whipspider Rubberworks, makers of interactive sculptures, is a company of three friends up in Main. They cast each sculpture by hand using high quality silicone and non-toxic pigments. Hand made with love, deep in Main. (taken from package)
Now, how would not want a toy that has so much love put into each and every toy they craft. No two will be the same and they just look so cool and the base has the crafter's initials to boot. Cool eh?
The Screw Royal is great example of their fine workmanship, from the small tapered tip, along the screw, through the neck and to the totally safe base, this plug screams craftsmanship.
The
Silicone
is really soft and flexible while still not being "floppy". To me it feels just like the silicone caulk that you find on your tub/shower or windows. The finish is somewhat shinny but you can see what looks like brush marks from the crafting of this plug. There is some drag to it but that helps to hold lube. That is a plus when using a toy anally.
I chose the black and glow white plug but you can also get it in black/blue and blue/lavender. Really I just wanted the glow in the dark coloring, it could have been glow in the dark monkey shit green, I still would have got it. With the swirling of the two colors you actually get three colors, there are nice gray area's where the colors started to blend.
Here you can see the toy with the lights off;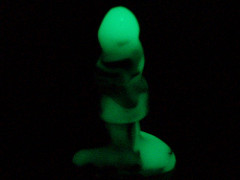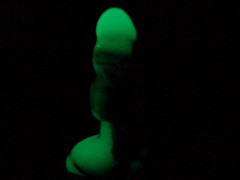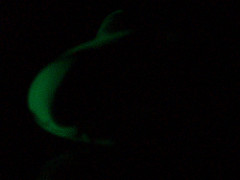 The last picture there shows the bottom of the base, see, not much glow. When it is in your ass that is all you can see.
The plug is 5" long with 4 1/4" insertable. The tip is 3/4" across and tapers gradually to 1 5/8". The neck is 7/8" in diameter and about an 1" long. The base is 3" long X 1 1/4" wide. As you can see this is a good size for the beginner/intermediate user. There is enough give in the material that the 1 5/8" feels more like 1 1/4".
This leads us to the threads or "screw". Start the tip add some pressure and turn to the right and the threads draw it in to you ass, if you stop before the it goes all the way in you can turn it to the left to unscrew the plug out. Sorry but if the plug plop's in it will not unscrew by itself, you have to pull out the plug a bit to start the threads. This can really be very stimulating and fun, even more-so if you have a partner do it for you. Furthermore when fully in your ass and you give it a turn the screw texture stimulates the prostate nicely.
Now think about how fun this will be in the dark.
Cool eh? My only complaint is the lack of glow on the bottom, I want it to light up my ass, not give a half moon. (ha that's funny)
Cleaning is super easy; soap and water, boil or use a toy cleaner. Since silicone is a dust magnet, store in a baggy or pouch and give it a quick rinse before use.
Remember that silicone and silicone lube do not play well together so only water and oil based lubes please.
The packaging was plain and simple; the plug and a sheet of stiff paper placed in a plastic bag. No waste and recyclable, nice! On the paper you will find some company info, care instruction and the cool company logo. This logo is also stamped on the bottom of the plug.
For travailing this plug could be passed off as a school art project if asked, so no worry's there.
Experience
So for first use, after some cleaning, I placed this under a light, got comfy on the bed and waited for the wife. You see I just surprised her with a new outfit, the
Night Nurse
(thanks ~LaUr3n~) Well when the nurse comes in to check on the patient, usually they want to take your temperature. So I handed her the screw and said "this is a new thermometer, try this". Ok so it does not look any thing like one but well it works, Ya know? So after some proper prep she started to work the Screw in and out. Very stimulating! Short thrust or "screwing" are just incredible. Then she plopped it all the way in and continued the short thrusting with a twisting motion. Ah so nice
There is something to be said when a partner works the toy, to me it is just so HOT.
So during intercourse this plug will stay in in some positions, like missionary but others it will come out at times, nothing a finger can not help. But during climax this plug shot out like a glowing missile. All we could do was laugh, I wish we could have that moment on video.
All in all this is a fun plug, great feeling texture, nice size and it glows. I take one star for the base not having more glow and not staying in the best, so I will say this is a solid 4 star Screw.
Follow-up commentary
3 months after original review
This plug does not get a whole lot of use but is still fun to use in the dark. If it would stay in better it would get more use. Still it works good when the wife is giving me some oral and I am laying on my back. She can easily manipulate it in a twisting motion for some GREAT stimulation to my prostate.

I find that it does not take much light to "Charge" it but the longer you charge it the longer it lasts.

Still one of the nicest feeling silicone's I have felt.
This product was provided free of charge to the reviewer. This review is in compliance with the FTC guidelines.

Thank you for viewing
The screw royal
– butt plug review page!