Texture lovers rejoice!
Designed for P or G-spot play the Ridge Rider get four stars for me. The silicone feels great, the vibes are awesome, and it will stay in better than most plugs due to the ridges. I think you just can't go wrong. Although if you are not a fan of heavy textures you may want to look at the G-Rider.
Published:
Pros:
Quality plush silicone, Holds lube well, 5 vibe settings, Stays in during use.
Cons:
Vibe not even splash proof, Seam!
Nexus has done it again with their latest offering, the Ridge Rider. It is basically the same as the G Rider with one major change, ridges. Although they are more like ribs than ridge's. This, of course is sold as a G-spot vibe, but the company in the instruction manual refers to the P-spot as the male G-spot. So, thus its name. But really, it can be enjoyed in the vagina or ass equally. I, of course will be talking about using it anally.
So, what do we get?
Well for starters, look-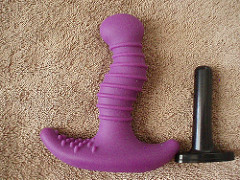 I will admit it is a bit intimidating to look at, especially when you are looking to put it up your ass. Fear not, I am here to tell you that it is not as bad as it looks. You see, this toy is made from super plush
Silicone
. Those ribs are flexible and as long as you have lube, they feel very nice. I will say that they are not the best for thrusting but neither is the toy. You see, this toy is meant to be inserted and either rocked back and forth or you can sit on it and do some pelvic movements. Either way the ribs provide good stimulation to the prostate (or G-spot).
Overall, this toy comes in at 4 7/8" tall of which about 4 1/4" of that can be inserted. The head or top of it is oval in shape; the measurements are as follows.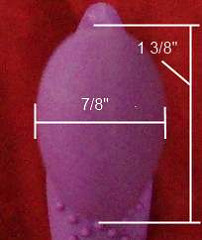 I think this is a good size for intermediate users or very adventurous beginners. Advanced users may enjoy it too.
Now, every good safe anal toy should have a what class? Yup that's right, a good base. This one fits the bill nicely, and it provides its own stimulation to the perineum or clitoris as well. It is somewhat large at 4 3/8" long by 1 3/8" wide but this is not really designed to be wearing around the house for hours on end. (Although you can, I'll get to that in a bit.) There is a series of little nubs to massage the perineum/clitoris on the front and it is smooth on the back. Both ends are rounded and because of the soft silicone, I did not find them to be poky even when sitting on it.
Did I mention it has a vibe? Well it does and a great one at that. It nestles in the base and is held in there by friction. I find that is can be hard to remove it without something to aid it. The vibe is not even splash proof, so I recommend using some cornstarch for the best results. You can use a small dab of water-based lube but I would not use that much.
For the vibe, you get five different settings.
1) Roller coaster that starts slow then changes to fast
2) Steady vibration for 5 seconds and stops for
3) Steady vibration
4) Steady stop and go (1 second in between)
5) Roller coaster stop and go
They are pretty strong and are not that loud. I would say when inserted they can not be heard through a blanket. Defiantly not through a door.
Something worth mentioning is that the vibe is the same size as all the other toys in the Nexus "G" line. The medium's vibe only has one setting so if you have one of those you can swap this vibe into it to bring a new dimension to that toy. Nice eh? I have the medium and the different vibe used in that one is like having a completely new toy.
Just for a size reference here is a picture of the two of them next to each other.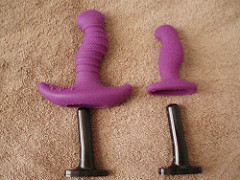 To clean or sanitize this toy you can; boil, bleach, place it in the dishwasher (no soap) or use a toy cleaner. Just remember that the vibe is NOT splash proof so remove it before cleaning. If needed, you can use some rubbing alcohol on the vibe.
Store it anyway you see fit. I recommend using a zip top bag or something along those lines, anything to keep it from coming in contact with dislike materials. You can use the box it comes in but it is somewhat big.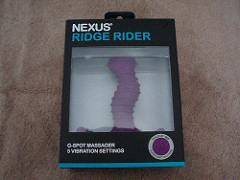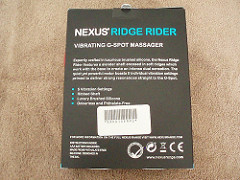 In the box, you will find an AAA battery and an instruction/care guide. There is a plastic window on the front so it is not very discreet. It would be nice for wrapping up as a gift though.
Experience
I really enjoy using this one, between the different vibes and the ridges along the shaft this is one nice plug. Plug you say? Well yes. You see the ridges help to keep this in, like a plug. They give your sphincter's something to grab on and something to keep it from just sliding out. It will come out during climax if you are not clenching but that feels good too.
Something I found with this one and the medium is that the hook at the end does not set all that great on my prostate. It does provide nice stimulation, just not as good as it could. Maybe if the shaft was angled towards the prostate more. So I have found that if I turn it 180 deg or backwards, it puts the back bulge directly on my prostate and this feels much better. This also hold true for my medium. Everyone is different so you may have better luck using it in the normal position. I still love to use it.
My only complaint, wait for it...the dreaded SEAM! ARGH!!! Why can't they trim those seams better? I mean look at this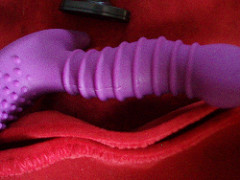 I was feeling that seam before it was half way in. For the price paid for this toy, I think they could take a few seconds to make sure it is trimmed.
So in the end (totally intended) this is a great toy for your P-spot pleasure.
This product was provided free of charge to the reviewer. This review is in compliance with the FTC guidelines.

Thank you for viewing
Nexus ridge rider
– prostate massager review page!