48 Inches Of Fun!
Long enough for fancy tying and soft enough for even the most delicate skin these silk sashes are perfect for any bondage toy box. Sometimes play calls for softer restraints so that the contrast between the flogging and the tying creates an amazing juxtaposition of sensation. They are also great for creating a truly blackout blindfold!
Published:
Pros:
Long enough for use
Gorgeous fabric
Wears well
Cons:
None
Who would have thought a simple silken sash would evoke such a response in a couple of jaded old players like Sigel and I? From the first glimpse of the simple packaging to the "unveiling" of the gorgeous purple sashes we were sure we had finally found what we were looking for.
When we first got interested in tying each other up we had nothing to use except neckties, bathrobe sashes, old pantyhose, or thin scarves. I, personally, loved the intimate feel of fabric wound around my ankles, eyes and wrists. There's something so sensual about the feeling but it looks crude and as we've gotten older, and more affluent, the look is something that we have become much more interested in. Leather cuffs and soft but secure Velcro looks better than what we had before but it didn't give the same intimate and sensual feel. Then I had the opportunity to try a silky sash from a kit we were asked to review....WOW!
I saw this set of sashes and I waffled about buying them but the guys finally got tired of me talking about them and ordered me to get them already!
This set consists of 2 silk sashes that are 48 inches long and 4 inches wide. I bought the purple set, of course! They arrive in a heavy cardboard sleeve with a half naked blonde on the front. She is tastefully posed and on the whole the sleeve is a good place to store the sashes if space isn't an issue for you.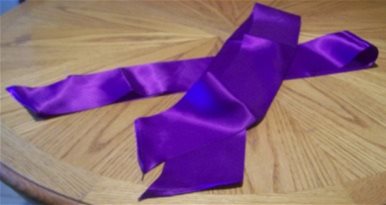 These sashes are long and wide which means they can be used for just about everything from simple ankle/wrist bondage to breast/genital tying. They aren't long enough for full body binding and you'd have to buy four to five sets to accomplish that sort of bondage depending on how large your "victim" is. They are ample for using as a blindfold and the silken feel of the material is actually very pleasant against the skin on the face. The material warms pleasantly and moves with you so that it doesn't chafe or cut off circulation.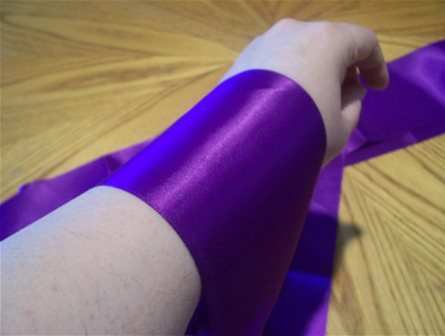 As you can see the ties are fairly wide and can be a bit tricky to tie intricately but once tied the knot will not crush the fabric. The knot will stay put until you untie it and untying the knot is quicker and easier than untying rope or pantyhose.
These are listed as silk but I have accidentally tossed one in the washing machine and dryer and it didn't seem to do it any harm. I recommend hand washing the ties or treating them like lingerie because they could wrap around your washing machine spindle. A cool iron set to silk setting will remove any wrinkles.
These are good quality material and sewn evenly and securely to prevent raveling. They are definitely worth the money we invested and we are thinking about buying a few more sets in different colors.
Experience
Recently I have had the pleasure of playing with some really great bondage products. Since my guys are now aware that this is a large kink for me they have stepped up their game and have gotten into the spirit of bondage play. We bought some different types of restraints- everything from leather cuffs to velcro but nothing really invoked the playful fun of our earliest attempts at bondage like the neckties and pantyhose we used to use back in our salad days. The longer length of these two simple ties coupled with the wider size has really brought us back to our beginnings!

I wouldn't say that these ties are "perfect" only for beginners or light players because they are sturdy and yet the knots, while they don't slip, are still very easy to undo without resorting to using a pair of scissors or a knife. They iron out easily and remain silky and sensual.
This product was provided at a discounted price in exchange for an unbiased review. This review is in compliance with the FTC guidelines.

Thank you for viewing
Sex and Mischief silky restraints
review page!