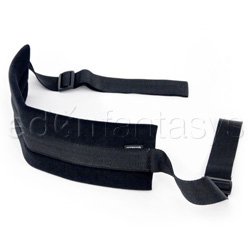 I like it doggie style
Waist belt
by Sportsheets
A bark or a whimper?
A middle of the road, inoffensive sex strap that does what it promotes to do, but doesn't provide the comfort or stability of its peers. Average at best and only recommended for those who are extremely intrigued or looking for something a little different that won't break the bank (I do advise you wait it out and save your moolah, though!).
Published:
Pros:
Does provide some deeper sensations and G spot stimulation.
Cons:
Chafing, rugburn...call it what you will...it isn't comfortable.
Sex furniture, enhancers, straps, ropes, cuffs... the list goes on and on with the vast amount of products available to either enhance our sexual exploits or to make certain positions and angles easier on our bodies. With so many options available it can be a little overwhelming when trying to decide what to buy, what to use and what is going to be best for you, your body and your partner.

Today's little helper is the Sportsheets "I like it doggie style waist strap". Uh, the name could use a little help but we get the idea. This is a strap intended to enhance G spot stimulation by adding pressure while used in a doggie style position. Although this is not the sole use of this particular item. It can also be used during most positions with a little care and creativity.

The adjustable straps are extremely lightweight and made from nylon while the support section seems to have a soft padded interior, perhaps a small amount of foam. The straps themselves are comfortable enough and don't slip easily. The pad is comfortable at first but can lead to some chafing and discomfort. This is the main drawback to the doggie strap (and a major one at that!).

After a few rounds of play in a variety of positions we also put the strap through a number of strenuous tests and exercises to check its durability. After having owned it for a few months I can say that it is very durable and holds up to repeated use. If you stain the strap you can easily wipe it down with some wet wipes or warm soap and water. Allow it to air dry (unless you like your strap to be wet!) and then have another go.

The packaging for the item has an image of the "Awkward Sportsheets Models". Always good for a laugh and analyzing. The strap comes inside of a light plastic container that was easy enough to open and didn't have the dangerous artery slicing plastic edges of other plastics containers. We also didn't have to use a blowtorch or bonesaw to open the package. A definite plus.

My husband and I had a fun time using the strap...at first, but we felt a little empty after the experience initially and with each use we have felt the same. It just doesn't hold a candle to some of the better options available. The old saying "you get what you pay for" applies here. Save your money, get some well constructed furniture or a swing. You, your partner and your happy bits will all be more than glad that you did.

The doggie strap is a simple device and there isn't much more to say about it. It is a fabric covered pad on a strap. Simple. You could use a mountain of pillows, armrests of chairs/couches, counters, etc. and achieve similar and even more desirable results even without forking over the cash for sex furniture. Stay creative, stay driven and stay at it...you'll find a way!
Experience
The strap did provide some heightened sensations when used in the doggie style position as well as missionary and other "on my back" positions. A little creativity went a long way, but in the end there was some discomfort from the strap itself.

If used as described the strap still has a tendency to move a little, and when your partner is holding it tightly this can lead to friction that may cause a rugburn like spot on your tummy, pelvis, back or wherever the strap rests.

Since we had a lot of fun using the strap in missionary and missionary inspired positions such as lifting me via the strap to an elevated height and repeadtedly lowering and lifting me like a weight during intercourse there was a slight spot of irritation that is worth noting. This leaves a slightly chaffed area I have affectionately titled "rugbum".

In the end, I find it is worth it to save your money for something more worthwhile such as a Wedge, Ramp or Jaz from Liberator. I have a Jaz and it works great for all of the same purposes of the strap and with much more efficiency and comfort.
Follow-up commentary
14 days after original review
The strap still doesn't hold a candle to the Jaz... or just my husband reaching underneath and providing some pressure with his hand. I still say skip it and save up for a better product.
This product was provided at a discounted price in exchange for an unbiased review. This review is in compliance with the FTC guidelines.

Thank you for viewing
I like it doggie style
– sex toy review page!