A Clear Leader
The Spartacus leather leash will be a wonderful addition to the collections of those at beginner and intermediate levels. The soft and supple leather is both comfortable and sturdy. It is a great length and is easy to wield for soft to mid-range power play.
Published:
Pros:
Supple, light weight, strong, large handle, sturdy clip
Cons:
Not for advanced users
I purchased the Spartacus leather leash to use in conjunction with my Strict Leather deluxe locking collar. Due to its slim width and the stretch in the material, this leash would be best suited to beginner and intermediate users. In fact, my partner and I were dubious at first as to how well this item would perform, but we were pleasantly surprised. After using it, I have faith that this item will hold up well and be one of the stars in our collection.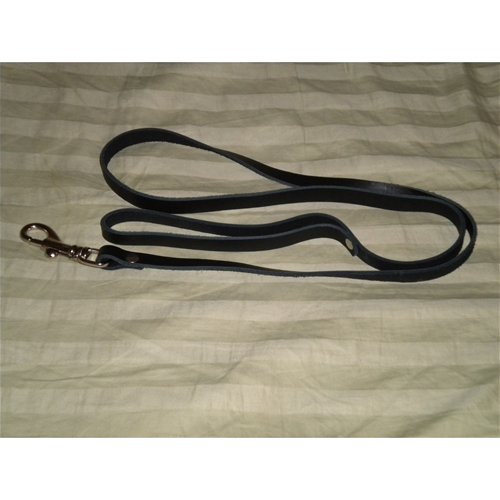 The leather is soft and supple with a wonderful natural scent to it. The top of the leash has a treated leather strip adhered to it for aesthetic purposes. The bottom and side leather portions of the leash are untreated. The hardware appears to be nickel plated to me, but I do not know for sure. There is one metal stud to form the loop of the handle and one to connect to the clip. The clip is highly polished and quite sturdy. It has a nice strong spring and is large enough to accommodate most D rings. It does not have swiveling capability. USA is printed on the side of the clip as the origin of manufacture.
I'd like to take a moment now to discuss the measurements. The Spartacus leather leash is very lightweight, at just 2.2oz. The entire leather portion is 4 feet or 48 inches in length. The width is half an inch across and the leather is 1/8 of an inch thick. Out of the 48 inch length, 8 inches of that will be the handle. This generous sizing makes it easy for everyone to use. The clip portion measures 3" in length.
To clean this item, use a damp cloth with a bit of soap or toy cleaner. Although leather has some natural resistance to water, it should not be immersed. Especially since this item has not been treated. If you would like to make this leash more waterproof, there are sprays that can be purchased at Wal-mart and the like. You may also choose to invest in a leather conditioner to enhance the beauty and life of leather.
Here are some pictures thanks to my lovely mannequin assistants (who were both over 18 and consenting adults at the time of the photo shoot).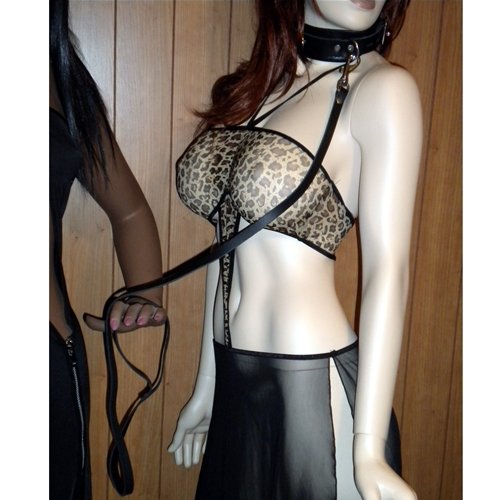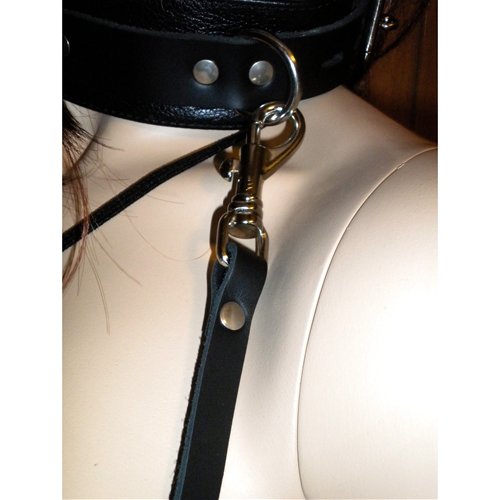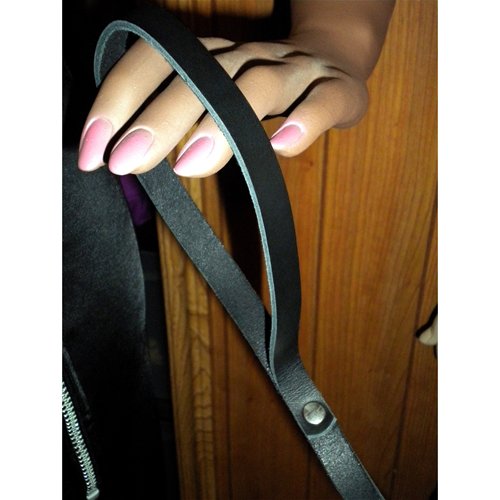 Experience
As I mentioned previously, my partner and I were a little worried about the integrity of this leash when we first received it. It turns out we were wrong to underestimate it. The small size and its light weight made it easy to wield without interrupting intercourse. The length of the leash worked very well as my partner was able to improvise and lightly spank me with it during use. The stretch to the leather that initially worried us also turned out to be a positive thing. It made gripping the leash easy and pain free for him and made thrusting with the leash on comfortable for me. However, it was still strong enough to feel him pulling and to not lose the sensations of him dominating me. For me, this leash was exactly what I was looking for.
This content is the opinion of the submitting contributor and is not endorsed by EdenFantasys.com

Thank you for viewing
Leather leash
review page!