A tickle(r) and a sting!
Whether you are looking for a tickler to add to your playtime for some light bondage, something a little more tolerant of your rough bondage or a new cat toy, this tickler is great for all audiences!
Published:
Pros:
Can be used for light and rough bondage
Great for beginners
Great for experienced users
Cons:
Cats love it too!
This
Rubber Tickler
, made by
sportsheets
makes a great addition to the bedroom!
This was the first product like this I'd ever used before, so I was looking forward to trying it out. I wanted something that didn't look as intimidating as some of the other toys, but still allowed the user to be as rough as they wanted.
This particular tickler comes in 3 different colors. It comes in solid black, pink, or the color I chose, which is purple. Each tickler, if they all measure the same as mine, has a black handle which is 15" from the very end to the part where the rubber ticklers are attached. I counted 104 rubber strands, which measured 7.5" in length from the point of attachment to the ends while unstretched.
It didn't have a box that it came in, nor was it wrapped in anything special. There was a piece of paper attached, just giving basic product information, no real instructions not that you really need any, and company information. There was no bag or package for storing, either.
The handle appears to be made out of PVC and the ticklers are made of rubber. Because of this, you will want to use either a water-based or silicone-based lubricant if you plan to incorporate any with your play. If you do, or if the toy becomes dirty you can rinse it with warm water (don't use hot!) and run your fingers through it. I use toy wipes with mine, as well. For the most part, this tickler shouldn't
need
a cleaning.
There was no taste to this toy, but since this isn't edible (hmm, edible whips and ticklers?) that shouldn't really matter. As for the scent, even after use and two washes, the tassels still have a faint rubbery scent which has been there since the beginning. It isn't too strong, and you can only smell it when you put your nose right up to it, but it reminds me of a "new tire" smell, only much,
much
weaker.
For storage, once the tickler is fully dry if you've needed to wash it, you can store it really anywhere as long as it is not in extreme temperatures or in direct sunlight. Sunlight will warp or ruin the rubber. Think of your windshield wipers in the hot sun, breaking down. Also, a warning to cat owners (and maybe even some dog owners!), this toy also makes a great cat toy, so if your pet may decide that this is why you purchased this tickler, you may want to keep it out of their sight too!
Here, you can see the strands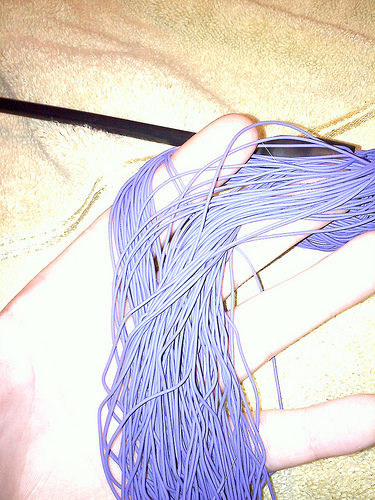 And, here you can see why you should hide it from pets! Though, I think she had the wrong end!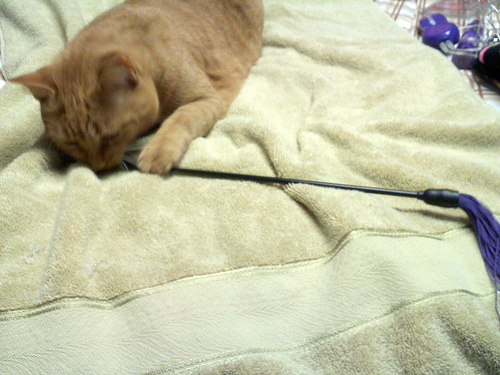 Experience
After opening the box, my other half instantly grabbed this and before I managed to even remove the piece of paper it came with listing the name, he went to work smacking me on my arm acting silly. I was lucky to get this toy back at all, much-less be able to use it for sexual purposes! After that little incident took place, we did discover that in the bedroom, silliness aside, this was a pretty fun toy. He'd never used something like this before, so it wasn't too rough to start with. It did allow a nice sting if you smack hard enough with it, but it didn't cause any long-term red marks on our skin. Even for me, who can scratch an itch and look like I have a rash breaking out, this was not too bad at all! There was a bit of a redness in the area for maybe 5-10 minutes after being smacked but it did go away.

This was great to use on each other's chests, and he used it to smack my ass. It was excellent for its purpose.

I rated this toy 5 out of 5 stars because although it is not made for hardcore bondage action, it worked perfectly for what I wanted out of it. It seems to be well-made for lighter play, and unless you are too harsh with it, there should be no chance of ruining it.
Follow-up commentary
5 months after original review
We still have fun with this (as do our cats when they get into places they shouldn't be) and it has held up well so far. A few of the little tassles have managed to break off, most likely due to the cats, though, but other than that it is still in good shape!
This content is the opinion of the submitting contributor and is not endorsed by EdenFantasys.com

Thank you for viewing
Rubber tickler
review page!