Are You Being Fresh?
The Fresh line of BDSM products is a fantastic fun-colored vegan contrast to the typical black-leather options available to users. With a lower price tag, this product is worth trying out--whether you're new to BDSM or just want to incorporate some bright colors to your play.
Published:
Pros:
+ Comfortable.
+ Vegan.
+ Inexpensive.
+ Fun, bright colors.
Cons:
- Plastic ball, as opposed to silicone options.
Overview
This ball gag from the Fresh line by PHS International is a lovely vegan alternative to leather gags without breaking the bank. It has a bright "cotton candy" color-theme and still works well as a functional BDSM toy. This gag is acceptable for anyone from beginners to even experienced users of BDSM.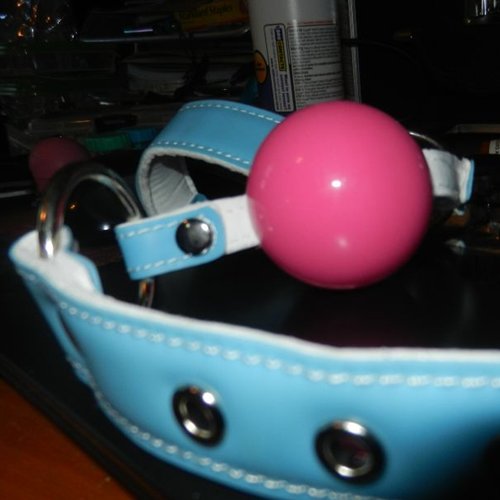 Material
Like most of the Fresh line, this product is made from polyethylene in place of leather. This is a decent-strength vegan option that is water-resistant. The blue polyethylene straps are reinforced with white stitching and have a white, plushy lining.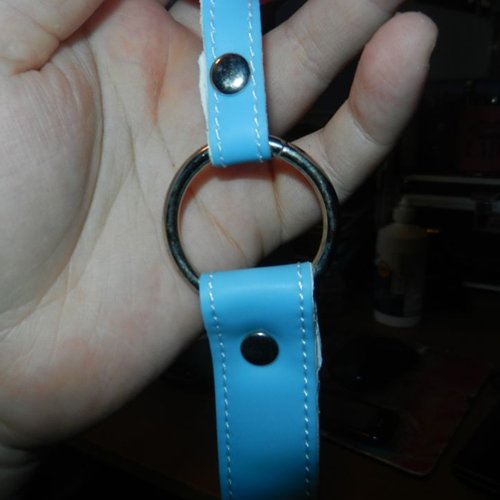 The hot pink ball is made of rubber, which is a step down from the silicone options, but is not nearly as bad as I thought. There is a slight smell and taste to the ball but that fades with washing.
Size
Length: 26"
Weight: 0.3 lb
Ball Circumference: 5 1/2"
Ball Diameter: 1 3/4"
This ball gag will fit anyone ranging from 15.5" to 23.5" around their head. This is a bit larger than my other ball gags, for those who are worrying it might be too small, chances are it won't be. If you have a smaller head, there will be a lot of excess strap, but it should fit fine.
The ball is a bit larger, as well, measuring 1.75" in diameter. Small mouths might find it uncomfortable, but that may just add to the experience in some cases.
Design/Performance
The design is cute, but isn't fully functional. While many gags have a removable ball, this one stays on the strap for cleaning. This isn't a problem, though, because the vegan material is totally fine to clean, as opposed to the leather options, since it is polyethylene. I don't consider this a "con" for this reason, which I will get into under the "care and maintenance" section.
As far as comfort goes, I was happy. The white lining to the straps is surprisingly very comfortable. I was pleased at how nice and cushy it was. It gave me no discomfort to wear, as some others have dug into my head/neck and caused unwanted pain. The smaller straps holding the ball in do not irritate the mouth and are also comfy.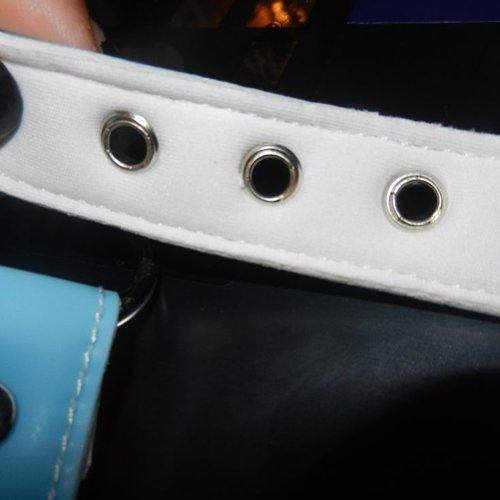 The ball gag's closure is a rolling buckle. The metal piece that rolls the strap right through make this a lot easier to put on. It also has a metal piece to hold down any excess strap.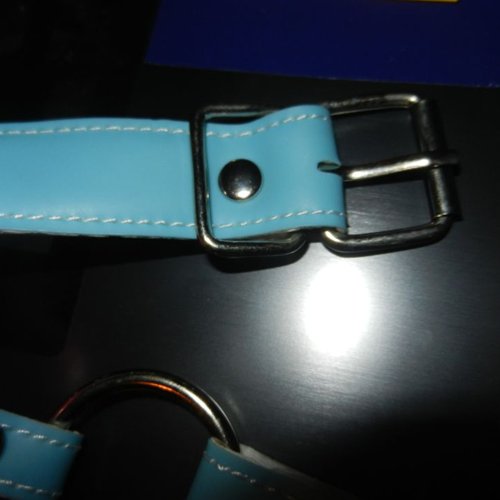 Maintenance/Storage
This ball gag is easy to care for. Simply wash the ball with soap and water after use to remove any saliva. You do not remove the ball, and the straps are fine to get wet. They are water-resistant, but can easily be cleaned if they get dirty, as well.
Store this anywhere clean and dry such as a drawer, toy bag, or box. You can even hang it by the buckle if you display your BDSM gear.
Packaging
The ball gag comes in a plastic shell packaging and is transparent to show the ball gag in the front. Is has the Fresh logo and is packaged like many of their products.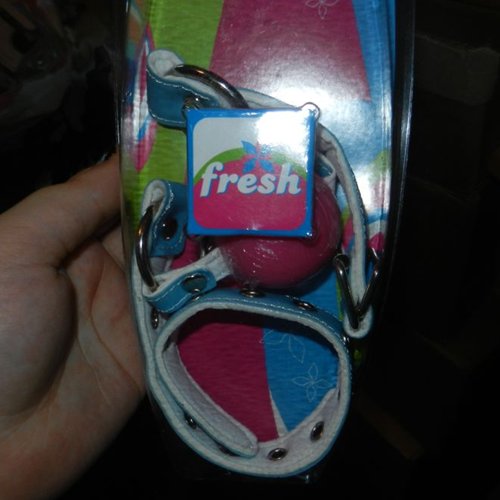 The back features a photograph of a ball gag--but not
this
ball gag. The one pictured is pink with a blue ball and rectangle rings to keep the straps together, as opposed to the round ones in this product.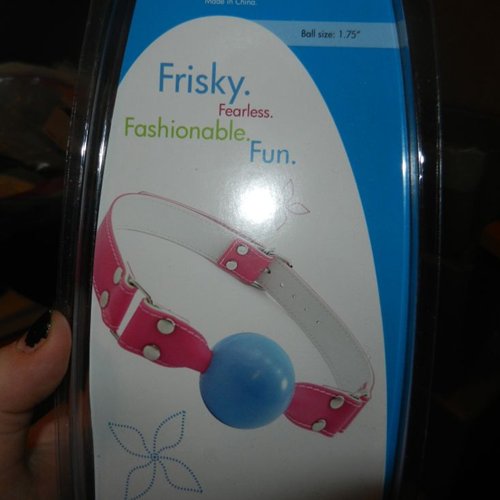 Please note that the product page also refers to this ball gag, even though it pictures the correct one. The one you will receive is the one I have photoed here: blue straps with a pink ball. Perhaps Eden used to carry this alternative, but it no longer has the pink straps and blue ball.
This content is the opinion of the submitting contributor and is not endorsed by EdenFantasys.com

Thank you for viewing
Fresh ball gag
– mouth gag review page!